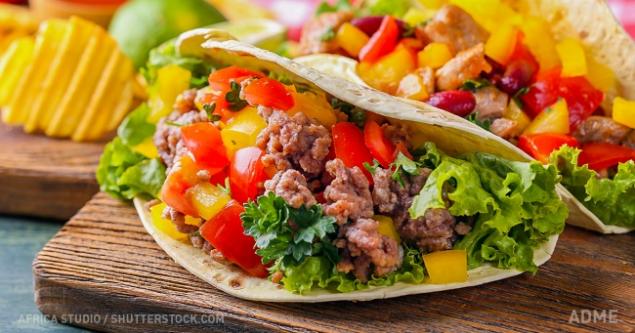 Mexican cuisine, combining the culinary traditions of several nations, will appeal to all who love juicy and bright flavors. Knowing some tricks to prepare her most popular dishes everyone can. All you need to do -. A short list of familiar ingredients and, of course, your desire to experiment
Website took six different Mexican dishes that will delight the guests and easy to prepare at home




Fajitas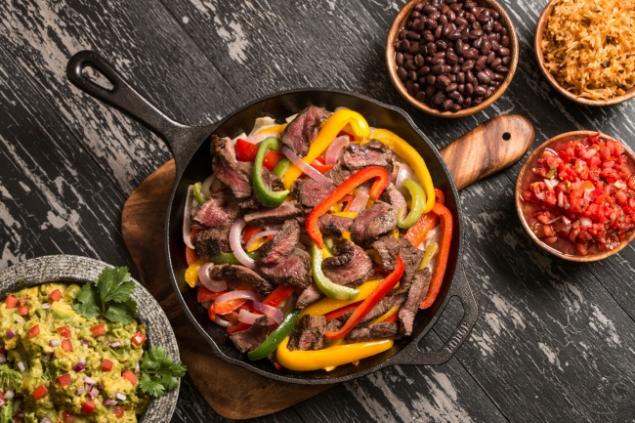 Perhaps this is the most popular dish of Mexican cuisine. Serve stuffing for him made hot, right on the griddle and always with the traditional tortilla tortillas. So every guest can choose that wrapped in a pancake and with what sauce it has



Ingredients:.

1 red bell pepper 1 yellow pepper 1 red onion 1 chili 1 jar of canned red beans 300 g beef 2 tbsp. l. tomato paste 3 tbsp. l. vegetable oils 1 lime 4 wheat or corn tortillas Preparation:

Cut into thin strips of beef tenderloin, pepper and chili. Marinating the meat in lime juice for 1 hour. In a hot frying pan lay out the vegetables and fry for 10 minutes. We send to the vegetables and roast beef are still 10 minutes, stirring occasionally. Adding to the contents of the frying pan tomato paste and beans, stir and keep on the heat for a couple of minutes. The filling for fajitas is ready! We serve it with tortillas, spicy tomato sauce and sour cream.



Guacamole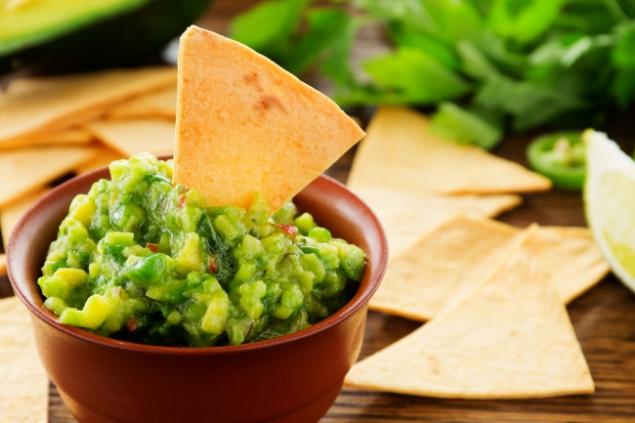 Beloved gourmet worldwide avocado paste can be used as a garnish, for example, meat or fish. But traditionally it is used as a snack and are eaten with corn chips



Ingredients:.


2 tomatoes 3 ripe avocados 1 onion 1 chili 1 lime 1 clove garlic bundle of cilantro Preparation:

Finely cut onions, garlic and cilantro. Rub the lime zest. We take out the chili seeds, remove the skin from the tomatoes and chop well. Knead all the ingredients with a fork. Add salt and mix again. Add a couple of tablespoons of water and lime juice. Clear the avocado from the skin, remove seeds and cut into several pieces. Add the avocado to the paste of tomato and chili, thoroughly mash with a fork. Serve with corn chips. Bon appetit!





Fresh Mexican salsa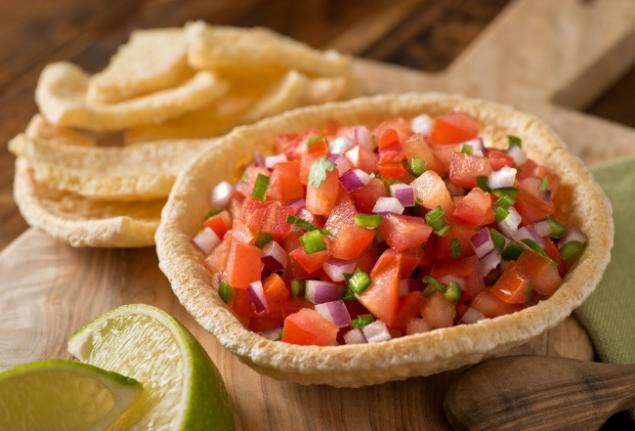 Spicy Mexican sauce goes well with potatoes and meat dishes and adds spice and richness



Ingredients:.


3 tomato 1 onion 4 cloves garlic 2 pod chili juice of 1 lime 2 tbsp . l. tomato paste 2 tbsp. l. olive oil cumin, salt and pepper to taste Preparation:

Remove the skin from the tomatoes, cut into cubes. Likewise, the chopped onion and garlic. Clear the chili pepper from seeds, cut into strips. Mix all ingredients, salt and pepper, add the cumin and tomato paste. Refill lime juice and olive oil.





Bean soup with chilli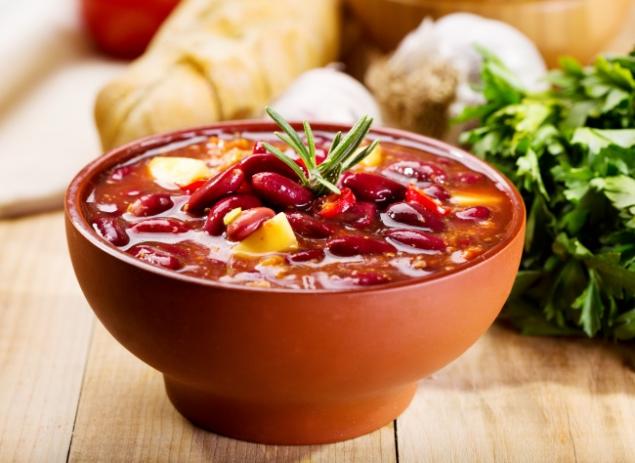 Mexicans love the beans and add it to almost all. Dishes with her as this spicy and fragrant soup, turn out very tasty and nutritious



Ingredients:.


300 g red beans 2 liters vegetable stock 1 bunch cilantro 8 cloves of garlic 2 red chili peppers 1 tbsp. l. cumin seeds 1 tbsp. l. coriander seeds 1 hour. l. allspice 4 tbsp. l. olive oil salt to taste Preparation:

Soak beans in cold water and leave for 8-10 hours. Drain the water from the beans, fill it with vegetable broth and put to boil for 1 hour. Transfused 2 cups of broth in a separate pot and set aside for a while. Take out a small amount of a skillet beans. It is useful for decoration. All remaining broth with the beans in a blender grind. Chopped garlic and cleaned of seeds chili. On a dry frying pan fry the cumin, coriander and allspice for 2 minutes. We embark on a frying pan garlic, chilli, add the vegetable oil. Fry 1, 5 minutes. Put the broth on the fire delayed, we shift the contents of the frying pan from the blender and puree, salt and pepper. Soup only need to warm up, but do not boil. Pour the soup into bowls and add the beans, which we have prepared for decoration. Serve with greens. The dish turns out very fragrant and rich.





Huevos rancheros-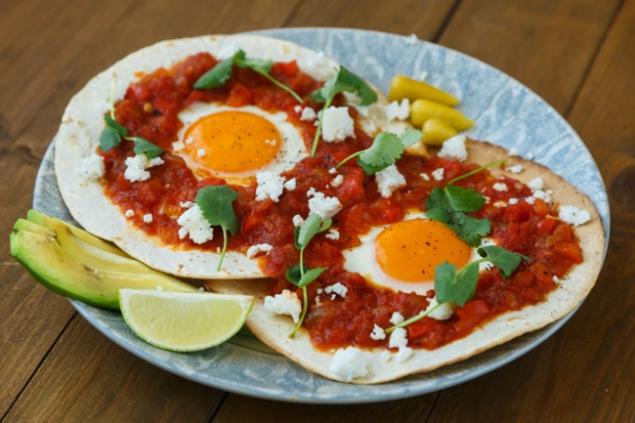 According to legend, this dish many years ago for the first time came up with the cowboys, but today it pleases for breakfast every Mexican. It can be eaten straight from the frying pan or wrapped in a traditional cake



Ingredients


2 eggs li > 2 tomatoes 1 red pepper 1 green pepper 100 g smoked sausage 1 red onion li > 2 tbsp. l. tomato paste 2 hours. l. ground cumin 2 cloves garlic 2 tbsp. l. vegetable oils a bunch of parsley Preparation:

Finely chop the onion and garlic. Fry in vegetable oil. Finely cut the tomatoes, peppers and parsley. Add to the pan along with the tomato paste, simmer for a few minutes and spread on a plate. In the same pan fry the coriander seeds, and then the pieces of sausage. On top lay out the finished vegetable mixture. Fill all the ingredients of eggs. Cook for 7-10 minutes. Serve with greens.





Burrito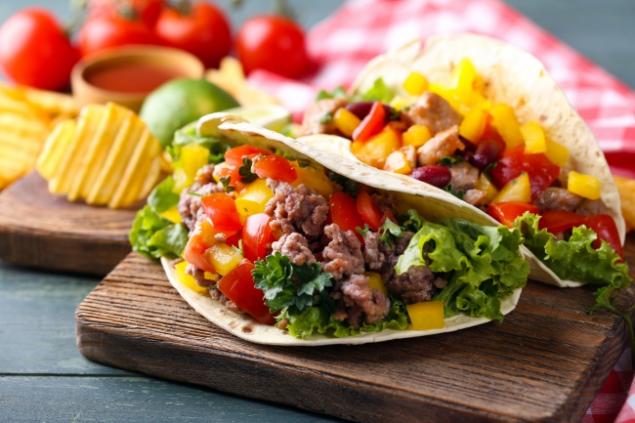 Simple and insanely delicious Mexican fast food loved housewives all over the world due to its versatility: in the cake can be wrapped any filling, experimenting with ingredients and add a variety of sauces



Ingredients (for. 6 servings):


6 tortillas 600 g chicken 200 g rice 4 tomatoes 2 onions 3 sweet peppers 150 g of solid cheese bundle of cilantro, parsley 100 g of tomato paste Preparation:

Finely chop the chicken, tomatoes, onions and peppers. Fry the chicken in the pan for 10 minutes. Add the vegetables to the pan, tomato paste, salt and pepper. Simmer over low heat for 5 minutes. Boil the rice, mix it with a ready-made mixture. Rubbed cheese, finely chop herbs and send to the chicken and vegetables. We spread the stuffing on the edge of the cake and carefully wrap. A little cake fry on both sides on low heat. Tortillas can be replaced by taco tortillas. Serve with sauce and sour cream.





Photos on the preview: shutterstock.com/Africa Studio





Cook also:

15 Asian dishes that are easy to cook at home

7 recipes of Indian cuisine, which are ideal for dinner

via www.adme.ru/zhizn-kuhnya/7-receptov-indijskoj-kuhni-kotorye-idealno-podojdut-dlya-uzhina-1199060/