Steak Chinook salmon in a spicy tomato sauce with fennel
"From there the fish have no similar taste. Kamchadals so highly revered declared fish that Pervozvanny, apeksi on fire, eaten with an expression of great joy." (S. P. Krasheninnikov). We are talking about the Chinook salmon is one of the most valuable salmon species. Like it or prepare it – the result is consistently good. We have potabili it in the spicy sauce in which the tomatoes are complemented by spicy taste of fresh fennel, lemon zest and scent of garlic.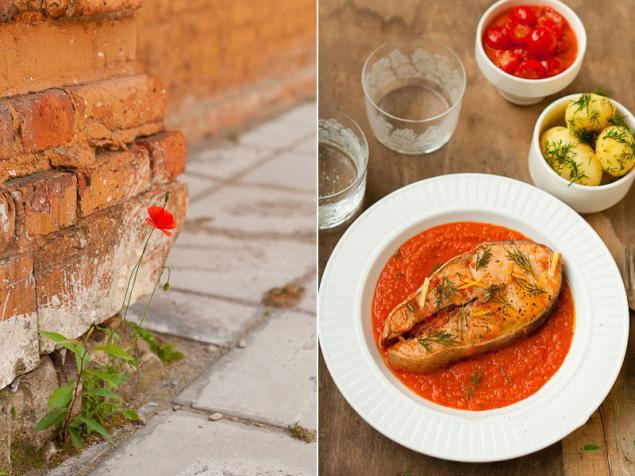 for 2 servings  
2 steak or Chinook salmon (weighing 200 g each)
1 onion
1 tuber of fennel
1 small zucchini
1 red bell pepper
10 cloves of garlic
100 ml dry white wine
400 grams of pureed tomatoes in own juice
1 small chilli
½ Tsp lemon peel
1 tsp sugar
2 tbsp olive oil
salt, freshly ground black pepper
dill for filing
Heat the olive oil in a frying pan, add the chopped onion and garlic, fry on medium heat until transparent. Add the diced zucchini, fennel, bell pepper, chili pepper and fry for 4-5 minutes. Pour in the pan wine, grated tomatoes, add the lemon zest, sugar, salt and bring to a boil, stirring constantly.
Put in the pan the steaks Chinook salmon, put the vegetables and sauce. Cover and simmer over medium heat for 5 minutes, then gently turn the steaks and simmer for another 5 minutes. Remove steaks from sauce and place in a warm place. Vegetables with sauce grind in a blender to puree state, if necessary, it needs more salt.
In deep portions of the plates to spread the vegetable sauce, put on top of steak Chinook salmon. Garnish with greens of dill and chopped lemon zest, lightly spiced with black pepper. published
P. S. And remember, only by changing their consumption — together we change the world! © Join us at Facebook , Vkontakte, Odnoklassniki
Source: zveruska.livejournal.com/112666.html