I eat this delicious fish at least 1 time a week because I like it taste great. In addition, it is a source of several rare nutrients that enhance brain performance.
And salmon is easy to prepare and you can even eat it raw, if you buy good fish. Not all salmon are the same. Taste, fat content and nutrients of salmon depend on where and how he spent his life.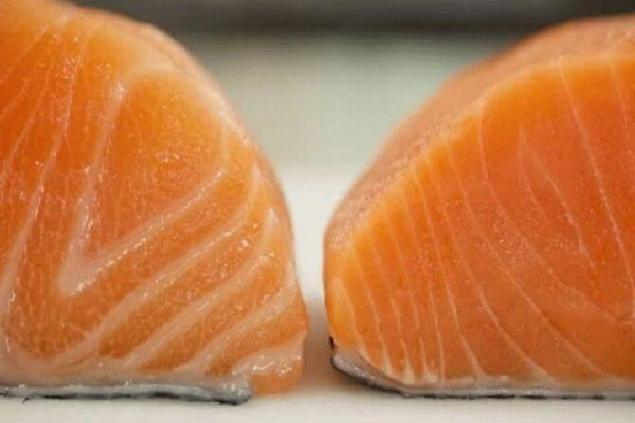 Let's look deeper into the world of salmon. You will learn about all the useful substances of this tasty fish. Will tell you about how to choose the best salmon, and how ideal to prepare it.
Astaxanthin: natural anti-aging food coloring.
The color salmon can tell a lot about him. Look at these two pictures: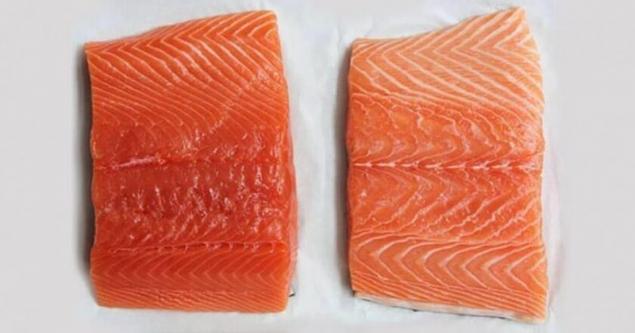 Salmon the picture on the left — caught Alaska sockeye salmon. Salmon on the right picture – diluted on the farm.The color of the sockeye
— rich, healthy red. That should look like salmon.
Fish grown by man, pales in comparison. Pale color means that the fish were sickly.
The difference in the color of the fish is observed due to the astaxanthin.
It's a bright red molecule that is found in algae, plankton and krill. This is a very useful substance.
Astaxanthin:
a powerful antioxidant with anti-inflammatory action;


improves blood flow;


protects the mitochondria (the part of cells responsible for metabolism) and strengthening of the cell membrane, and does not let the harmful forms of oxygen;


Enhances mitochondrial energy production.


According to some studies, when using as a Supplement, increases stamina more than 50%.
Wild salmon gets a lot of astaxanthin from your diet. Especially sockeye salmon, which almost always eat astaxanthin rich in plankton.
Salmon, which is grown on farms, eat the food pellets that do not contain natural astaxanthin, so farmers add it to the synthetic version.
Synthetic astaxanthin, as a rule, is made from petrochemical products, such as coal, and it is chemically identical to natural astaxanthin.
Other components of fish feed: fish meal and fish oil. They are at risk of contamination with dioxin and mercury.
In recent years farmers have tried to reduce the pollution by heavy metals, by replacing fishmeal / fat to soy, corn protein and vegetable oil. But salmon does not eat soy and corn, so the quality of meat fell rapidly (see the photo above), and farmers have to introduce antibiotics to keep fish healthy.

Residues of antibiotics get into the meat of salmon, which you eat. Vegetable oils also reduce the content of omega-3 in salmon, and can make fish toxins of mold.
Conclusion:
don't eat salmon grown on farms. Choose wild varieties.  
The mercury in salmon
There is good news: scientists have studied mercury contamination in fish. We caught salmon a very low risk of mercury contamination. Experts believe safe to consume salmon in meals a few times a week.  
What is the best type of wild salmon?
It depends on what nutrients you want to get.
Sockeye salmon is the most rich in astaxanthin, cholesterol and vitamin D, because this fish almost exclusively feeds on plankton. Such a unique eating habits make it extremely difficult for farm breeding, so nerka, mostly wild.
The fish also high in omega-3. Sockeye have a strong flavor and it is delicious smoked.
Chinook salmon or Chinook (king salmon) has almost 2 times more omega-3 than any other kind of salmon. Chinook salmon prefer deep, cold water.
Additional omega-3 fish keep in the warmth — the fat remains liquid in the body and prevents the fish from freezing. Unlike sockeye salmon, Chinook salmon can be diluted, so always check where the fish is to make sure that you buy caught salmon.
Pacific coho salmon is another great option. He is on 3 place in the number of fat salmon, after Chinook and sockeye salmon. Coho salmon is also rich in vitamin D and contains a solid dose of omega-3.
Sockeye, Chinook and coho salmon is a good choice, if they are wild. Each fish species has a specific taste. Choose which will be your favorite.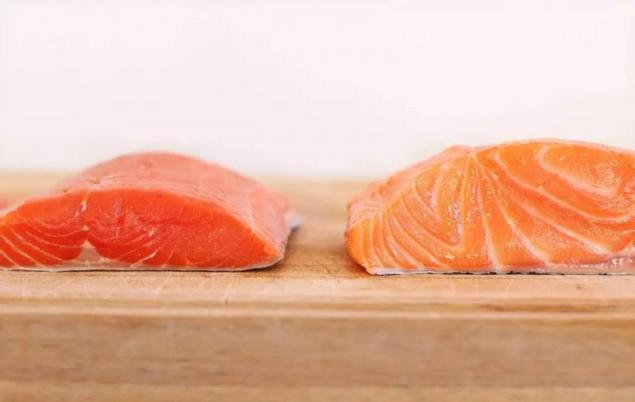 How to cook salmon
From smoked salmon taste great. Downside: the meat during Smoking produces histamine which can cause inflammation if you are sensitive to it.
Try the smoked salmon and watch his health.
Choose cold-smoked salmon, if you can find it. Lower temperature better preserves omega-3.
If you buy salmon in raw, try this recipe.
Salmon is one of the most perfect Superfoods, if you properly cook it. If you cook it too long, the fish loses its properties. This recipe is not done at random, so that you can get omega-3.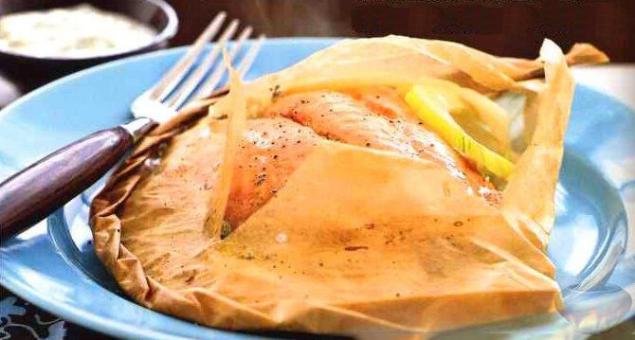 Perfect salmon baked in parchment. 2 servings. Will need:
2 wild salmon fillet (220 grams each)


1 teaspoon vegetable oil (or coconut oil)


sea salt


1 tablespoon unsalted butter


1 tablespoon mix of fresh herbs (eg, green garlic, parsley, dill)


lemon wedges for serving.


How to prepare:
1. Preheat the oven to 160°C.
2. Place salmon on a sheet of parchment paper on a baking sheet. RUB the fillet with oil, season with sea salt, and spread the top with butter.
3. Wrap the parchment around the fish, folding and picking up stitches so that the steam does not evaporate.
4. Bake for about 18 minutes. Sprinkle herbs and lemon juice.
5. Enjoy! published  
5 healthy alternatives to classic crepes and pancakes3 recipe of the dishes made from apples for those who don't know what to do with the harvest
Source: fithacker.ru/articles/losos-vred/