Back to the topic of fish meatballs-appetizers-casseroles. These fish dishes are prepared quickly and easily, and eaten with pleasure. This time we have meatballs of cod in tomato sauce. The meatballs we added zucchini — so they are juicier.
With crisp rice, with a slice of lemon — very good. And cold, soaked with sauce, they are perfect as snacks.
Croquettes of cod and zucchini in tomato sauce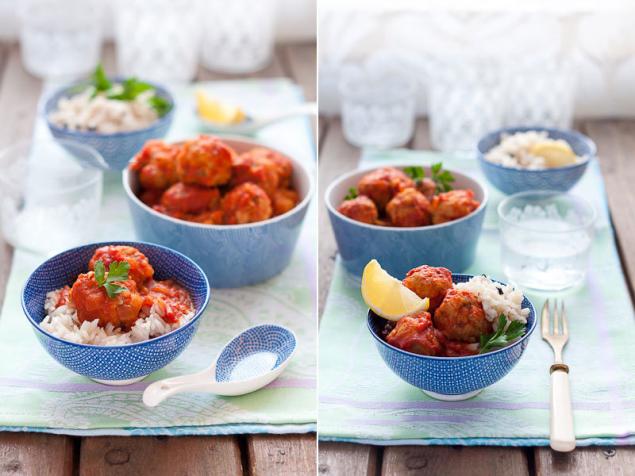 500 g cod fillet
1 egg
1 small zucchini
4 tbsp of crushed crackers
nutmeg
white pepper
salt
For the sauce
500 g of the trade winds (pureed tomatoes)
1 onion
1 stalk celery
1 small chili pepper
1 tbsp olive oil
salt
sugar
parsley for filing
To make the sauce. Onions and celery finely chop and cook in a pan in olive oil until soft, add finely chopped chili pepper (Chile add with caution, watching the sharpness of the received sauce), pour in the passata, bring to the boil, salt, add sugar to taste. Leave in a warm place.  
Cod fillet grind in a food processor. Zucchini to grate and squeeze well. Mix fish, zucchini, ground crackers, eggs, a pinch of nutmeg, white pepper (can substitute black), salt. Knead into a homogeneous mass.  
Pre-cooked the sauce, put on fire, bring to a boil. To make minced fish balls the size of a walnut and drop them into the boiling sauce. Simmer for about 20 minutes, turning once and making sure the sauce from boiling over.
Serve with rice, sprinkled with parsley.
It is extremely suitable for such fish meatballs fillet of cod, namely the backrest, in which no bone.
Source: zveruska.livejournal.com/110468.html