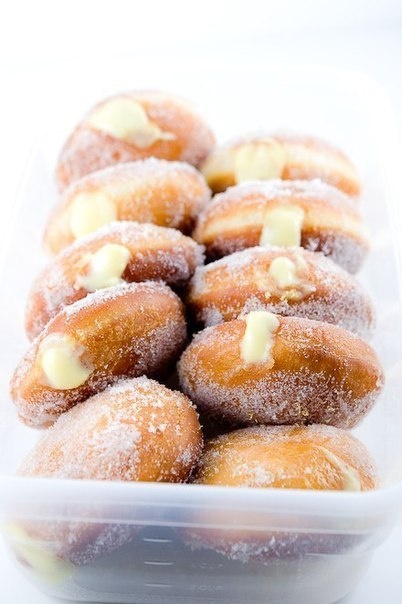 Ingredients:
Milk - 1/2 cup
Warm water - 1/4 cup
Yeast - 2, 5 teaspoons
Flour - 3, 5 cups + 2 tablespoons
Sugar - 1, 5 cups
Salt - 1 teaspoon 5
Egg - 3 pcs
Butter - 8 tablespoons
Oil
Filling:
Yolk - 6 pcs
Sugar - 1 cup + 1/2 cup
Lemon juice - 1/2 cup
Butter - 110 g
Zest of 2 lemons
Preparation:
In the bowl of a mixer, mix for yeast, milk, warm water and let it sit for a few minutes. Add the flour, sugar, salt and egg and beat on low speed to dough scrapie. Add the softened butter, cut into cubes, small portions. Whisk until smooth. Wrap dough and place in the refrigerator overnight. After the roll out dough thickness of about 1, 5 cm. Cut about 12-14 large circles. Put them on a baking sheet sprinkled, close the cling film and leave for 2, 5 - 3 hours to climb. Heat oven to 175 degrees. Fry the donuts in hot oil about 2-3 minutes on each side. Put donuts in a dish, the laid paper towel. 1/2 cup mix with zest and in this mass roll donuts. Cool.
Cream: Beat the egg yolks with the sugar. Add lemon juice to sugar mixture and whisk until smooth. Prepare the cream in a water bath and bring it to thicken (cream should be light yellow). Remove from heat and small portions enter maslo.Razmeshayte butter and refrigerate.
Pierce with a wooden stick and a donut with a syringe by starting them with cream.