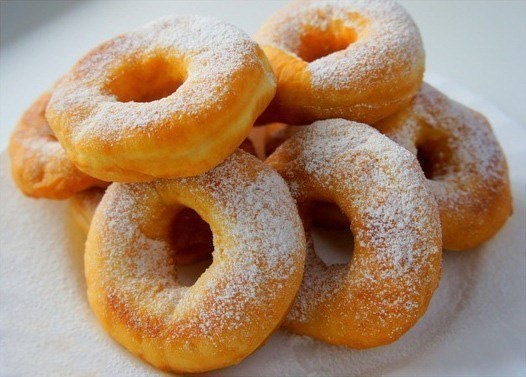 Preparation:
1. In a large bowl sift the flour (pre-sieving flour significantly increases the splendor of products). In the warm milk add yeast, stir, cover with a towel and put in a warm place for 20 minutes. After 20 minutes, the yeast to the milk and add sugar, salt, egg yolks and whisk well.
2. Add warmed at room temperature until softened (but not melted!) Butter. Gently and thoroughly mixed.
3. Pour in the sifted flour and knead the resulting mixture elastic dough. Cover with the dough with a towel and put in a warm place for 40 minutes. The dough should rise to an increase in the amount of 2-3. Table floured, roll out the dough to a thickness of 1 cm and recesses (glass and glass) cut donuts.
4. Give the cut dough donuts rasstoyatsya our future to lift 20-30 minutes. Preheat oil in deep skillet or saucepan. Cooking oil must be as donut has been shipped to at least half. You can pick up and more oil. Sufficient oil temperature control is conveniently placed in a piece of raw potato - as soon as the potatoes begin to brown slightly, the oil is ready for frying donuts.
5. Fry donuts beautiful browning to one, then the other. Fried on both sides of the yeast donuts spread on a paper towel to remove excess oil.
6. sprinkle with powdered sugar and serve immediately on the table. Donuts are always particularly good at Serve hot - as they say, with the heat from the heat.