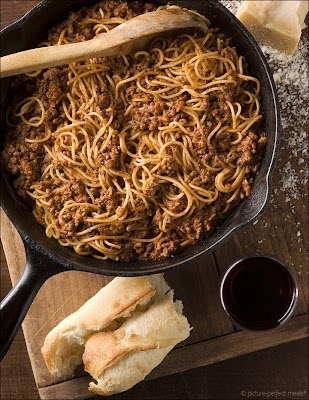 Preparation:
Prepare the sauce "a la Bolognese»:
1. Wash tomatoes, make an incision crossed lowered to 1 minute in boiling water, then remove and peel.
2. Tomatoes grate or chop using a blender to puree.
3. Onion peel and finely chop.
4. Garlic peel and finely chop.
5. green wash, dry and chop.
6. heated with olive or vegetable oil pan fry the onion and garlic half ~ 2-3 minutes.
7. Add the mince and cook, stirring occasionally, about 5 minutes. By stuffing add chopped tomatoes, salt and pepper, stir, cover and cook at a low boil for ~ 7-10 minutes. Turn off the greens add basil and parsley, remaining garlic, stir and cover.
8. In a pot of boiling salted water (water should be plenty) put the spaghetti, bring to a boil and cook for ~ 8-10 minutes. Ready spaghetti in a colander recline.
9. Put the pan pasta and mix everything carefully with the sauce.
10. Serve with plenty of grated cheese and fresh pertushki / basil.