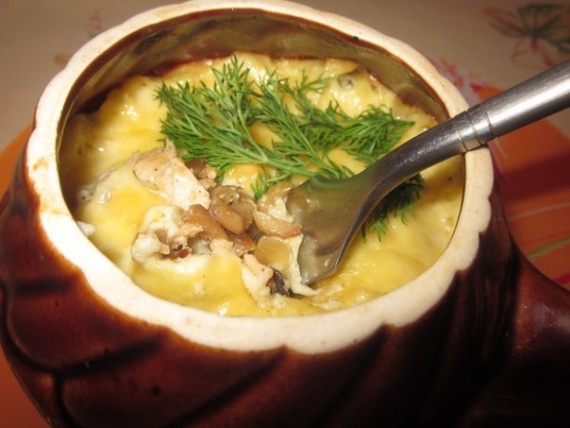 You will need:
500gr.kurinogo fillet
300gr.shampinonov
200gr.luka
200gr.syra (solid)
300-350gr.slivok 15-20%
2 st.l.muki
salt, pepper
rast.maslo
Chicken fillet boil until tender. Mince the onion. Clean the mushrooms and chop. Fillets cool, chop. Fry the onion in vegetable oil, add the mushrooms. Fry up until all the liquid boils away (10-15min.) Add the fillets, salt and pepper, stir and remove from heat. On a dry frying pan lightly fry the flour. Add cream, spices, bring to a boil. Add the mushrooms and fillet, stir, remove from heat. Cheese grate. Put in a stewpan. Sprinkle with cheese (not the lid cover). Put in the oven and bake at 180 degrees until golden brown (about 30 minutes).