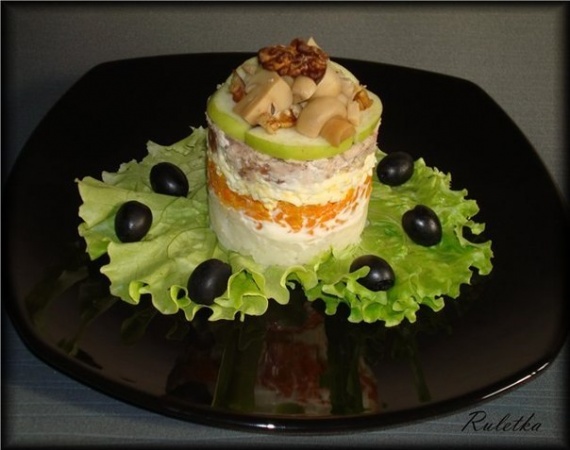 Ingredients
-4 Carrots (boiled)
-3 Potatoes (boiled)
-3 Green apples (sour)
-4 Boiled eggs
-150gr Boiled mushrooms (I have mushrooms in brine)
-300gr Boiled chicken
-10 Walnuts
-mayonez taste
-hydrochloric taste
-list lettuce and black olives (optional for decoration)
Preparation:
Carrots, eggs and potatoes peel and grate on a coarse grater. Salted vegetables and eggs to taste. Chicken fillet cut into cubes, salt the.
Apple sliced ​​and dipped in salted water (this will prevent them from turning brown). Kernels chop with a knife. A la carte dish to put lettuce, set the cooking ring (for his lack of use can cut off a tin or a cut-liter plastic bottle).
Put salad layers (their sequence can be broken):
carrots,
mayonnaise,
eggs,
potatoes,
mayonnaise,
chicken,
apple,
sliced ​​mushrooms
and chopped nuts.
Remove the cooking ring and decorate the salad before serving, place the salad in the fridge for a couple of hours.