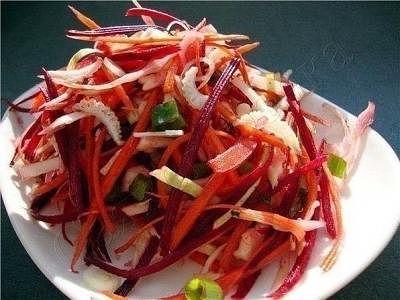 Cleansing salad - brush (broom)
Wonderful salad, like a broom sweeps the toxins from the body and brings a huge benefit. This is an incredibly healthy dish - a great tool to clean the intestines, is perfect for fasting days will help young mums to get in shape after childbirth. Choose to "brush" vegetables with dense structure, do not process their heat - and for some time, replace them dinner. You will be surprised how quickly the changes will be felt in the body. If you want to lose more than 5 kilos, replace the salad dinner diet for 2 weeks.
Ingredients: 100 grams - cabbage, carrot, apple, beet, sea kale. Prunes (50 g), lemon juice (5 grams), unrefined cold-pressed vegetable oil to fuel (15 grams).
Preparation:
Rub the washed and peeled raw vegetables on a coarse grater. The resultant, and mash to produce juice. Rub the apples, add to the contents, and then squeezing lemon juice and dressed with vegetable oil. Prunes pre-soak and cut into small strips - add to the salad. Salt does not add - "Whisk" and so has a wonderful flavor - enjoy and lose weight! Use it for the discharge of the day and say goodbye to a couple of kilos overweight.
Salad slimming "brush" - other options
 - Grate same vegetables, cabbage take only two times more than the other ingredients. Vegetables stir and mash your hands to stand out juice. The finished salad with unrefined sunflower oil and cold-pressed lemon juice, add chopped prunes.
 - Cut the straws three carrots, beets and onions, add small cubes of solid apple and some dried fruit - apricots, prunes. Add cranberries or pomegranate seeds. Filling - mayonnaise nutty
. Salad slimming "Freshness" (cucumber)
Eat this salad in any quantity - there are so few calories that it can not damage the body. After cooking, leave him a salad in the refrigerator for 2hours.
Ingredients: Cucumber (2 pcs), sweetener - agave or maple syrup (equal to 15 grams of sugar), dill (1 beam), salt
. A method for preparing
We clean the fresh cucumber peel, cut into thin slices, to shift into a colander and salt well. Cover with a lid or plate and top load. Half an hour later, when all the extra juice drained, cucumbers, rinse again with cold water and pass on to the plate. In a separate pan to dissolve in water 2 tablespoons sugar substitute and vinegar, bring to a boil, cool and rub this mixture of dill. Put on top of the cucumber tucked greens and leave in the refrigerator.
Salad slimming "Green»
Prepare this salad all year round - greenhouse vegetables in the same suit, with lots of greenery
. Ingredients: lettuce (beam), cucumber (2 pcs), radishes, dill, green onion, parsley
. A method for preparing
Cut greens, lettuce and cucumbers and radishes. Add salt to taste, dressed with homemade vegetable mayonnaise. You can eat salad all at once.
Salad of celery diet
Rich in vitamin C celery reduces cholesterol and pressure, the other vegetables also have many beneficial properties for health promotion.
Ingredients: celery (4 stalks), cabbage (half a kilogram), cucumber (3 pieces), onions (2 heads), vegetable oil, cold pressed, the juice of half a lemon, parsley or dill
. A method for preparing
Cabbage and celery shinkuem, cucumber cut into thin strips, onion finely cut, mix everything in a large bowl and Mnemonic hands. Refill with lemon juice and olive or sunflower oil. Mix and let stand for a while. Garnish with finely chopped greens.
Salad slimming "fantasy»
Ingredients: Celery (300 grams), apples (250 grams), carrots (1 pc.), Walnut sauce (instead of sour cream), nuts, orange sliced ​​into pieces (halves)
. A method for preparing
Grate the carrots and apples, boiled celery on a fine grater. Stir, add chopped nuts, a little sugar and salt. Mix well, season with peanut sauce and put in the a la carte dishes. Garnish with slices of orange.
Salad slimming mushroom
Mushrooms - a recognized dietary product, by chance during Lent, they are in high demand. Assist them and lose weight as their calorie content is low enough. prepare a delicious salad.
Ingredients: fresh mushrooms (150 grams), vegetable oil (10 g). Lemon juice black pepper.
Preparation:
Good clean mushrooms, boil in salted water. Discard in a colander and cut into small pieces (you can use raw mushrooms - mushrooms ...). Peppers, pour vegetable oil and cold-pressed lemon juice. In a salad bowl, sprinkle with herbs (parsley, dill, green onions feathers).
Fruit salad brush
Ingredients
Dried apricots are an arbitrarily
Grapefruit -
arbitrarily Grains of pomegranate -
arbitrarily Prunes - arbitrarily
Preparation
Fruit salad brush contains more carbohydrates, so it is a high-calorie, but delicious.
Here, too, possible deviations in the form of adding kiwi, oranges, apples, oat bran. This dish gently cleanse the intestine, normalize digestion, eliminates heaviness in the body, improve the complexion and get rid of edema. Weight will also begin actively to leave, even if the rest of the diet has not changed.
Contraindications
If there is this salad too often and a lot, it can provoke diarrhea because of the abundance of laxatives components. The maximum daily rate - 500 grams of "whisk»
. Salad consumption is contraindicated in the propensity to diarrhea after taking antibiotics, in case of dysbacteriosis, flatulence, ulcers, gastritis, diseases of the pancreas and gallbladder. Mono-diet based salad-brush slimming prohibited under any digestive disorders or active physical activities during the day.