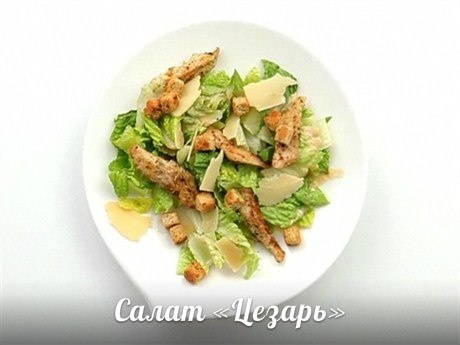 Ingredients:
Romano Salad 200g
Chicken breast 100g
Parmesan cheese 70 g
Eggs 1 piece
Crackers taste
Dijon mustard 1 teaspoon
1 clove garlic
Worcestershire sauce to taste
½ lemon pieces
Anchovies 4 pieces
Olive oil 150 ml
How to:
1 chicken breast fried to a crispy golden.
2. To make the sauce "Caesar": Mix in a blender 1 egg, a teaspoon of Dijon mustard, garlic clove, a little Worcestershire sauce, juice of half a lemon and anchovy 4; Continuing to whisk, slowly add 150 grams of olive oil and grated Parmesan cheese 40 grams.
3. Put on the dish Romano.
4. Put the fried and sliced ​​chicken breast.
5. Add the sauce "Caesar».
6. Top with a few strips of parmesan.
7. Sprinkle salad with croutons or toasted.