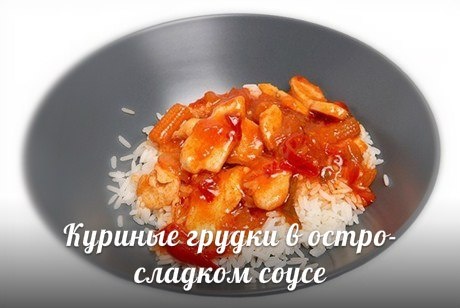 Ingredients:
Chicken breast fillets 900 g
Olive oil 2 tablespoons
Ginger powder ½ teaspoon
1 clove garlic
Chili flakes ¾ tsp
Apple juice ¼ cup
Brown sugar ⅓ cup soft
Ketchup 2 tablespoons
Apple vinegar 1 tablespoon
½ cup water
Soy sauce ⅓ cup
How to:
1. Chicken breasts cut into small pieces (one bite).
2. In a large deep frying pan on the hot olive oil, fry the meat in several batches until golden brown and put in a bowl.
3. In the same pan, fry the chicken where, mix apple juice with water, apple cider vinegar, sugar, soy sauce, ketchup and spices. Stir until the sugar is completely dissolved, warm liquid over medium heat, without boiling.
4. Put in a pan with the sauce fried chicken. When the sauce comes to a boil, reduce heat and continue to cook for another 20 minutes.
5. Serve hot with boiled chicken with white rice.