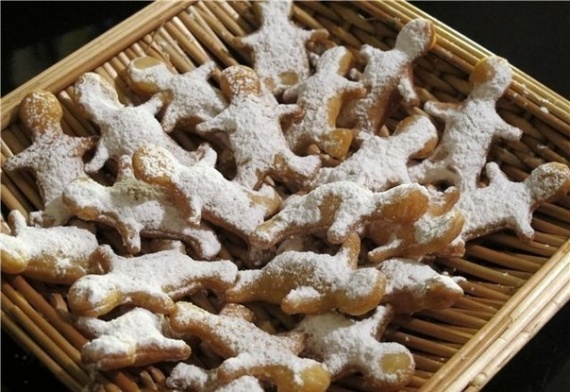 Ingredients:
 - Flour, 225 gr.
 - Soda 1 tsp
 - Salt-4 tsp
 - Sugar - to taste
 - Butter - 30 oz
 - The water is warm - 50-100 ml. (2/3 cup)
Preparation:
Billeted oil for deep frying.
Padding: powdered sugar or honey Preparation: Mix good- flour, salt, baking soda, sugar. Add the butter and rub well with flour. Then a little bit by adding warm water to knead dough. Flour of different types takes different amounts of water and water + adjust the structure of the dough, the dough should get flexible and should be easy to unroll, it should not get tight. Very convenient to roll out the dough on a baking paper covered with baking paper, too, did not have to sprinkle the surface with flour. Roll out the dough not too thin, cut any shape in Mexico, this dessert is prepared in the form of squares / pads. Heat the vegetable oil over medium heat until the maximum economical fry in deep kovshike.Zharim not forgetting to turn. Ready to spread on a paper towel to remove excess fat, then pour powdered sugar or honey, or chocolate, or any syrup.