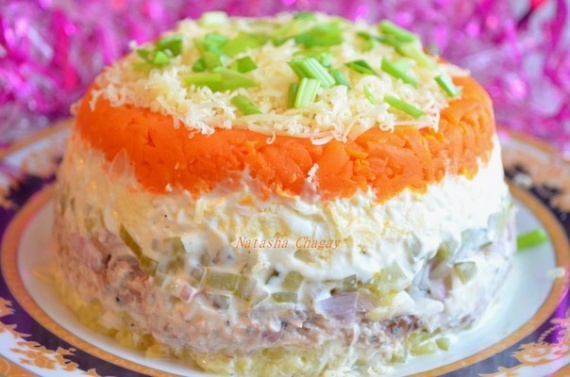 Canned fish to taste (in oil or natural) 1 jar
boiled potatoes 2 pieces
boiled carrots 1 piece
red onion 1 piece
boiled eggs 3 pcs
pickled cucumbers (or salted) 2 pcs
Refills sour cream, mayonnaise, unsweetened yogurt (in general to taste)
salt and pepper to taste
some cheese and greens to decorate
Potatoes, carrots and eggs grate. Fish mash with a fork (you can add the liquid from the jar). Onion, cucumber cut very finely. Put layers from bottom to top:
potatoes
fish
Bow
cucumbers
eggs
carrots
Fluff dressing, salt (I do not I salt) and pepper.
Garnish with grated cheese (you can do without) and greens.
Bon Appetite!