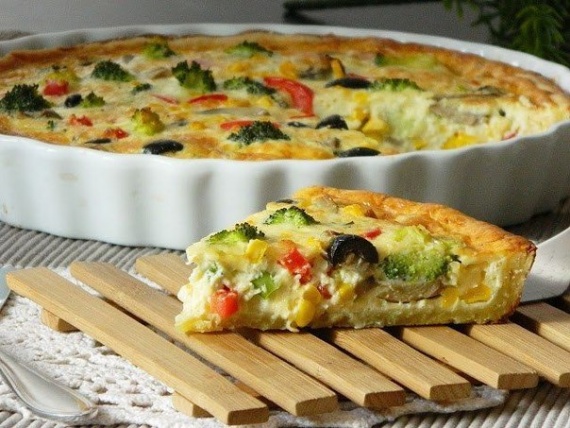 Ingredients:
Dough (form = 26 cm):
250 g flour
1 egg
pinch of salt
125g cold butter, diced
2 tablespoons cold water
Filling:
4 eggs
200ml double cream
200 g Gouda cheese (100 g Gouda cheese + 100g mozzarella)
Extras:
broccoli (boil in salted water for about 5 minutes)
green, yellow, red pepper diced
mushrooms
corn
salt and pepper
Preparation:
Mix all ingredients for the dough and knead it. Roll out on a board, floured, and reload the batter into the prepared form. Cover the dough with baking paper or foil, sprinkle on top of the beans, peas or rice as cargo. Preheat oven to 200 ° C and send a basis for 5-7 minutes browned. Put the beans, remove the foil and bake for another 7-8 minutes. Mix all the ingredients for the filling and pour into baked base. Bake for 15 minutes until golden brown.