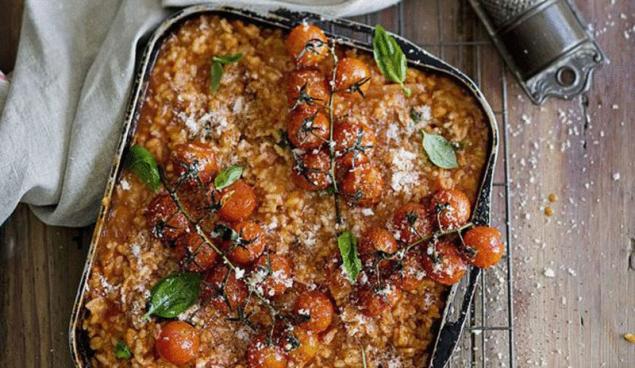 This dish is a real godsend for those who are close to the spirit of vegetarianism. How to cook a vegetarian risotto which products may lie in its basis?
Recipe with chickpeas This recipe vegetarian pilaf is based on a combination of rice (1 tbsp.) and chickpeas (chickpeas need only 100 g). Also, take the stalk of celery, a carrot, 50 g of soy meat, vegetable oil and seasonings.
The chickpeas soak for 4-6 hours. In a pot heat 2 tbsp oil, put grated carrots and diced stalk of celery, and season. Put layers of soy meat, swollen chickpeas, rinsed rice. Pour hot water (water above the level of grains 1 cm). Season the dish. Simmer under the lid to the evaporation of water then stir.
Recipe for a slow cooker to cook vegetarian fruit and vegetable pilaf take apricots (6 pieces), Apple and carrot (1 each) and 2 tbsp. of rice. The optimal set of seasonings: barberry, cumin, coriander, turmeric, Chile. For cooking use vegetable oil.
Heat the butter in a bowl (stir-Frying), fry the shredded carrot. Brush the Apple and cut into slices, add to the carrots. Apricots wash, remove seeds, slice, put to the total weight. After 10 minutes, add well washed rice, pour salted water (4 tbsp.), add all the spices. Cook the pilaf in the appropriate mode for 30 minutes.
Recipe with mushrooms mushroom risotto perfectly nourishes. You will need 500 g of mushrooms, onion, carrot (1 root), sweet pepper (1 PC.). Also, take 2 tbsp. l. corn and peas (from a can) and 1 tbsp. of rice. Water need 2 tbsp. of the Set of spices may include cumin, paprika, turmeric, pepper (black, red), barberry. To prepare the dish you will be on vegetable oil.
Carrot and pepper chop, fry in a frying pan. In a pot fry the onions and mushrooms. Add carrot weight, spice up, salt, sauté 2-3 minutes. Put corn, peas, washed rice grain. Cover with water, add salt, cook until tender. Stir the finished dish.
Recipe with dried fruit Take 0.5 Cup raisins, prunes, dried apricots. Rinse, cover with water. 3 onions and 2 carrots clean, chop, fry on vegetable oil (2 tbsp) – use the cauldron. Add swollen and dried from excess moisture dried fruit (chop larger pieces). Fry a little, add the washed rice (1 tbsp.). Add water (2 tbsp.). Season, add salt, cook on weak fire.
Recipe with red rice 1 tbsp. useful red rice is only one component of the dish. Other ingredients: carrots, onions (2 PCs.), green beans (100 g), water (3 tbsp.). You need to cook in vegetable oil (2 tbsp). Can add in the recipe of cashew nuts (a few pieces). Seasoning and salt, use to taste.
Fry onions in butter and carrots. After 5 minutes add the chopped green beans. After a few minutes, put in the cauldron, washed rice, pour salt water, and season. Cashew chop, dry in the pan, put in the cauldron. Cook the rice until tender.
Vegetarian risotto will satisfy even a staunch "meat eaters" — this dish has many variations, and so never grows old.published
Source: updiet.info/