Did you ever
soup with nuts
? This is a very tasty and unusual! I want to offer the recipe
of the Georgian kharcho soup with rice and nuts
. Of course, this is not a classic soup, a vegetarian version of the soup.
Ingredients:
Walnuts — 50 g.
Tomatoes — 3 pieces large.
Onion — 1 medium onion.
Garlic — 2-3 cloves.
Hot red pepper — a small piece with a length of about 2-3 cm Be careful with the peppers to the soup not too spicy. If you do not like spicy, put less pepper.
Vegetable oil
Rice — 100 g
Salt to taste.
Coriander beans — 0.5 teaspoons.
Water — 1 liter.
For serving — fresh cilantro or parsley, bunch.
​
How to cook kharcho with rice and walnuts: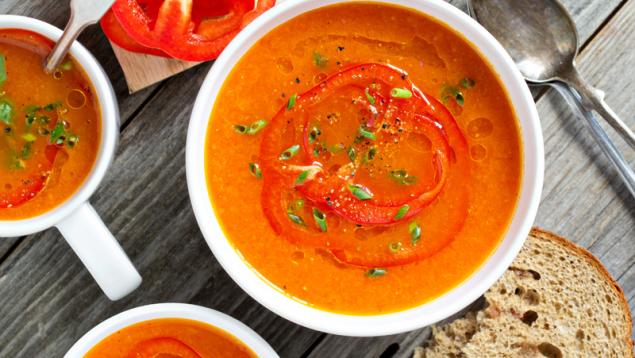 1. Finely narezaem peeled onion. Heated in a skillet vegetable oil and spread the onion. Fry for 1 minute over high heat.
2. Finely chop the nuts or grind in a mortar/blender. Cleaned from the husk garlic cloves, hot pepper cleans the seeds. Finely chop garlic and pepper.
3. Add to the fried onions chopped walnuts, garlic and pepper. Stir and fry all together on high heat for another couple minutes.
4. In a saucepan boil the water. Add to the pot of roasted nuts with onion. There also pour the rice.
5. Add salt and coriander. Close the soup with a lid and cook for 5 minutes.
6. Cut the tomatoes and put in blender. Grind tomatoes in a blender, puree. While soup is cooking, simmer the tomato sauce in the pan for 5 minutes.
7. Then put tomato puree in a pot of soup, stir and cook for another 5 minutes under the lid on low heat.
8. Grind the coriander or parsley, sprinkle soup with greens and serve hot.  
Cook with love!  
Also delicious: Delicious vegetarian cream soup of parsnip and celery An exquisite soup of kohlrabi "Norwegian"
Source: perfectfood.ru/2014/01/sup-harcho-s-risom-i-orehami-recept-s-video/