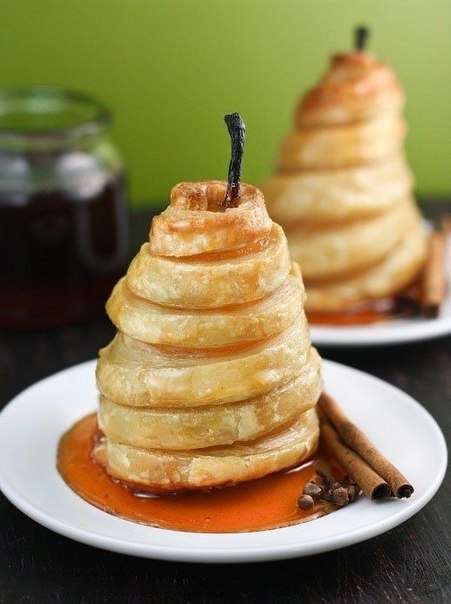 Ingredients:
Pear - 4 pcs
Sheet of puff pastry
Water - 4 cups
Sugar - 2 cups
Honey - 1 cup
Half of lemon
Vanilla pod
Cinnamon sticks - 3 pcs
Cloves - 6-8 pcs
Preparation:
1. Pears wash. Remove their skin (the stalk leave!). Then, in a saucepan, pour 4 cups of water, place over medium heat. Pour into a saucepan the sugar and honey. Stirring constantly, bring to a boil. Then add in the pan pear, vanilla bean, cinnamon stick, cloves and half a lemon. Pears cook until done (check the softness of a fork). Cooking time can take 20 to 40 minutes, depending on the ripeness of pear.
2. When the pears are ready, remove them from the pan and allow to cool slightly (syrup in any case do not mix!). At this time, put Preheat the oven to 170 degrees. A dough cut by narrow stripes identical.
3. Pears should stripes wrap from dough. Fix striped follows the spine.
4. When the pears completely wrapped in dough, put them on a baking tray, the laid paper baking and send it in the oven bake for 20-30 minutes, until the pears are not covered with a golden crust.