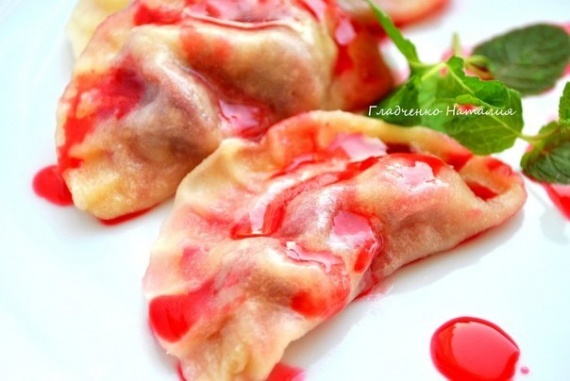 Even in the summer when the garden begins to mature cherry, I'm already thinking about how a cold winter evening, treat your loved ones with this juicy dumplings, fragrant berry. To this end, I chose the largest and ripe fruit for freezing. Of course, frozen dumplings can be bought in any supermarket, but not one of the semi-finished products purchased will not be compared with a delicate dough and delicious stuffing, cooked at home!
Ingredients: Dough: -1 egg
-1 Cup of water
-350-400 Gr. flour
- * A pinch of salt (salt should be added only if you are going to cook dumplings steamed, if you boil them in water, then add the salt is not necessary, because you need to be salt water during cooking).
Filling: -500 gr. cherries, pitted
-sahar- taste
Preparation: -Vishnyu defrosted, remove the bones.
-In A bowl break an egg.
-Add Water, whisk to mix.
-Then Add flour, knead the dough and remove it in a warm place for 1 hour.
-From Cut a small piece of dough, form a flagellum, then cut into small pieces, roll them with a rolling pin on a floured surface pripylennoy in the dough to put a few berries, sprinkle with sugar to taste, form the dumplings.
-Vareniki Put on pripylenny spacing and send in the freezer.
-Finish Steamed about 10 minutes, if the cooking water, then 2-3 minutes after boiling.