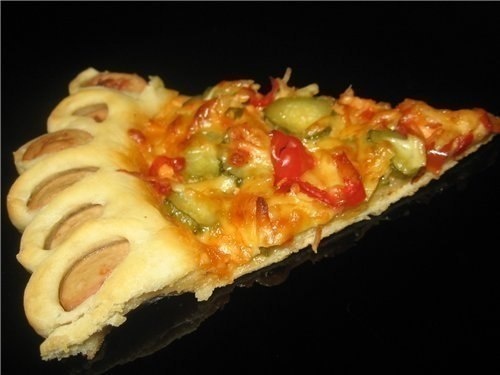 Ingredients:
 - 150ml warm water
 - 0.5 tsp sugar
 - 0.5 tsp salt
 - 2 tbsp. tablespoons olive or vegetable oil
 - 8 g dry yeast (1 tsp)
 - Article 1.5. flour
Preparation:
Stir the sugar in the water, add the yeast and put in a warm place for 10 minutes Sift flour, add salt, butter and prepared yeast, knead the dough well, to form a bun, put in a bowl, cover with foil, remove to a warm place until the increase in 2 times (about one hour out). split in half, knead and roll out circles on the filling and your imagination.
Today I have served for filling sausages, cheese, bell peppers, pickles, tomato sauce and mayonnaise.
On the rolled round I put on the crust of sausage, cutting them in half, wrapped edge sting properly. You can not just put the sausages, and all the ingredients of any nachinochki, finely chopped, zaschipat edge, but cutting them is not necessary - get pizza with a side.
If the sausage - makes an incision in the photo every 2.1 cm, and expand the sausage up into the center of the pizza spread nachinochku.
In a hot oven 200 ° C for 10-15 minutes.