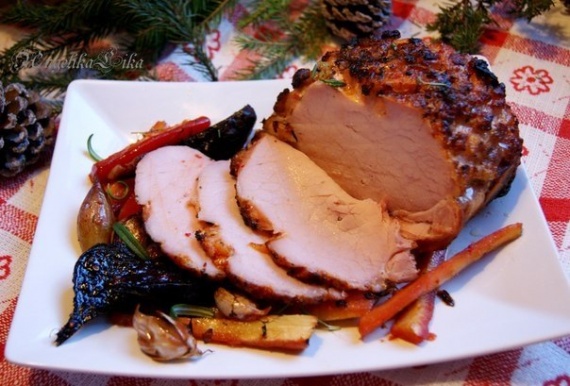 Smoked pork is very popular in Norway during the Christmas period. Her baked, boiled thick nourishing soups, make roast with vegetables, served as a starter. That's one of the options:
Smoked pork loin - 1 kg
Little beets - 3 pcs
Carrots -2 pcs
The root of the parsnip -2 pcs
Shallots -3 pieces
Garlic - 4-6 tooth.
Marinade:
Honey - 1 tbsp
Juice of 1 orange
Ginger (powder) - 1/2 tsp
Cinnamon - 1/2 tsp
Garlic
Rastit.- oil 1 tbsp
Dried chili pepper - to taste
Thyme
Salt
Mix all the ingredients for the marinade. Well daubed them meat and diced vegetables (carrots, parsnips, onions, beets cut into 2-4 pieces, crushed garlic (flatten) the flat side of a knife). We shift all in a baking dish. We put the meat on vegetables, thyme sprigs on top. Close the form of foil and bake for about 1, 5 hours at 170 grams, open the foil and bake for another 10-15 minutes at 200 g, the meat browned.