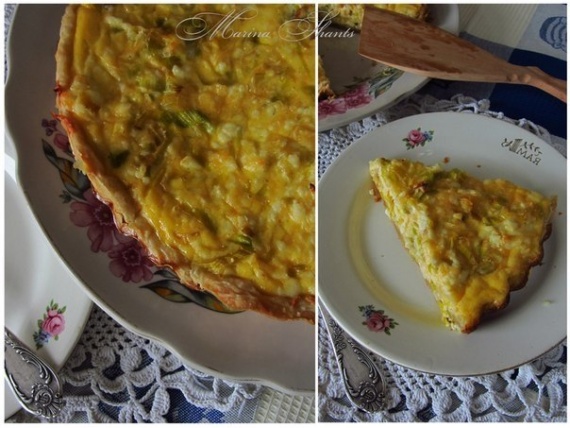 Remained in my piece of the pie dough with ham and bided his time in the freezer. And today I baked from it is another great cheese cake with lots of toppings and a thin crispy batter.
If you, like me, love the cakes from the category of "minimum test - a maximum of stuffing", this cake just for you! :) Preparation of this cake takes a minimum of time, especially if you have the dough will be procured in advance.
For the dough recipe thank Victoria (Pikante), now only a dough for pies and do :))
Of this amount of dough turns 2 pie (one I baked a diameter of 21 cm, and the second - 27 cm)
320 gr flour
1 tbsp sugar
1 tsp salt
225g cold butter, diced 1 cm from the edge
125 mL of very cold water
Filling:
200g Adygei cheese (grate)
150 g of hard cheese (grate)
1 stalk leek (cut into slices and fry until softened butter)
100 ml cream 20%
10 g oil drain
3 eggs
a pinch of nutmeg
I cook the dough in a food processor with knife attachment. You can also chop the first oil with flour knife into small crumbs, then add the water and quickly (!) Cold hands knead the dough.
So, in a bowl combine to place the flour, sugar, salt and butter, chop until the flour and butter will not turn into crumbs, then add water to wait for kneading dough, turn off the processor. Molded hands of the dough into a ball, wrap it in plastic wrap and flatten, giving the shape of a disk. Put the dough in the refrigerator for at least 2 hours I did last night and lay the dough overnight in the refrigerator.
For the filling mix adygesky cheese, hard cheese, fried leeks.
Prepare fill: a whisk to mix the cream with the eggs and nutmeg. I do not salted or filling or pouring, as enough salt in the cheese.
Roll out the dough on a floured surface. Distribute the batter to form top with baking paper with peas (beans) and bake in a preheated oven 200 g for 10 minutes. Pull the base of the oven, spread the filling on top and pour the filling. Bake 20 - 25 minutes, until the filling will not be dense.
Allow to cool in the form of 10 minutes and pass on to the dish.
Bon Appetite! :))