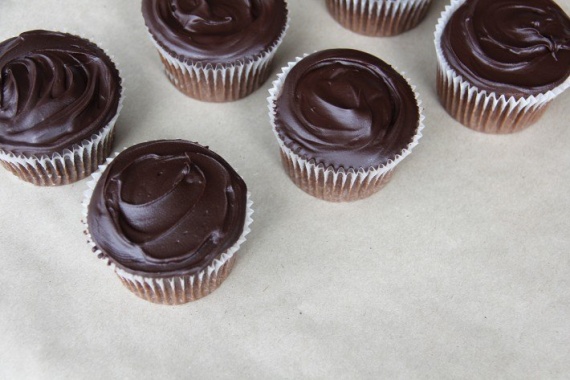 Ingredients:
100g butter, softened
2 large eggs, lightly beaten
250 g of powdered sugar
100 dark chocolate, melt
280 g flour
1 teaspoon soda
2 tablespoons cocoa powder
250 g sour milk or buttermilk
Sweet:
100 g butter
250 g dark chocolate, finely chop
Preparation:
Heat the oven to 180 ° c and prepare molds for cupcakes.
In a large bowl, combine the butter, eggs and melted chocolate. Sift the flour, baking soda and cocoa together. Add this mixture to the weight basis. Pour the sour milk and beat for 1-2 minutes. Spread the batter between cupcake molds and bake for 18-20 minutes.
Put the butter and chocolate in a heat-resistant bowl and place in the microwave at maximum power. Every 15-20 seconds to reach it and stir the mixture. It should be uniform dense mass.
On top of each cupcake Put sufficient amount of sweets.