In the New year and Christmas so easy to become a magician and give loved ones a sense of wonder. Our recipes will teach you how to create beauty, and baked them muffins, cookies and desserts will fill your home with breathtaking aromas, decorate a festive table and will be a wonderful gift for friends and family.
Gingerbread people
Can there be a real Christmas without gingerbread men?! Tiny scarf and hat, of course, inedible, but very festive!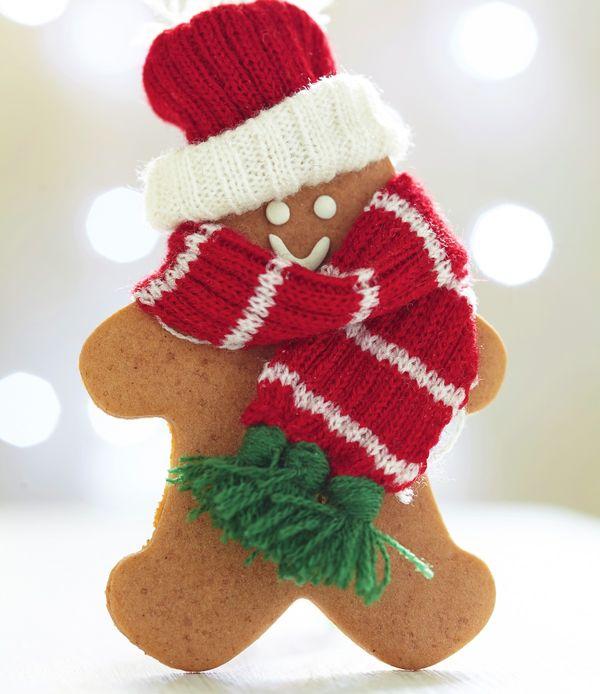 Ingredients:
125 g butter
1/3 Cup sugar
1/3 Cup any syrup
3 cups flour
1/2 tsp ground ginger
1 tsp cinnamon
3 tsp soda
1 egg
1 tsp vanilla essence  
1. On low heat melt butter, sugar and syrup. Allow it to cool.
2. In the resulting mass, add soda, sifted flour, spices and stir. Beat the egg, pour in the vanilla essence and mix well to form soft dough.
3. Roll it thinly, cut out shapes of the stick figures, place on a greased baking sheet and bake in a preheated 180°C oven for about 10 minutes.
4. The finished cakes can be covered with colored frosting.  
Cookies with Royal glazurovannye sugar coated, will decorate any table!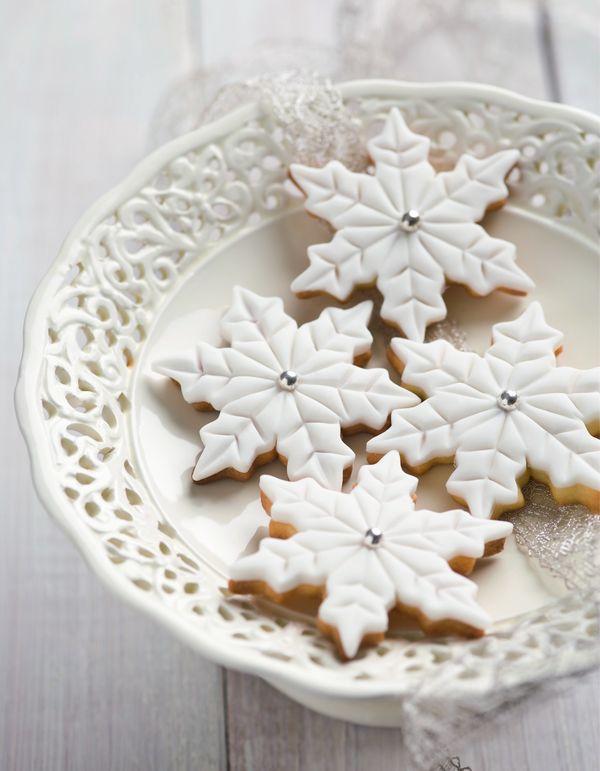 Ingredients:
125 g butter
2/3 Cup powdered sugar
1/3 Cup honey
1 egg
1 tsp lemon zest (optional)
3 drops of almond essence (optional)
3 cups flour  
1. Mix butter, sugar and honey to the consistency of gentle cream. Add the zest, almond essence and flour. Knead the dough, wrap it in plastic wrap and refrigerate for 30 minutes.
2. The dough will release from the film roll out thinly and using a cookie cutter cut out various products. Bake at 180°C for about 10– 12 minutes until then, until the cookies are firm.
3. Products allow to cool on a wire rack, then cover them with icing and decorate with sugar silver balls.  
Royal glutarimide:
2 egg whites
1/4 tsp lemon juice
450 g icing sugar, sieved  
1. Pour egg whites and lemon juice in a bowl and beat until white homogeneous mass.
2. Continuing to whisk, gradually add powdered sugar. Watch for consistency: the frosting should be runny enough that it was easy to put on cookies.
Put icing, then align it with a cookie cutter or a knife and decorate with sugar balls.  
Pie marzipane need to be a professional pastry chef in order to cook the same delicious dessert. Colorful marzipan will help to turn into a culinary masterpiece, even the most bland pie. Sculpt these berries from marzipan even children can!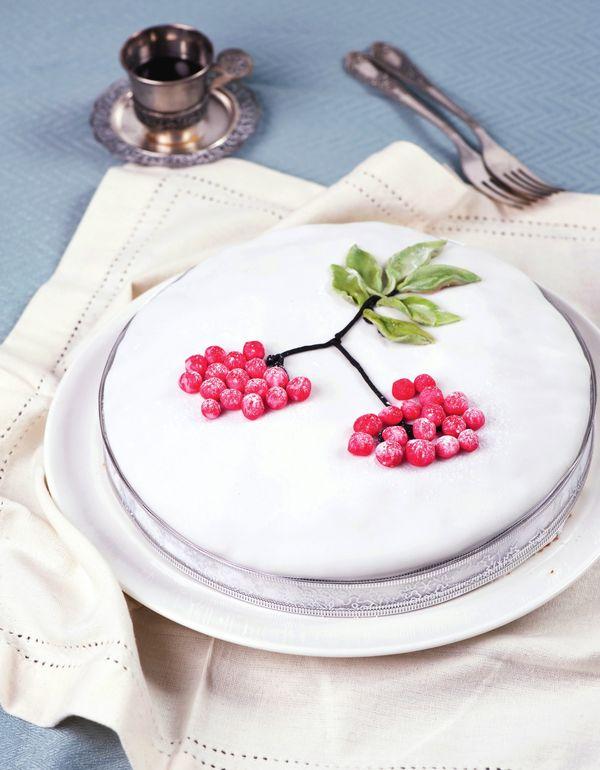 You can buy ready-made marzipan and icing (or make them yourself) and decorate them with a regular pie. If the cake is fruity, again it is better to apply the marzipan and only after it dries (24 hours), frost with butter frosting. The recipe for the glaze, see above.  
Marzipan
Ingredients:
125 ml of water
330 g of sugar
1 ¼ Cup almond flour
1 egg yolk
powdered sugar
food coloring    
1. Mix the water with sugar and heat on the fire to 115°C. Then remove from heat and stir in the syrup and almond flour. Stir, beat egg yolk, stir in the powdered sugar and knead the dough. It must be very dense. If the dough remains soft, add a little more powdered sugar.
2. The resulting dough put on a Board dusted with powdered sugar, and knead until then, until it no longer sticks to hands.
3. Divide dough into 2 parts and using dyes paint them in red and green. Dyes add small droplets and mix until, until the color will not be uniform.
4. Shape balls-cherry red marzipan, cut out green molds leaves. The stems are made of chocolate glaze.  
Christmas cupcakes with frosting
Cupcakes, glazed, beautifully packaged, stick personalized labels to put under the Christmas tree and give to guests!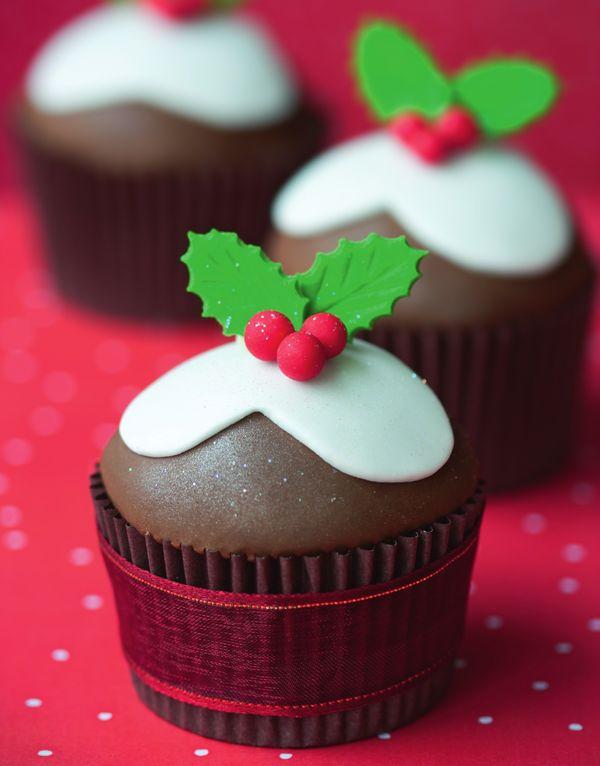 The glaze is capable of many things — be creative!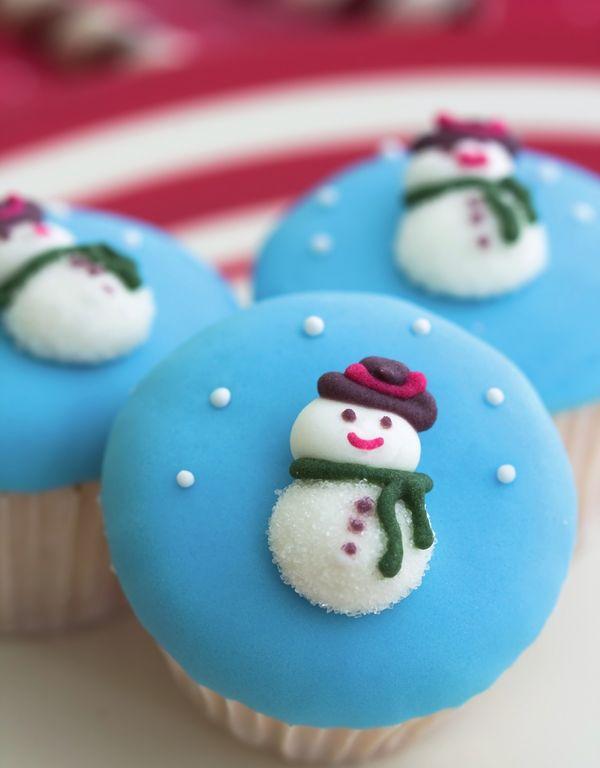 Mixingratio:
250 g soft butter
2 ¼ Cup granulated sugar
3 large eggs or 4 small
4 cups flour
3 tsp. baking powder
1/2 tsp salt
1 Cup milk
3 tsp vanilla extract
a glass of chocolate cereal (optional)  
1. Whisk the butter with the sugar, then, continuing to whisk, add the eggs.
2. Sift the flour with salt and baking powder.
3. Mix the milk with the vanilla extract (chocolate flakes — optional).
4. Alternating between flour and milk mixtures, add them in beaten butter, stirring constantly. When the mixture becomes homogeneous, it will fill in small tins (to 3/4) and bake in a preheated 180 °C oven for about 15 minutes.  
Butter cream
Ingredients:
115 g soft butter
2 ¼ Cup powdered sugar
2 tsp water  
1. Beat the butter white. Then, without stopping whisking, gradually add the powdered sugar. Pour in water and whisk again. Apply the resulting cream on the cupcakes and store in the cold for 1 hour.
2. When the cream hardens, top the cupcakes with frosting (see recipe "Cookies with Royal icing"). To make colored frosting, use food coloring.  
Panforte
is a Traditional Italian Christmas gingerbread with dried fruit, honey, nuts and chocolate.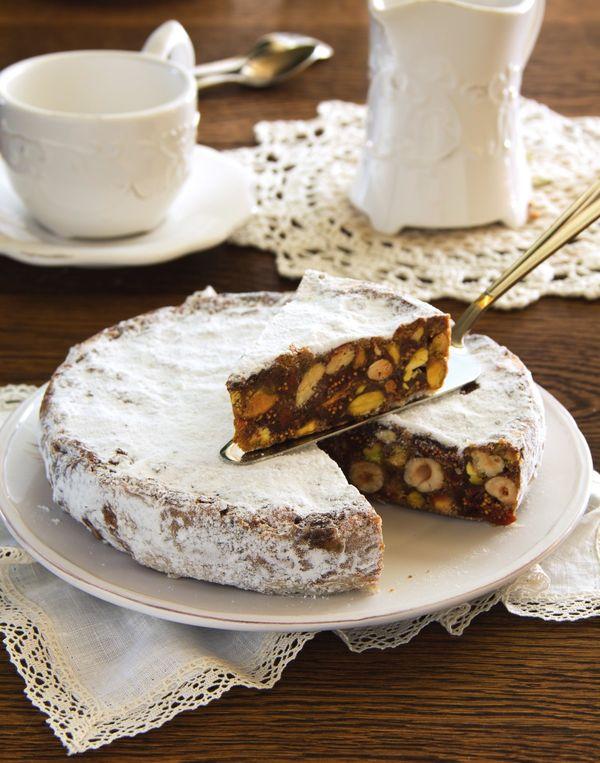 Ingredients:
100 g peeled almonds
100 g hazelnuts blindirovannye
150 g sugar
150 g of honey
1 Cup flour
1/2 tsp mix of ground cinnamon, cardamom, nutmeg
and allspice
2 tbsp cocoa powder
250 g of any dried fruit
powdered sugar
1. Fry the nuts until Golden brown.
2. Sugar and honey put in a bowl with a thick bottom and melt over medium heat, stirring constantly, until a homogeneous syrup. Then cook the mixture over medium heat (115°C) to produce a thick syrup.
3. The flour and cocoa powder sift in a bowl, add roasted nuts and dried fruits. Stir, pour the hot syrup and stir again.
4. Preheat the oven to 160°C. Form 20 cm in diameter vystelit baking paper. Pour it in the prepared batter and bake for 45 minutes.
5. The finished cake let cool, then sprinkle thickly with powdered sugar.  
Vanilla pudding is
a Light creamy pudding are a classic solution to Christmas dinner. Vanilla asterisk can be decorated with pieces of fruit, grated nuts, chocolate or nutmeg.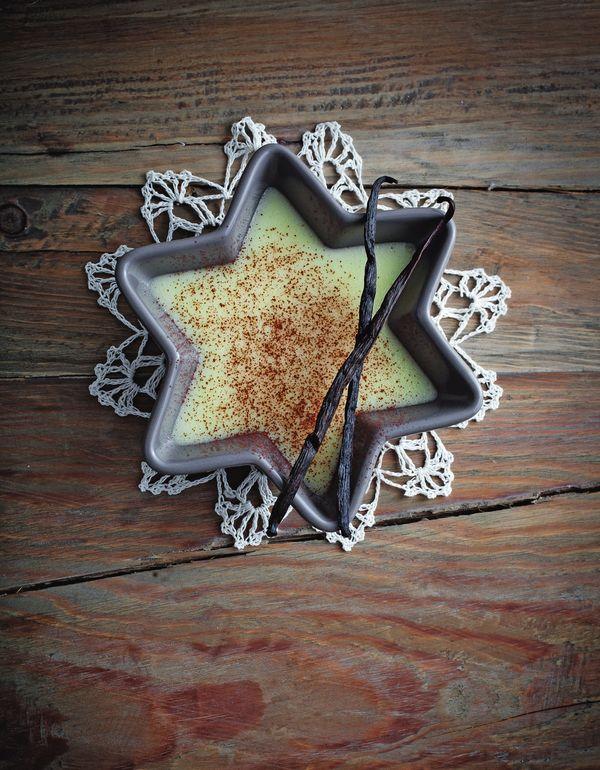 Ingredients:
1/3 Cup granulated sugar
2 tbsp corn flour
1/4 tsp salt
2 cups milk
3 egg yolks
3 tbsp butter, diced
2 tsp vanilla extract
nutmeg for sprinkling  
1. Sugar, corn flour and salt sift in a saucepan with a thick bottom. Put on the fire and while stirring in a thin stream, pour a glass of milk.
2. Separately, whisk the yolks, pour them in a pan with the sugar mixture and add the remaining milk. Reduce heat and cook over low heat until thick. As soon as the mixture begins to drain from the blades smooth ribbons, the fire can be turned off.
3. To the resulting mixture add the butter and vanilla extract. Stir, strain through a sieve and pour into molds.
4. Each close food wrap and put 2 hours in the refrigerator. Sprinkle with nutmeg and serve.  
Caramel apples
are one of the most popular treats on the European Christmas markets. We offer you to make apples with a sauce of toffee and almond. This beautiful and useful sweetness will appreciate the whole family.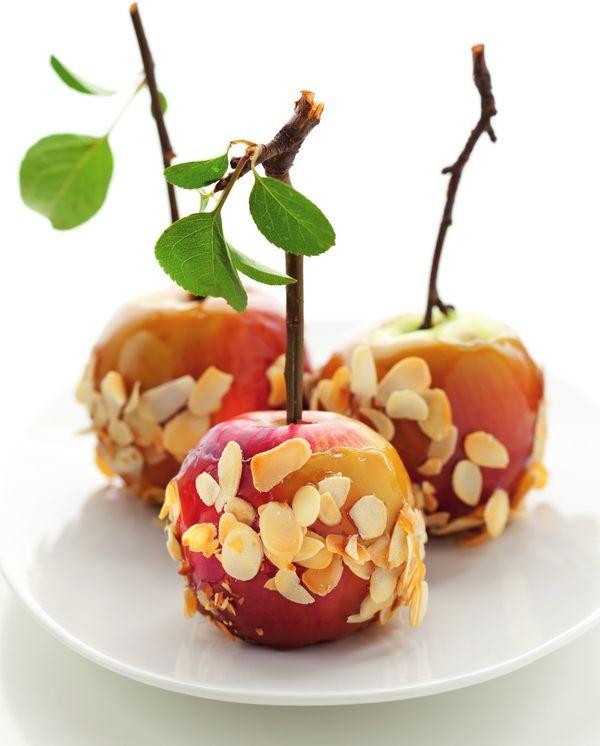 Ingredients:
6 large apples
50 candy-toffee
2-3 tbsp water
a pinch of salt
grated almonds, pecans or coconut
6 wooden skewers  
1. Toffee pour water and stir, melt on a hot water bath. If the syrup is too thick, add a little more water. Add salt and stir.
2. Put the apples on wooden skewers and dip into syrup until it is completely coated them.
3. Then the apples in the caramel coat nuts (coconut) and place on a surface lined with parchment. Caramel shell let cool.  
Source: www.7dach.ru