On Saturday, it was the Catholic Christmas - the day according to the beliefs of Christians Catholic,
in Bethlehem 2,010 years ago, Jesus Christ was born. Christianity is the largest religion in the world -
more than two billion people follow the rules of the religion. Believers celebrate Christmas differently,
and today this holiday is becoming increasingly popular.
Collected here are photos of celebrating Christmas from around the world.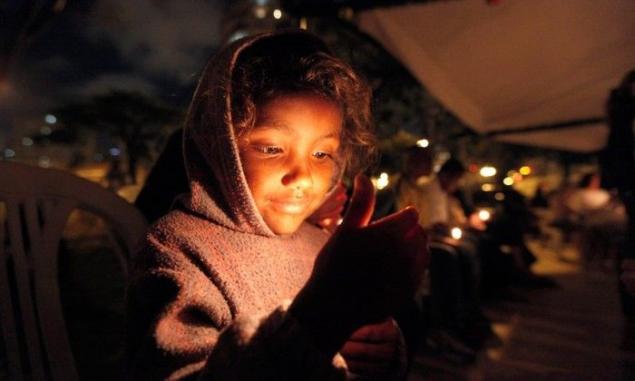 1. The Iraqi Christian at Christmas service in a Catholic church in Amman, Jordan, December 22. Thousands of Iraqi Christians have fled to neighboring Jordan after a series of terrorist attacks in the Iraqi churches in the past few years. (REUTERS / Ali Jarekji)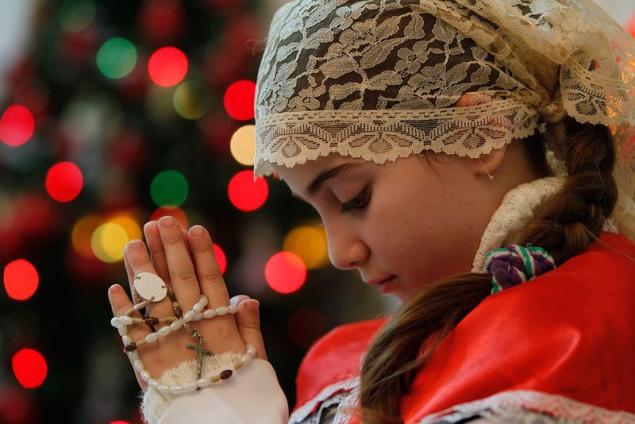 2. Believer under the picture "Baby Jesus in the grotto," during a visit to Cathedral of the Nativity in Bethlehem on December 23. (REUTERS / Ammar Awad)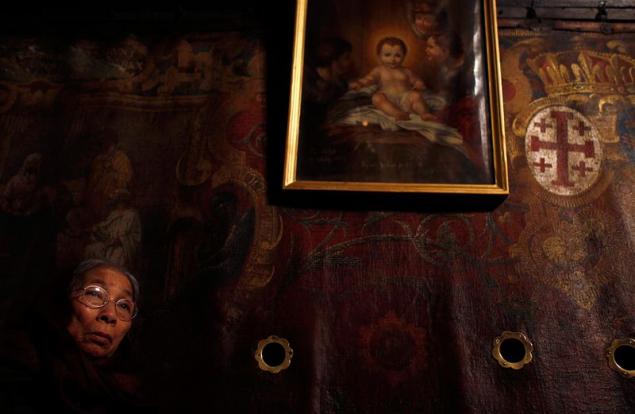 3. Hindus written on their foreheads "Merry Christmas" in Hindi on the banks of the River Ganges in Allahabad, on the eve of Christmas. (REUTERS / Jitendra Prakash)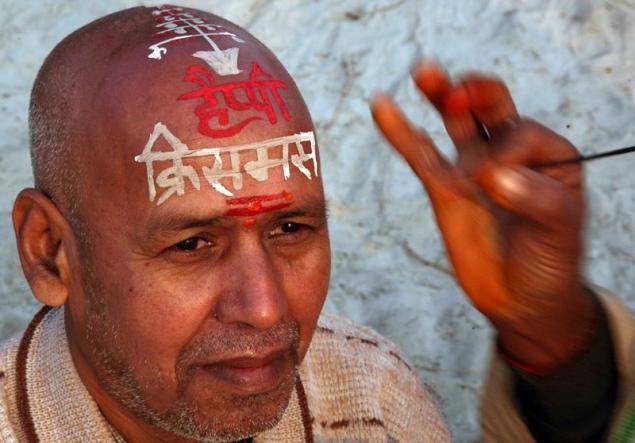 4. US military expeditionary force of 103 on the eve of Christmas Eve at a military base in Ballad, 80 km north of Baghdad. (REUTERS / Saad Shalash)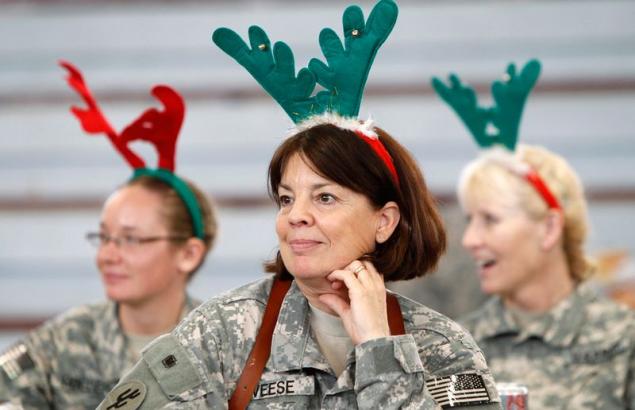 5. Pope Benedict XVI with a candle during the ceremony demonstration nurseries St. Peter's Square at the Vatican. (ALBERTO PIZZOLI / AFP / Getty Images)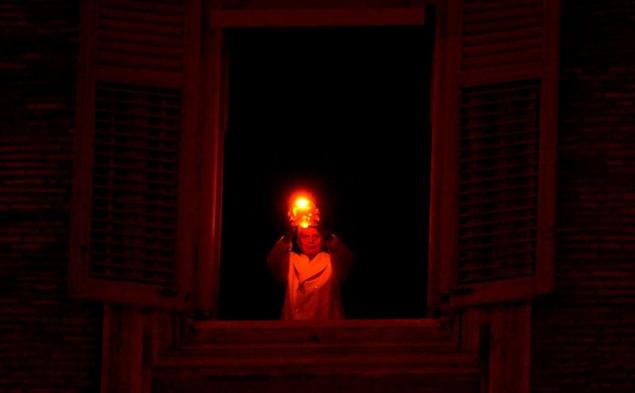 6. A man cleans a statue of Jesus Christ on the roof of a church in Noida, located in the northern Indian state of Uttar Pradesh. (REUTERS / Parivartan Sharma)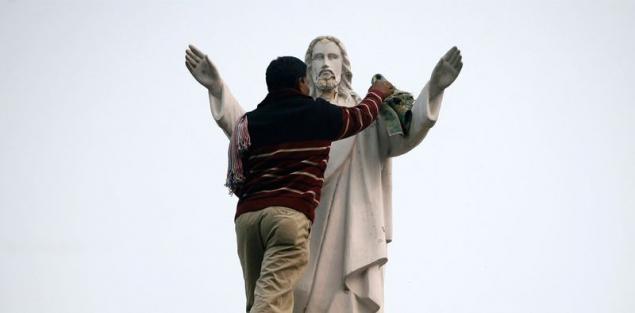 7. The members of the club "Berlin walruses" dipped into the lake Orankezee in Berlin during the traditional Christmas swim. Walruses argue that winter swimming is good for health and helps improve blood circulation. (Sean Gallup / Getty Images)
8. A man prays during a Christmas service in the Cathedral of Alexander Nevsky with golden domes in Sofia on December 25th. In Bulgaria, unlike many neighboring countries Orthodox Christmas is celebrated on December 25th. (NIKOLAY DOYCHINOV / AFP / Getty Images)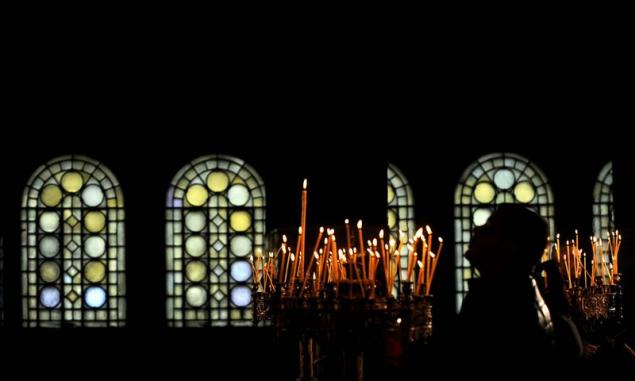 9. Christian pilgrims pray in the Cathedral of the Nativity in Bethlehem on Christmas Eve. (REUTERS / Darren Whiteside)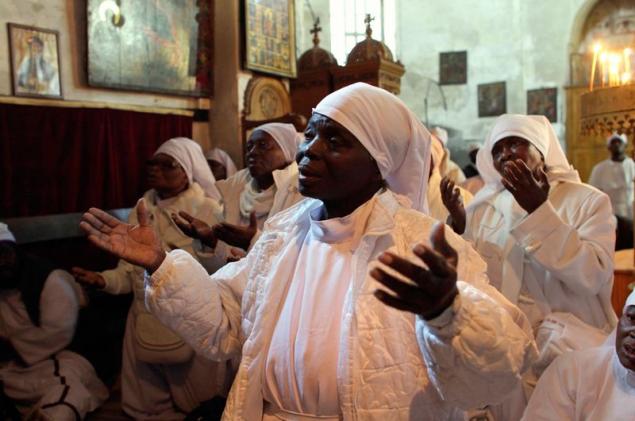 10. Villagers Remedios, which is 350 kilometers east of Havana, admire the fireworks during the traditional holiday "Parrandas" morning of the 25th of December. After the establishment of socialism in Cuba Christmas holidays were replaced by "Parrandasy," during which people until the morning watching the fireworks and parades. (ADALBERTO ROQUE / AFP / Getty Images)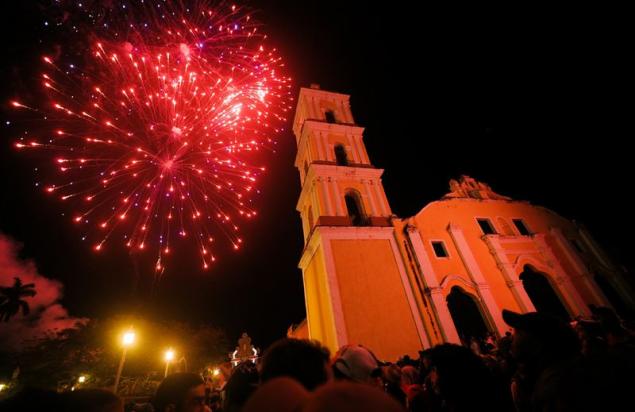 11. Einar Sveinsson dressed as Santa Claus calms the patient Hasel Sanchez in the House of Children's Hospital Benjamin Bloom in San Salvador, El Salvador, December 25th. (AP Photo / Luis Romero)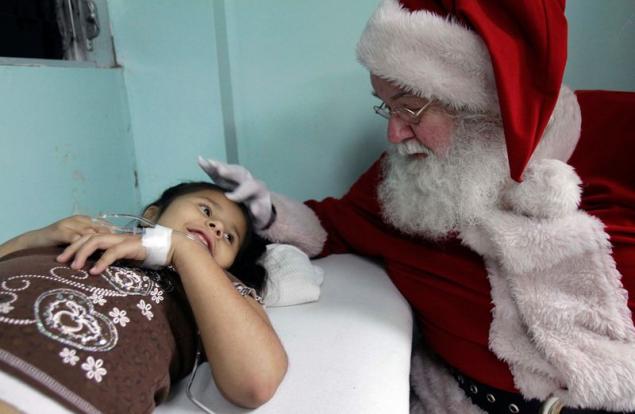 12. The Palestinian Christians on Christmas service in a Catholic church in the village Zababdah, the West Bank of the Jordan River. (SAIF DAHLAH / AFP / Getty Images)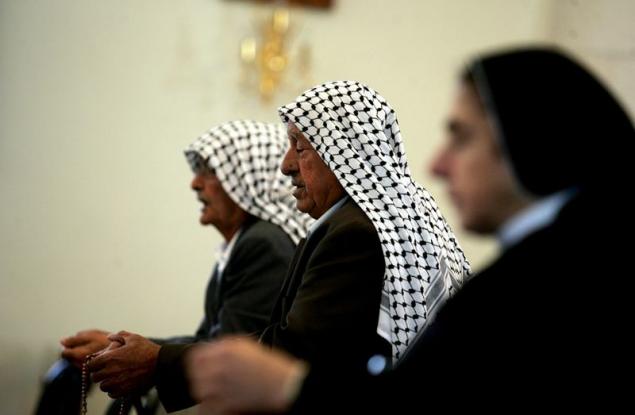 13. The Sudanese girl looks in the Cathedral of St. Teresa, where the Christmas service in Juba. (REUTERS / Goran Tomasevic)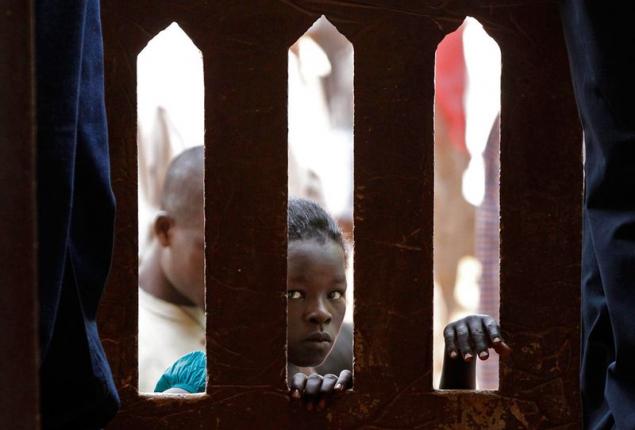 14. Nepalese Christians on Christmas Eve service in the Catholic Church in Lalitpur on the outskirts of Kathmandu. Less than 1% of the 27 million people of Nepal Christians. Most of the population are Hindus. (PRAKASH MATHEMA / AFP / Getty Images)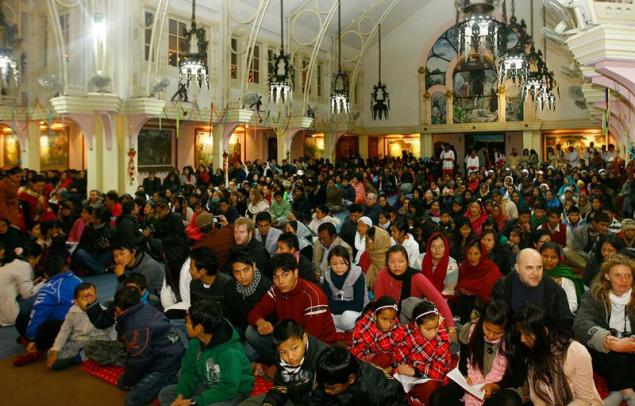 15. Cardinal Mahoney Rozhdzher conducts Christmas service at the Cathedral of Our Lady of Los Angeles. (Eric Thayer / Getty Images)
16. Santa Claus handing out candy to children at the hotel «Le Meridien» in New Delhi on December 25th. Christians in India make up slightly more than 2% of the billion people. (AP Photo / Mustafa Quraishi)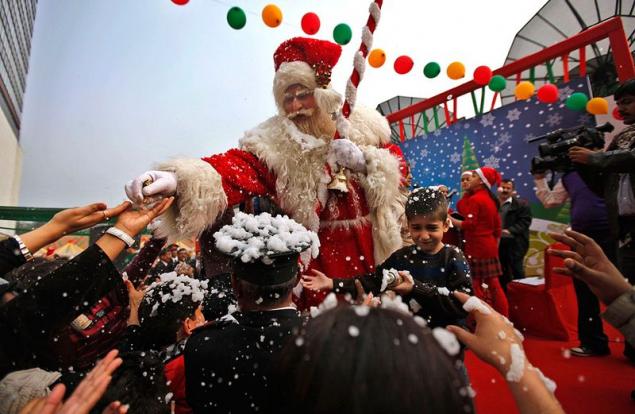 17. The eight-year Michael Hill after Christmas service at the Cathedral of Our Lady in Los Angeles on December 25. (Eric Thayer / Getty Images)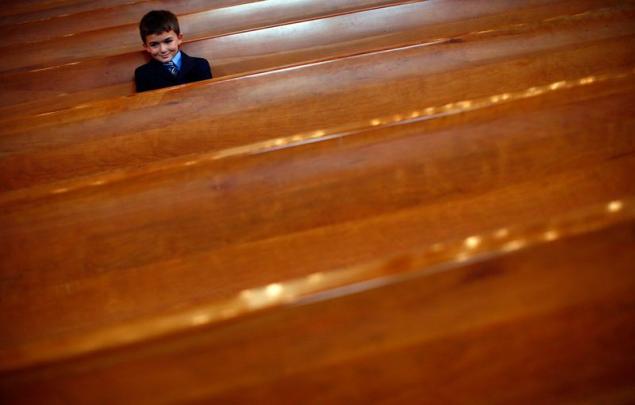 18. Frankie Lewis goes swimming at Bondi Beach in Sydney December 25th. (Don Arnold / Getty Images)
19. A child dressed as Santa Claus on a morning service at the church in Jammu December 25th. (AP Photo / Channi Anand)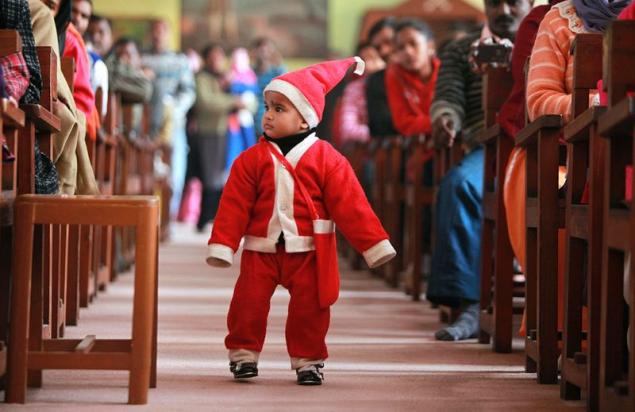 20. The tree floats on the Yenisei in Krasnoyarsk, where members of the local club "walrus" staged bathing suits in New Year's Eve at a temperature of -21 degrees Celsius. (REUTERS / Ilya Naymushin)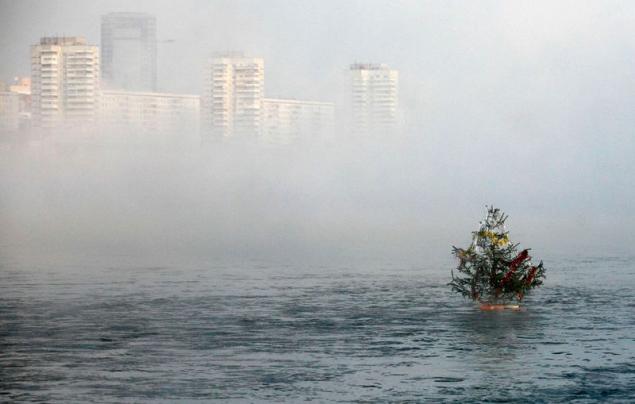 21. Pakistani Christians pray during the midnight Christmas service at the Catholic Sacred Heart Cathedral in Lahore. (AP Photo / K.M. Chaudary)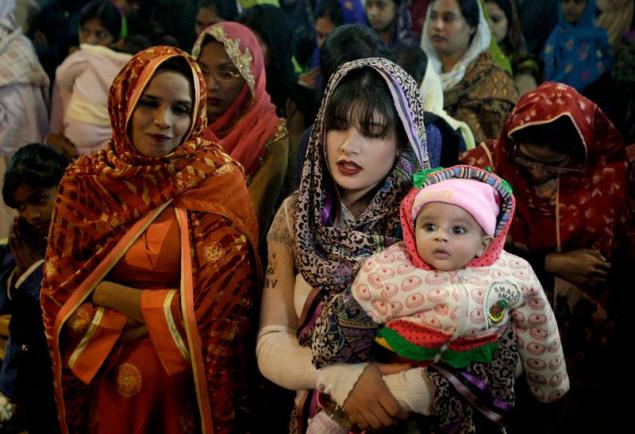 22. Catholics out of the Church of the Holy Spirit after the midnight service in Istanbul on December 25th. (MUSTAFA OZER / AFP / Getty Images)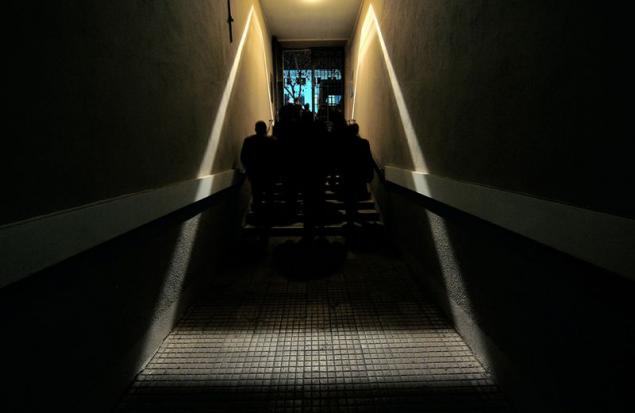 23. A man walks past the house of the bishop, decorated with lights and toys, in Washington. Garlands and thousands of lights decorate mini-castle in Tudor and territory, where he lives the leader of one house of prayer for all people. (JEWEL SAMAD / AFP / Getty Images)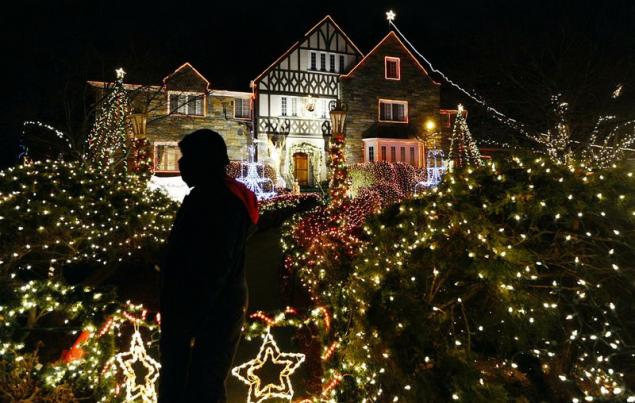 24. Investigators Philippine National Police estimated the damage to the Catholic chapel after an explosion during a Christmas service in the volatile island of Jolo, Sulu province on December 25. The bomb exploded during a service at a police camp in wounding a priest and 10 parishioners. The bomb was hidden in a vent in the ceiling of the chapel, located on the territory of a police camp on the island of Jolo, where he actively foraged militants linked to al-Qaeda. (AP Photo / Nickee Butlangan)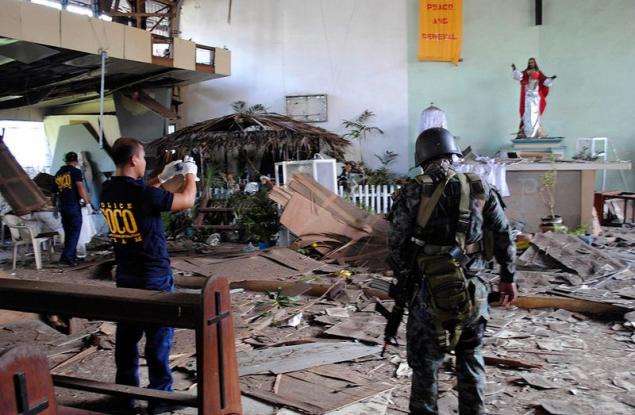 25. Myanmskie Christians pray in St. Mary's Cathedral in Yangon on December 25. (AP Photo / Khin Maung Win)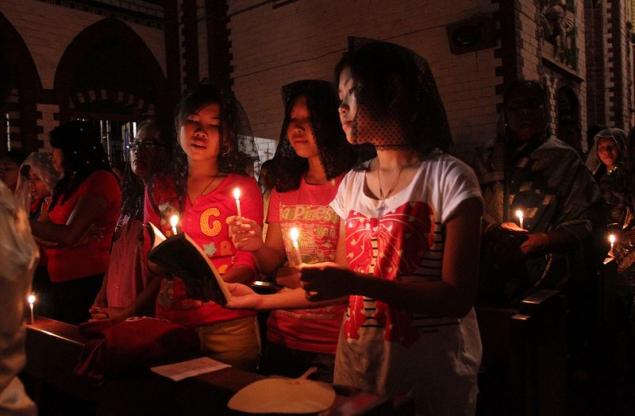 26. Homeless in the service of the bus in Nice December 25th. (REUTERS / Eric Gaillard)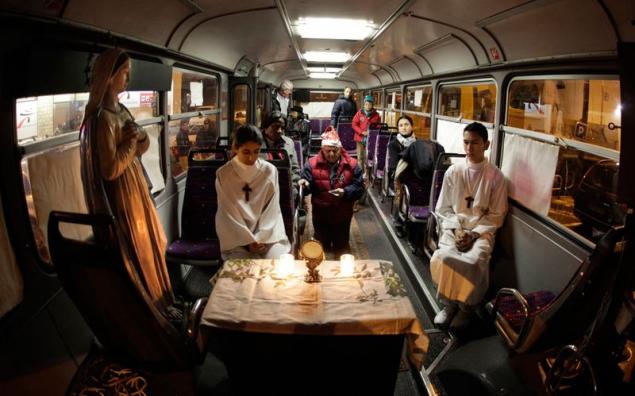 27. Soft toy in the dirt next to the tree after flooding in Highland, California. Southern Californians have suffered from severe thunderstorms and storms that caused flooding. (Eric Thayer / Getty Images)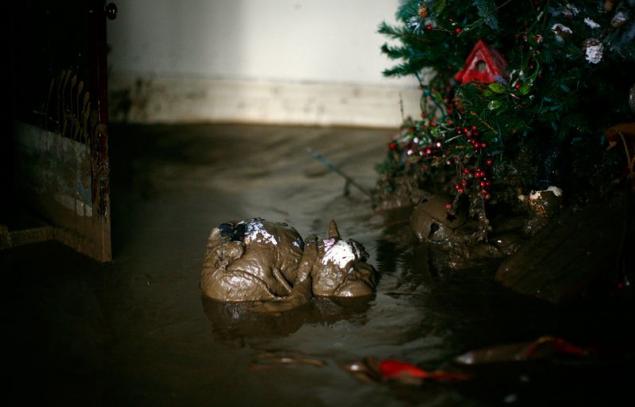 28. Actors portray scenes of the Nativity in the church of the Virgin Mary in Lodz, Poland, December 25th. (REUTERS / Marcin Stepien / Agencja Gazeta)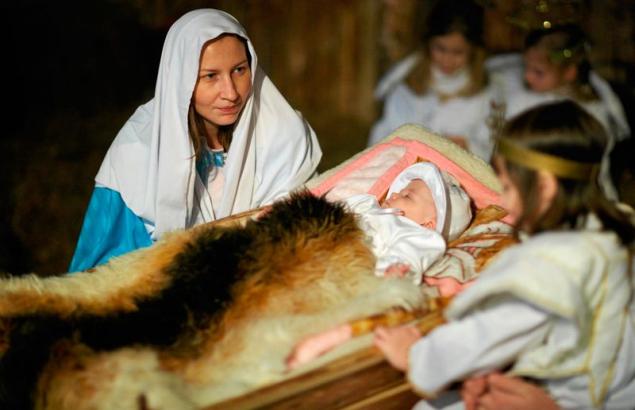 29. A man dressed as Santa Claus distributes gifts to the homeless during the festive dinner in front of the bus service in Nice. (REUTERS / Eric Gaillard)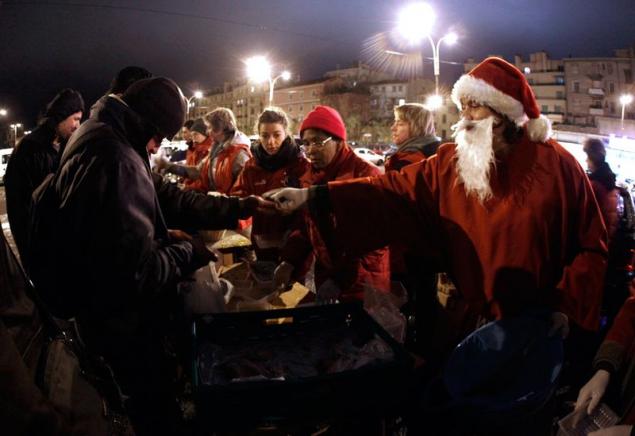 30. The Iraqi girl in the service of the Catholic Church in central Baghdad on December 25, two months after the terrorist attacks in the church, which killed 46 people. (SABAH ARAR / AFP / Getty Images)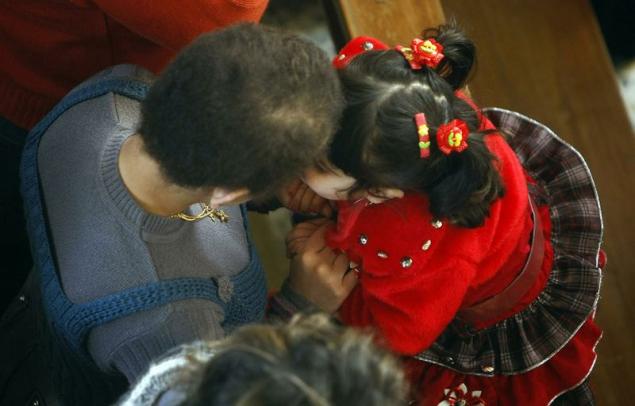 31. Indonesian children dressed as Santa Claus sing Christmas carols in Jakarta on December 26. (REUTERS / Supri)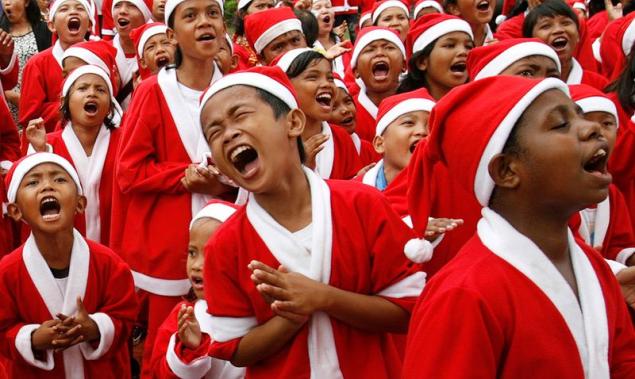 32. A tourist dressed as Mrs. Claus poses for a photo at the Christmas tree on the beach Waikiki in Honolulu, Hawaii. (REUTERS / Kevin Lamarque)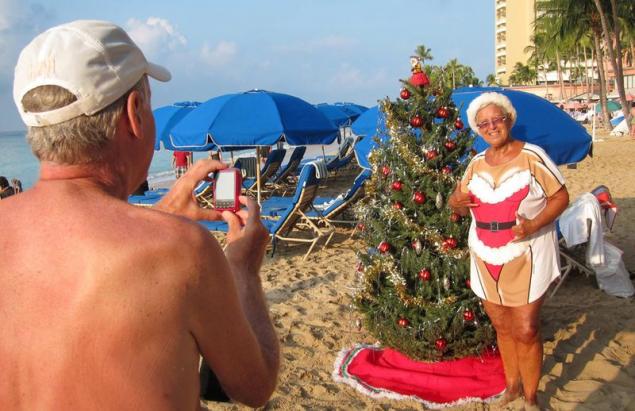 33. Residents of South Sudan after the Christmas service at the Catholic Cathedral in Juba during perhaps the last Christmas in the united Sudan. A referendum on the independence of the southern part of the country will be held on January 9 and will likely lead to the separation of Africa's largest country. (Trevor Snapp / AFP / Getty Images)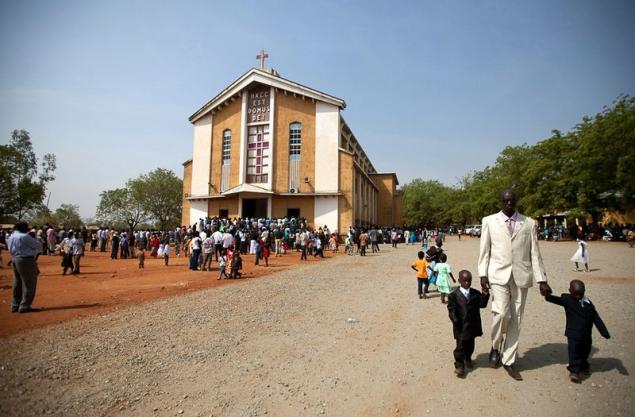 Bulgarian Patriarch Maxim 34. (center) will hold its traditional Christmas service in the Cathedral of Alexander Nevsky Cathedral in Sofia. (AP Photo / Valentina Petrova)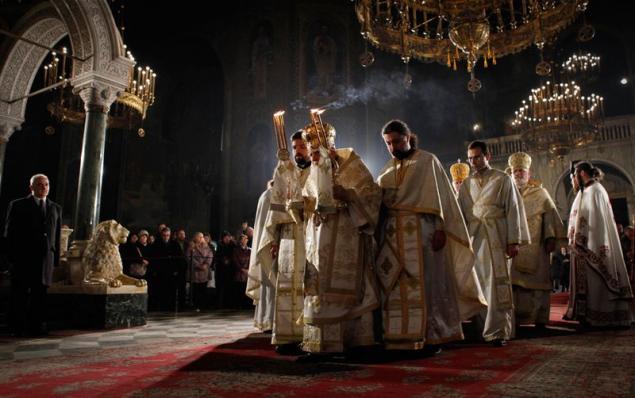 35. Homeless girl with a candle during the celebration of Christmas in the Park House in San Pedro Paulo on 24 December. The holiday was arranged charitable organization "Alliance de Misericordia." (REUTERS / Nacho Doce)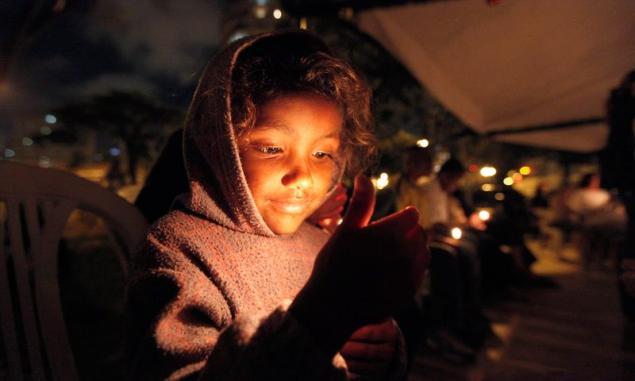 via bigpicture.ru