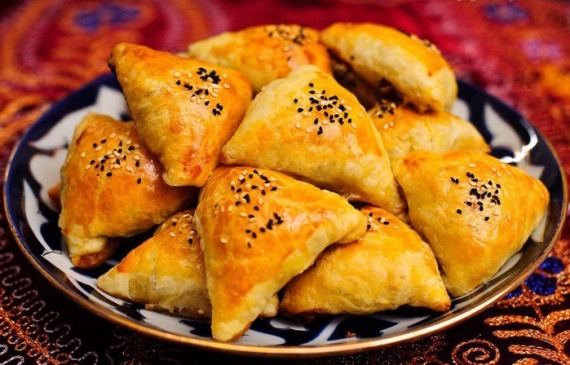 Ingredients:
1 tbsp. water,
1 tsp salt
about 500 grams of flour
150-200 grams of margarine (melted butter)
400 grams of beef (lamb)
500-600 grams of onion
salt, cumin, pepper
Preparation:
1. Dissolve salt in warm water and gradually add the flour and knead the dough until soft state until it starts to come off by hand. In the process, you can add 1 tbsp vegetable oil, so the dough will be softer and easier to roll out. The finished dough roll into a ball, cover with a cloth and let stand for 20-30 minutes.
2. The table a little sprinkle with flour and roll out the dough gradually to a thickness of about 0, 5-1 mm.
3. Melt the margarine, cool and pour evenly on the rolled out dough, smear evenly hands. After that, let stand for 5 minutes to harden fat.
4. How margarine harden, roll the dough gently into a tight roll. Ready floured roll that are not stuck, turn the cochlea, cover with a cloth, can be a plastic bag and set aside in a cool place.
5. To Samsa turned out juicy and tasty, the meat is best to chop rather than mince, finely chop the onion. Sliced ​​meat and onion mix, add salt, cumin and pepper as desired. Ready stuffing aside.
6. Take the dough and cut it into small cylinders. Sprinkle the table with flour, flatten cylinders fingers and palms.
7. Now roll it on mugs, you need to roll the edges of the test, podsypaya a little flour and roll the middle of not much. Rolled circles lay in a row on the table and put the meat filling, about 1-1, 5 spoonfuls.
8. Give CAMCE triangular shape Pinch edges of dough on three sides, much pluck and fingers form a triangle. Place the oven on a sheet of blank seam down. Every samsa grease brush with beaten egg. At the request of the center can be a bit samsy sprinkle sesame seeds, Chernushka or black pepper.
9. Bake in a hot oven to heat up to above average browning. In the baking process should be monitored and removed finished products, as Samsa baked through in different places of the oven in different ways.
10. Serve samsa hot with strong black or green tea.