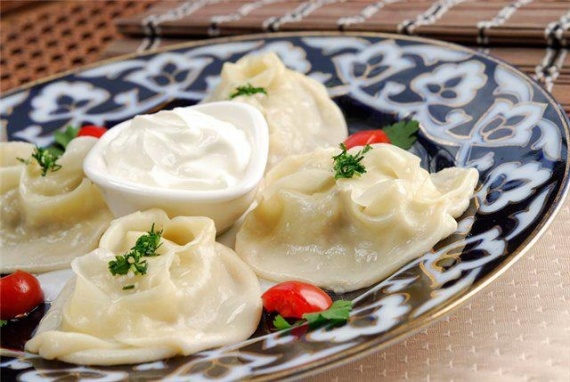 Ingredients:
flour - 3 tablespoons.
water (ice) - 0, 3 tbsp.
egg - 1 pc.
salt
meat - 0.5kg
pumpkin - 300 g
onions - 2-3 pieces.
nutmeg
black pepper.
Preparation:
1. Flour pour into a bowl, add salt and make a well in the center, to drive the egg and stir, slowly pouring the water. Water may need a little more. Floured table, put the dough, knead. Form a ball and let rest, covered film.
2. Finely chop the meat with a knife, add finely chopped onion, chopped pumpkin, salt, pepper and mix thoroughly.
3. Roll out the dough into thin strands, cut into pieces weighing 20 g (with walnuts), roll each piece into a circle, in the middle of which lay out the stuffing and zaschepit ends up cake to look like an onion.
4. Put on greased manti Kaskala, placed over a saucepan of boiling water and cook for 40 minutes. Ready manti grease with butter.