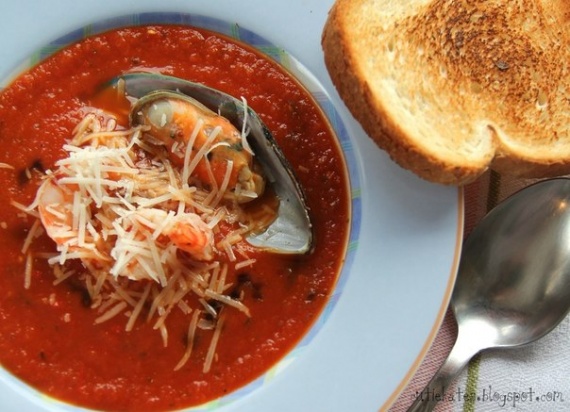 You will need:
Step 1:
 - 5 large tomatoes
 - 1 medium red bell pepper
 - Half of the average red onion
 - 3-4 leaves of basil
 - 3/4 medium carrot
 - Clove garlic
 - Olive oil
2nd stage:
 - 1 kg tomato pulp (taking Pomito)
 - A pot of basil
 - 2 tbsp balsamic vinegar
 - 8-10 drops of Tabasco
 - Salt
 - Ground nutmeg
 - Italian spices
 - Ground black pepper
 - Glass of white wine
 - Half of the chili pepper
3rd stage:
 - 1 kg of prawns
 - 10 large mussels (number of seafood count yourself to taste it all the conventions)
 - Salt
 - Italian spices
 - Olive oil
Serving:
 - White bread toast
 - Grana padano cheese
 - Balsamic vinegar (rich!)
The first stage:
Clear the tomatoes from the skin. To do this, make an incision crossed on their "ass", throw into boiling water for 10 seconds and put into cold water. Now you can safely remove the peel.
Cut tomatoes and peppers into large slices and cubes respectively. Finely cut carrot, garlic, basil leaves and onions.
Fry all the ingredients in olive oil.
The second stage:
Put all ingredients in a large saucepan. Blender puree with a nozzle to convert all this into mush. Add all the other ingredients of the second stage and again stir. All the spices add gradually, each time trying. The same puncture and Tabasco, and chili in particular. I got not so vigorous, so add as much as half. Generally, you need to think about who will eat this soup. In my case, it ate my little brother, so the soup was not overly hot.
Put the puree on the fire and cook minutes 10.
The third stage:
In the olive oil fry the shrimp and mussels. The former is better to add Italian spices and salt.
Now, the most pleasant thing - serving!
Cooking grenochki. Bread toast cut into small cubes and fry in a skillet. You can also roast whole chunks.
Soup poured into bowls, add the shrimp with mussels dripping balsamic vinegar, put some grenochek and sprinkle with grated cheese.