Homemade cutlets are one of the favorite dishes of many of our compatriots. And even today, hot cutlets with a garnish in the form of everyone's favorite potatoes (or even pasta) can often be seen on the festive table. Moreover, this dish is often eaten faster than any newfangled sweets. However, the soul is asking for variety. That is why today we propose to experiment and cook the most
tender veal cutlets
according to the recipe of a skilled gypsy woman.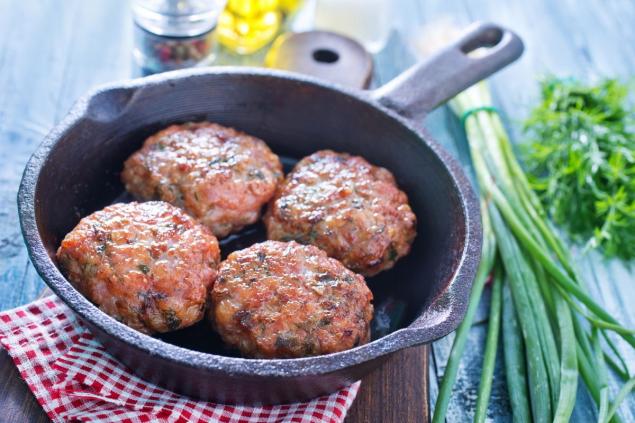 Veal cutlets Minced meat ingredients
600 g veal
2 large onions
4 slices of bread
1 egg
1 tsp salt
0.5 tsp dried garlic
1 tsp paprika
a pinch of ground black pepper
a pinch of coriander
glass of water
Filling ingredients
Preparation
First pass the fresh veal through a meat grinder, then the onion. Soak the bread in water, wring it out and also pass it through a meat grinder.





Add egg, salt, dried garlic, paprika to the minced meat. Pepper. Add a pinch of crushed coriander. You can add your favorite spices if desired. Knead the minced meat well for 3 minutes.





Sodium hard cheese on a fine grater. Add the egg and stir. From the resulting cheese mass, roll 10 small "cutlets".





The minced meat was also divided into 10 equal parts. From each piece, make a cake, in which you wrap the previously prepared cheese blanks.





The cutlets are quite large, and therefore, for example, half can be sent to the freezer to be fried another time. In any case, roll those cutlets that you are about to fry in flour first. Although here you can experiment without rolling the cutlets. Then they will look even more appetizing.




Fry the cutlets in a well-heated skillet in a large amount of vegetable oil. They must be "sealed" so that all the juice remains inside. Cook on each of the 4 sides for about 1 minute.




Now reduce the heat to low, cover the pan with a lid and mascara for about 7 minutes. Veal cutlets are ready! Can be served with potatoes or simply with herbs. Bon Appetit!




And although it may seem to someone that this time is not enough for a complete cooking, it is not. Tender veal has time to cook completely, and therefore the cutlets are juicy, and tender, and insanely tasty. It is definitely worth to please the closest people with such a wonderful dish.
https://www.youtube.com/watch?v=BcATtGdD25M