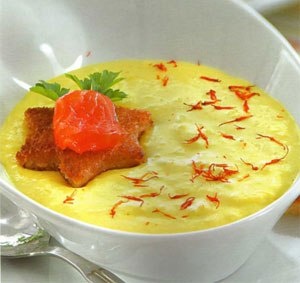 Ingredients:
 - 1 kg of potatoes
 - 2 onions
 - 2 cloves garlic
 - 4 tablespoons butter
 - 1 liter of vegetable broth  
 - 7 tablespoons milk
 - 1 pinch saffron
 - 120 ml of white wine
 - 70 ml cream 10% fat
 - 2 processed cheese
 - 2 slices of bread for toasting
 - 4 small slices of salted salmon
 - Dill for decoration
 - Chili powder, salt to taste
1. Wash potatoes, peel and cut into small cubes. Onion peel and finely chop. Clean and chop the garlic.
2. In a large saucepan with a thick, heat the 3 tablespoons of butter and fry the onion and garlic for 5 minutes. Add the potatoes and Brown the bit.
Separately boil the vegetable broth, pour them vegetables, add the warm milk and simmer for 30 minutes. Remove from heat and mash. Add the saffron, salt and pepper, bring to a boil again and cook for 4 minutes.
Pour in white wine and cream, add the processed cheese and cook stirring constantly until a smooth consistency mass.
3. From the bread using molds cut out the figures in the form of stars, and fry them in the remaining butter.
Soup pour into bowls, top with the resulting toasts them pieces of red fish. Garnish with herbs.
Tip: do not toast Bree, if roasting to butter you add 1 tablespoon of vegetable.