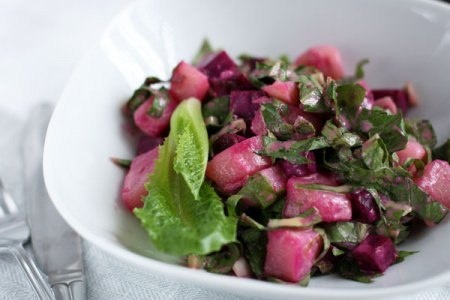 Ingredients:
 - 350 g potatoes
 - 100 g beet
 - 2 egg yolks
 - 1/2 teaspoon salt
 - 5 g sugar
 - 1 teaspoon mustard
 - 15 ml vinegar
 - 15 ml of vegetable oil
 - 50 ml cream 35-40%
 - 100 g romaine lettuce
 - 15 g capers  
Boil the potatoes in their skins, let cool, peel and cut into cubes. So did with beets, when not in use pickled.
Meanwhile, prepare the filling. Mix egg yolks with salt, sugar and mustard.
Alternately add the vinegar (if boiled beets, not marinated), butter and cream, stirring each time until smooth.
Salad Wash, dry and cut into strips.
Capers, cut into 2-4 parts.
Mix the vegetables, add the dressing and serve. Salt-pepper can be added to taste.