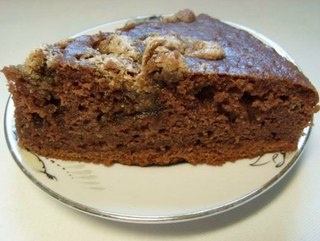 Ingredients:
 - 1, 5 cups of yogurt
 - 1 cup semolina
 - 1 cup flour
 - 1 cup of sugar
 - 3 eggs
 - 100 g butter or margarine
 - 3 tablespoons cocoa
 - 100 g halva
 - 1 teaspoon soda  
In kefir or yogurt stir semolina. She needs to swell, so this step can be done in advance, even a half-hour stand up.
Whisk eggs with sugar.
Oil, extracted in advance from the refrigerator, cut slices and then turns everything into a blender granular mass.
Munk swollen, it must stop in order not to lump gathered at the bottom, then add soda and finally cocoa. All knead until smooth.
Now we need to combine the two mixtures to one, stir, and then add the flour to make a thick batter fluid.
Form of grease. Just pour the batter, and halva break and scatter smaller pieces over the entire surface. Part of halva should drown, but you can all drown if desired.
Bake at 180 degrees until complete browning.
Halva, who drowned in the dough during baking turns into a creamy mass impregnated with chocolate flavor with a hint of halva. That is, it turns out like manna cream inside - simply delicious!