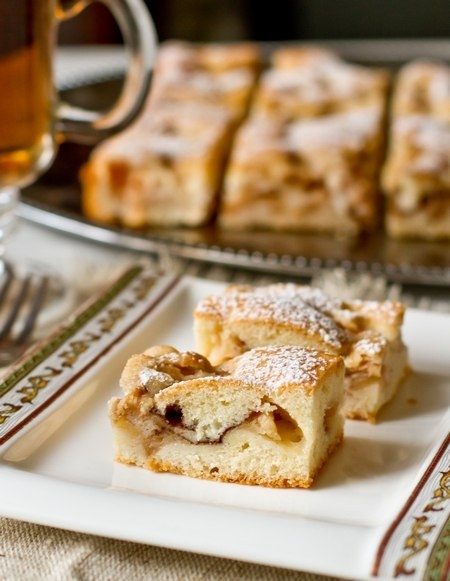 Ingredients:
 - 125 g butter at room temperature
 - 100 g of sugar + 1 more tablespoon
 - 2 eggs
 - 250 g flour
 - 1 teaspoon baking powder
 - 2 tablespoons sour cream (can substitute yogurt or yogurt)
 - 600 g apples
 - 2/3 teaspoon ground cinnamon
Whisk butter with sugar until creamy. Add the eggs one at a time, beating well after each. Add the sour cream and whisk again.  
Add the sifted flour with baking powder and knead the dough uniform.
Apple peel, remove core, cut into small pieces.
Half of the dough put in shape, distribute apples on top, sprinkle with sugar and cinnamon.
To distribute the remaining batter on top.
Put the form in a preheated 180 degree oven and bake until dry matches, about 40 minutes.
Serve warm or chilled completely.