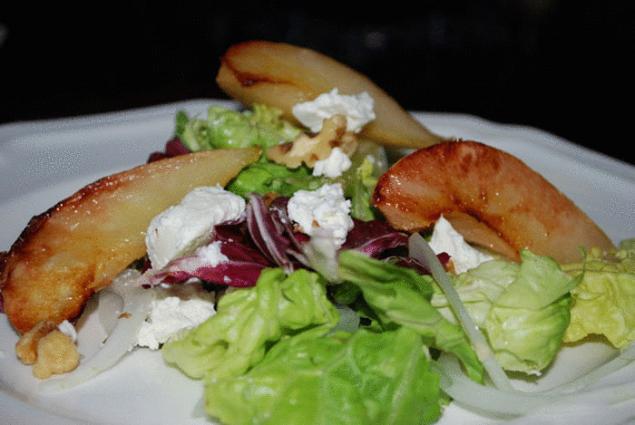 3-6 servings
Ingredients
400-500 g of mixed lettuce leaves (Boston/Boston/Butter /Bibbсалат and radicchio/radicchio)
100-150 grams soft goat cheese (like Chevre)
1/3 -½ Cup walnuts, coarsely chopped
3 pears
¼ Small red or sweet onion, thinly slice
Olive oil for greasing pears
For the filling:
¼ – ½ Baked pears
¼ Cup olive oil
¼ Cup juice (Apple, pear, peach)
2 tbsp vinegar ( champagne vinegar, white wine, white balsamic or Apple cider)
1 tsp lemon juice
Salt
Ground black pepper
1 tsp Dijon mustard (with grains)
Cooking
Preheat the oven to 200 C (400 F).
Pear peel and cut in half. To remove the core. Cut each half pear in half. If pears are large, each half cut into three parts. Lubricate the quartered pears with olive oil, lay on a baking sheet and bake about 15-20 minutes until Golden brown. Remove from the oven. Pears must not be perepechina, and must maintain their shape and elasticity.
Combine all the ingredients for the filling. Fluff using a blender (emulsionnogo or stationary) or the combine.
In a bowl put the lettuce, add the onion. Mix well. Place the leaves in the plate. Add walnuts and pieces of goat cheese. Put the slices still warm pears. Pour with the dressing
Part of the lettuce leaves can be replaced by arugula. It is very suitable.
Pear should be ripe, solid.
Goat cheese you can substitute blue cheese (blue cheese), Gorgonzola (gorgonzola) or Roquefort. You get a little different, but still very tasty salad.
Note
: 1 Cup = 240 ml
Cook with pleasure!
source: cookingpalette
Source: /users/1