Strawberry is the first berry that delights us in the summer. We all adore her for the unique aroma and taste. It's delicious to eat with cream and sugar, but it's worth to try to cook new cakes – they will decorate Your table and love Your family.
Non-alcoholic strawberry Mojito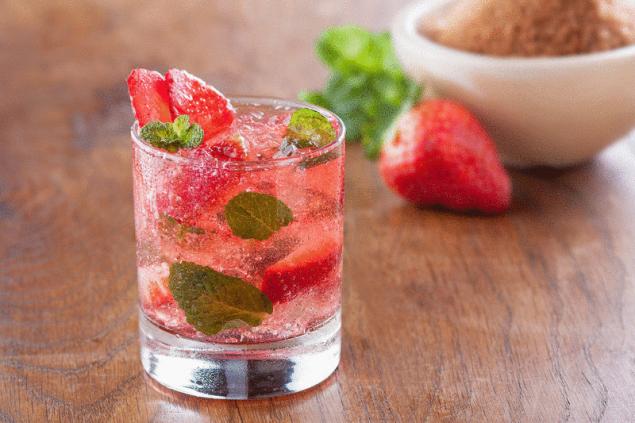 Ingredients for 2 servings:
100 g of strawberry syrup
30 g lemon juice
10 pieces of strawberry,
2 tsp sugar
sprig of mint,
2 slices lime,
ice, 400 g of Sprite.
Preparation:
RUB a lime with mint, strawberries, sugar, lemon juice. Fill ice shaker, pour the prepared ingredients, whisk. Add Sprite, strawberry syrup, again lightly beat the drink, pour into glasses. Serve with a straw. 
French strawberry mousse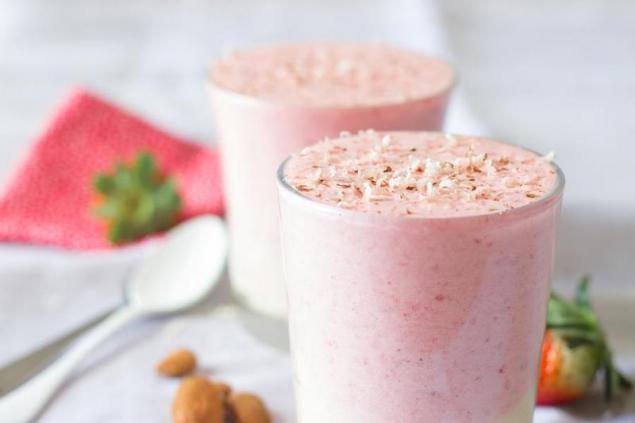 Ingredients for 6-8 servings:
1 tbsp gelatin (soak according to the instructions on the package until the swell),
12 tbsp. cold water
5 cups fresh strawberries,
1 tbsp. granulated sugar,
2 egg whites,
1, 5 tbsp. of 30% cream.
Preparation:
Soak the gelatin in water. Squeeze the juice from 4 cups strawberries (preferably through a double layer of cheesecloth). The juice you need to add water, put the sugar, cook on a low heat to make a syrup. The remaining strawberries cut into halves, put into syrup and cook for another 10 minutes. Add gelatin, stir until then, until the gelatin is dissolved, RUB the mixture through a sieve, to cool.
Beat until fluffy foam in the blender the egg whites, pour into cooled strawberry mixture.
Whip the ice cream, combine with strawberry-protein mixture, again whisking. Pour into bowl, refrigerate for 3 hours, the mousse must be frozen.  
Panna cat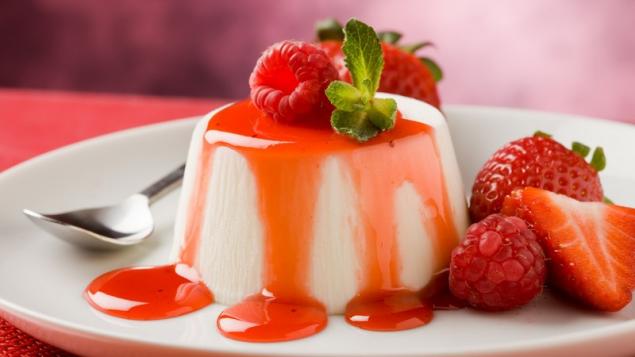 Ingredients:
500 g cream 30% fat,
1 vanilla pod,
50 g of sugar,
2 – 5 tbsp of gelatin.
For the syrup:
200 g strawberries,
1 tbsp. sugar,
1 tbsp. of water.
Preparation:
Prepare the syrup: strawberry slice on plate, add a small amount of sugar to let the juice. Boil water with sugar until a thin thread of syrup, add the strawberries and boil a little bit to sweet caramel to cool.
Put the gelatin in water until it swells.
Cream pour into a saucepan, add the vanilla pod, previously revealing it, add sugar, cook on a low heat for 15 minutes. The pan remove from heat, slightly cool, remove the vanilla pod, add gelatin, mix well. Cream pour into molds, put into the refrigerator for 4 hours.
Before serving, put the mold in hot water, invert on a dessert plate. Pour strawberry syrup.  
Strawberry pie "Orestes and Victoria"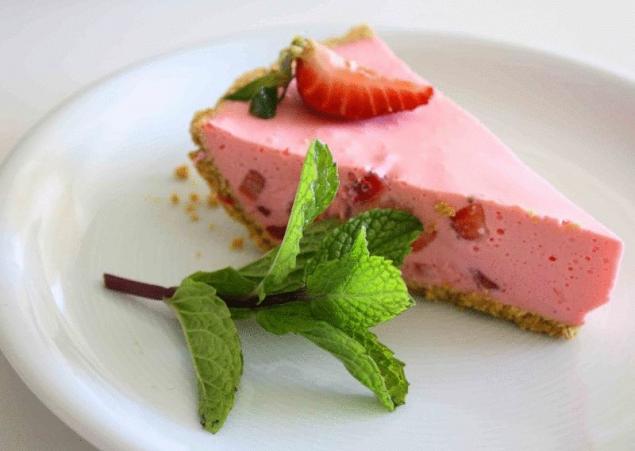 This cake had to bake for a wedding, loved it all, who tried it.
Ingredients:
250 g flour,
80 g sugar
100 g butter,
0.5 kg of strawberries,
2 eggs.
For protein mass:
2 eggs, 1 tbsp sugar,
1 tbsp corn starch,
vanillin at the tip of the knife.
Preparation:
Flour, sugar, soft butter, egg yolks knead the dough at night and put it in the fridge. In the morning roll out the dough, put in a round shape, making the dough a roll of 1-2 cm, the sides have beautifully stung. And it is possible from the remnants of dough to make a braid and decorate side of the cake.
Chilled proteins vzbit in a cool foam, add sugar and starch, then put strawberries, cut into halves, arrange on the dough. Bake in a hot oven at medium heat for 40 minutes. If the dough will burn, you can cover it on top of foil.  
P. S. And remember, only by changing their consumption — together we change the world! ©
Join us in Facebook , Vkontakte, Odnoklassniki
Source: efamily.ru