You don't tell us why we are so small and so monotonous use beets? Soup, beetroot soup, "Shuba" salad, Yes... But it's so delicious, useful, beautiful, finally!
Here – to expand the horizons of beet – recipe for a great spicy and refreshing soup in an Asian style. Can cook it in the winter and summer, feeding or burning hot, or, conversely, cold.
Cooking time
- 1 hour 50 min
Number of servings
- 4
The complexity of cooking
- medium
Cuisine
- international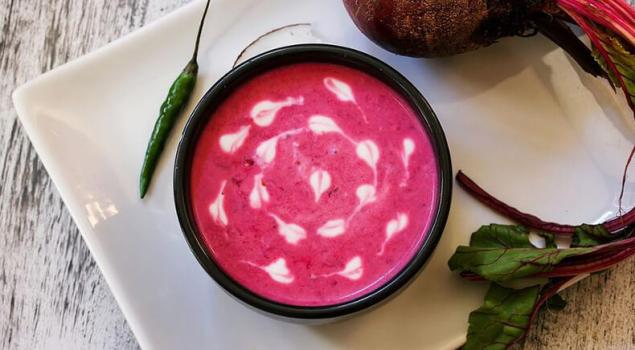 The ingredients:
500 ml vegetable broth
2 large beets
4 medium onions shallot
500 ml coconut milk
1 tbsp vegetable oil
salt, freshly ground black pepper
For the filling:
1 Cup (125 g) natural yogurt


For the filling:
3 tbsp soft goat or cream cheese
small bunch fresh cilantro
salt
For pasta from spices:For pasta from spices:
2 stalks lemon grass
3 cloves of garlic
1 fresh red chili pepper
juice and zest of 1 lime
1 tbsp vegetable oil
How to prepare:Step 1
The beets, wrap in several layers of foil and bake in a preheated 180 °C oven until tender, 50-70 min. Rinse with cold water, peel, cool slightly and cut into cubes.
Step 2
For pasta from spices, remove the dried leaves from lemon grass, remove the top part of the stems, leaving about 5 cm – finely chop this part. Chop the garlic, ginger and Chile. Mix the ginger, garlic, chilli, lemon grass, vegetable oil, juice and zest of lime. Grind in a blender to a smooth paste, if necessary, adding a little water.
Step 3
Soup shallot finely chop, fry in a saucepan with a thick bottom in hot oil over medium heat until soft, 5 minutes, Add the spice paste, cook, stirring, another 5 min.
Step 4
Put in a saucepan beets, cook, stirring, 2-3 min. Pour a little warm broth on low heat bring to a boil, simmer 10 mins, remove from fire, close, season with salt and pepper, leave for 10 min.
Step 5
For refilling remove the cilantro leaves from the stems (stems not necessary here). The leaves are finely cut. Whisk with a fork until smooth the yogurt cheese, add cilantro and salt, stir.
Step 6
Right before serving, heat the coconut milk, pour into blender, add the soup and whisk until smooth. Ladle into bowls and serve, put in each dish a spoonful of the filling.  
 Find out why you need to include alfalfa in your dietPrepare delicious Georgian eggplants
USEFUL ADVICE
This soup can be submitted cold. To do this, after step # 4 is completely cool broth with beets and refrigerate for 2 h. pour the Coconut milk into a blender, whip to achieve homogeneity (in bag or Bank it is often divided into solid mass and liquid), and right in the blender jar put in the fridge. Then proceed with a prescription.published  
Cook with love ! Bon appetit!    
P. S. And remember, only by changing their consumption — together we change the world! ©
Source: www.gastronom.ru/recipe/26924/svekolnyj-sup-s-kokosovym-molokom