To bake a plum cake, you need a ripe dark plum blue and 15 minutes work – the rest will do the oven. The power of this pie fight is also meaningless: it's so delicious that I want to cut off a slice to your morning coffee, then to lunch and a little more tea in the evening with a scoop of vanilla ice cream. Only do not spare nuts – they make the cake rich and textured.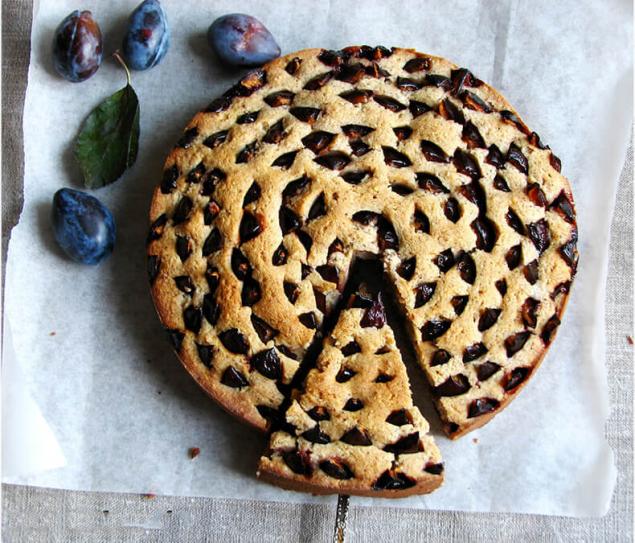 Ingredients:
1.5 kg of ripe plums


130 g butter


80 g brown sugar


120 g flour


3 eggs


30 g flaked almonds (you can take just almonds)


30 g hazelnuts


1 teaspoon baking powder


a pinch of salt


1 tsp. powdered sugar for decoration


How to prepare:Step 1
Nuts chop with a knife or chop in food processor. From plums remove seeds and cut the flesh into quarters.
Step 2
With a mixer beat the room temperature butter with the sugar, to the mixture was ivory, and the sugar is dissolved. Enter the eggs one by one and then the flour, baking powder, salt and nuts.  
How to make a fondant cake with their handsSeasoning of podrejenega pepper honey
Step 3
Preheat the oven to 180 °C. cover the Form with baking paper. Put the part of dough into shape, put almost all the plums, and then remaining batter and remaining plums. Bake for 45 minutes, the readiness check with a wooden toothpick. If the toothpick is wet and sticky, let the cake stand in the oven for another 5 minutes while dry – remove, let cool and call me home to tea. Before serving, sprinkle with powdered sugar.  
Cook with love ! Bon appetit!  
P. S. And remember, just changing your mind — together we change the world! ©
Source: www.gastronom.ru/recipe/30320/pirog-so-slivami-i-orehami