The name of the food speaks for itself. < Cutlets "Bird's milk» are obtained extraordinarily tender, juicy and fragrant: downright heavenly delight
!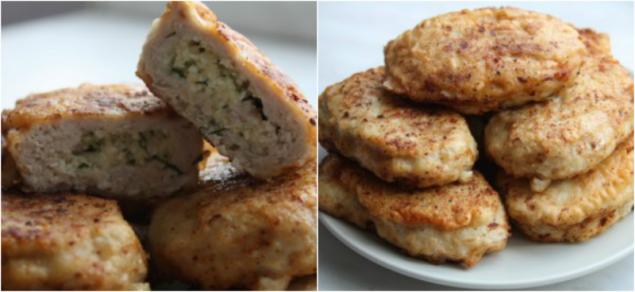 Chicken minced is impregnated with juice filling and becomes extraordinarily creamy taste ... It certainly diversifies the daily menu!

Chicken cutlets with syromIngredienty 500 g minced chicken 2-3 slices of wheat bread 1 onion 2 raw eggs 2 boiled eggs dill or parsley 200 ml of milk 1/2 Art. flour 100 g grated hard cheese 20 g butter salt and pepper to taste soda pinch li >

Preparation Soak the bread in 100 ml of milk. Mince the onion and bread with milk, in which it was soaked. Add weight in beef, salt and pepper to taste and be stirred well Prepare filling Otschipni little meat, giving it the shape of the cake, which is laid out in the middle of a little filling. Pinch edges to form a meatball Prepare batter Perches each. cutlet in the batter, and fire away in the hot oil until tender.

Cutlets "Bird's milk" are perfectly combined with mashed potatoes, fresh or pickled cucumbers.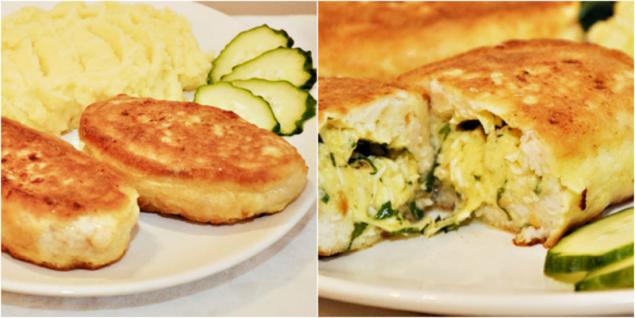 Chicken mince in a dish can be substituted for beef or pork, but in this case must also hold cutlets in the oven for about 15-20 minutes at 180 degrees.

Most have got the recipe with your friends: so yummy they definitely will like

!