Georgia is famous for its wine, hearty food and, of course, hospitality. When we hear "Georgia", it immediately reminded khinkali, khachapuri, satsebeli and many other dishes. Therefore, our editorial staff has prepared for you today, 5 recipes Georgian dishes that are worth learning how to cook every woman.
1. Khinkali

This is one of the most famous Georgian dishes, which first appeared in several regions of Georgia, but soon spread to other parts of the Caucasus. Unlike our usual dumplings, for the preparation of test Georgians do not use eggs.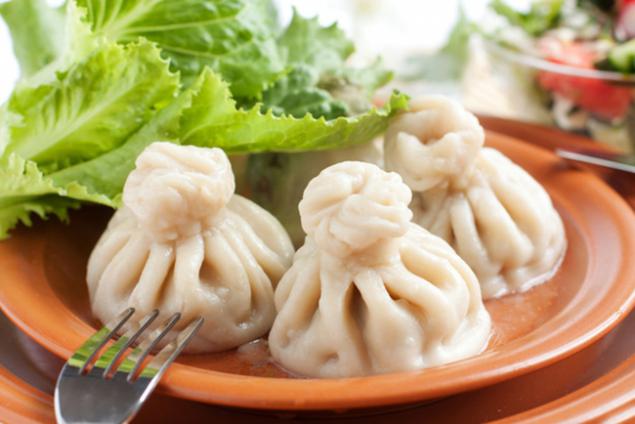 Ingredients:

500 g flour; 300 ml of water; 500 g mixed minced meat (fatty pork + beef); 2 large onions ; 2-3 cloves of garlic; 1 bunch cilantro; salt to taste.
1. First you need to prepare the stuffing. Then add the meat chopped onion and garlic, and a little water to interfere with the stuffing (as much as is necessary). You should leave about 100-150 milliliters of water. Then add in minced chopped cilantro.

2. It's time to test. Kneading it from flour, salt and water. Then roll out the dough, right out of it by making small circles. Put it in the middle of each 1 tablespoon minced meat with a slide.

3. Gather the edges of the circles accordion as closely as possible, trying to make more wrinkles.

4. Tear the excess dough on top of each "bag." Then khinkali Put the broth and wait until they emerge. Cook for another 2-3 minutes and take out.

2. Satsebeli

This is a traditional Georgian tomato sauce, which add coriander, hop-suneli and garlic.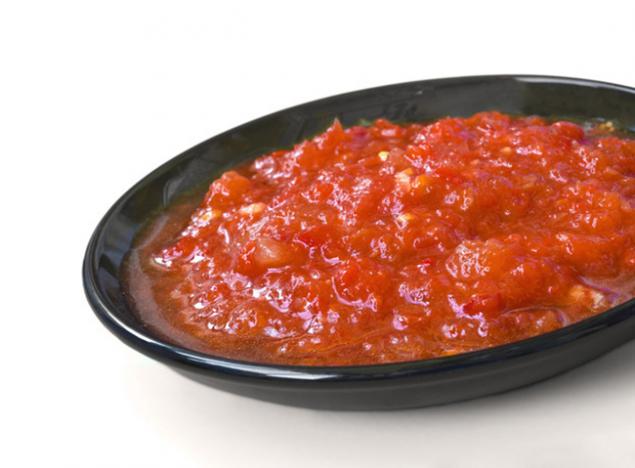 Ingredients:


1 kg of tomatoes; 1 red capsicum; 1 large bunch of cilantro; 1/2 head of garlic; li > 1 tbsp. l. hops-suneli; 1 tbsp. l. ground coriander; salt to taste.
1. Remove the peel from the ripe tomatoes, after showering them with boiling water. We shall cut them and give a little stand. When the tomato juice to stand out, you will need to drain it. Then put tomatoes stew as long as they are a little zagusteyut.

2. Then add the chopped garlic and chopped hot peppers. Finely we shall cut the greens and add it to the tomatoes with salt and spices. Boil the sauce for a few minutes and turn off. Now, let it brew under the lid 30.
minutes
3. Pkhali

This is a traditional Georgian appetizer of foie cooked (steamed) vegetables with peanut sauce.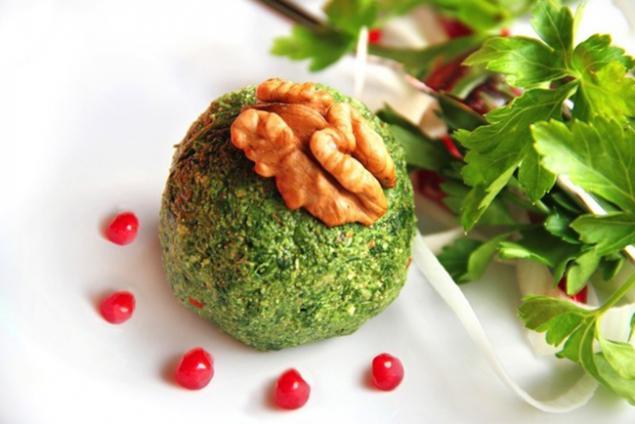 Ingredients:


500 g spinach leaves; 75-100 g shelled walnuts; 1 large onion; 2-3 cloves of garlic; 1 bunch cilantro; 1 grenades; 1 h. liter. hops-suneli; 1 tbsp. l. pomegranate juice; salt, freshly ground black pepper - to taste; walnut oil - optional.
1. Rinse the spinach leaves and dropped them to the pot of boiling water for 5 minutes. Then Get them, give water to drain and squeeze.

2. In a blender or meat grinder to grind nuts, onions, garlic and herbs. Add spices, salt and pepper. Mix. Pressed spinach also need to grind in a blender, but apart from the walnut filling. If the mass has turned a little watery, wring it out.

3. Then mix the spinach with walnut dressing and add pomegranate juice. Form the resulting mass of balls, sprinkle them pomegranate seeds and lightly sprinkle with walnut oil.

4. Khachapuri

This pellet from an air test with stringy cheese inside - a dish familiar to everyone.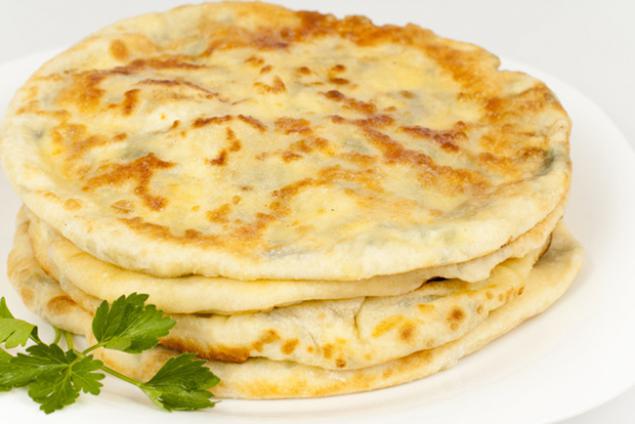 Ingredients:


500 ml of yogurt or yogurt; 200 ml milk; 3 eggs; 100 g melted butter; 800-1000 g flour; 10 g dry yeast; 1 h. liter. sugar; salt to taste; 1 kg of Imereti (Circassian) cheese or cheese; 75 g butter; 1 Art. l. sour cream; 1 egg yolk.
1. Mound pinch of sugar and yeast in warm milk and add to it another 2 tbsp. l. sunflower oil. Prisyp flour and put in a warm place for 15 minutes.

2. Further, the yeast mass add yogurt (kefir), one egg and half of the pre-sifted flour. Vymeshivaya, gradually add the cooled melted butter, salt and remaining flour. For the dough does not stick to hands, Grease hands with vegetable oil.

3. Shape the dough is then ball prisyp it with flour and leave for 1 hour to get it lifted. Then knead and leave for 1 hour more.

4. Cheese grate, add eggs and mix with the softened butter.

5. Divide the dough and stuffing into 5-6 pieces. Roll each piece of dough into a flat cake 1 cm thick. Share on her stuffing, leaving 3-4 cm from the edge. Unite the edge, turn the tucks down and gently roll out to a thickness of 1 cm. Brush the khachapuri mixture of egg yolks and cream, pricked with a fork several times. Bake 20-30 minutes at 180-200 degrees. Brush the butter, let cool slightly and serve.

5. Chakhokhbili

Chakhokhbili - hot fragrant stew of chicken, with a bright and rich flavor, as prepared in own juice with minimal addition of liquid.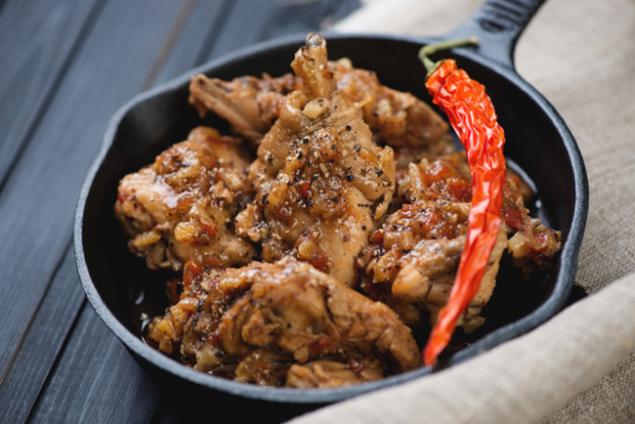 Ingredients:


1, 5-2 kg of chicken; 3-4 bulbs; 4 large tomatoes; 2 tbsp. l. tomato paste; 1 fresh hot peppers; 1 h. liter. adzhika; 4-5 cloves of garlic; 1 bunch cilantro; 3/4 ch. l. utsho-suneli and coriander; vegetable oil - to the eye.
1. seldom chicken into pieces. Chop onions and sauté it until transparent. Lay the chicken in a pan with a thick, add vegetable oil, salt and mascara to simmer for 20-30 minutes under the lid in its own juice. Then add the chicken to the onion.

2. we shall cut the tomatoes into cubes and stew them for 3-4 minutes, then add the tomato paste and mascara for a few minutes. Add the dressing to the chicken. If the pan is too little fluid, you can add a little water.

3. Grind polpuchka cilantro, add in chakhokhbili adjika, coriander, peeled and sliced ​​hot peppers. Thereafter chicken carcasses another 30-40 minutes. Chicken should just disperse the fibers. Finally Adds utsho-suneli, coriander and crushed garlic. Salt, add the remaining cilantro, mix, cover and off. Let the dish for 15 minutes to infuse.

By following the arrival of guests sure to prepare one of these dishes. It necessarily all at once on the spot, not for nothing that Georgia is famous for its cuisine!

And share these recipes with your friends!

via takprosto cc