writes zyalt
34 photos
Last year, in the Pskov Oblates held an important meeting on housing for orphans. Then Governor Andrew Turchak said: "Set yourself a task together with municipalities to put in a normal state housing, in which children are returning. The regional budget better spent on these purposes. Develop a separate program for housing. "He also advised the provincial officials to come down and look into the eyes of orphans who came from children's homes and find themselves without shelter. It took half a year. I suggest you look into the eyes of orphans, and the housing, which gives them a state.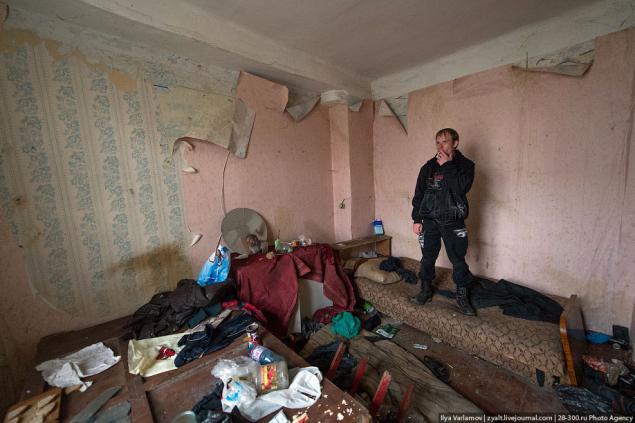 01. The road to the Pskov region as a whole is not bad. I Drove 600 km and have not met a single policeman. Even no posts. Beauty. After 300 km of someone stole the asphalt, and then was a strange land, where, apparently, was a meteor rain.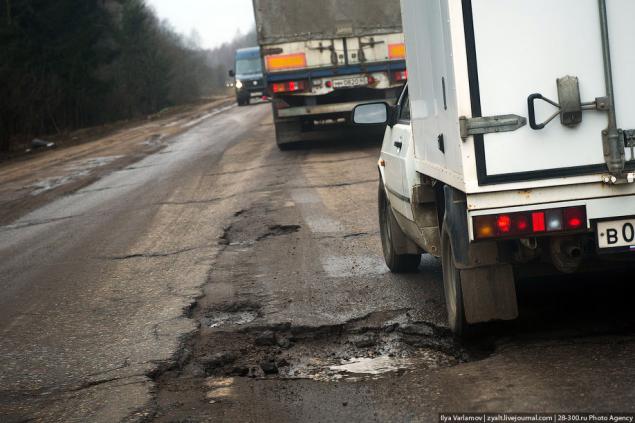 02. road car did not like, and she started to give signals in different lights. I had to look for service. The closest was in the glorious city of Great Luke. Wizard to connect the computer and began to read errors. "The roads are bad, such machines do not survive here. The collapse of all the terms of a mess. "As it turned out Mikhail quite soberly assesses the situation with the roads in the Pskov region. I decided to ask for whom he had voted ... "I have always voted for Zhirinovsky, and here Putin has decided to give a voice, let him try," - said Mikhail calmly.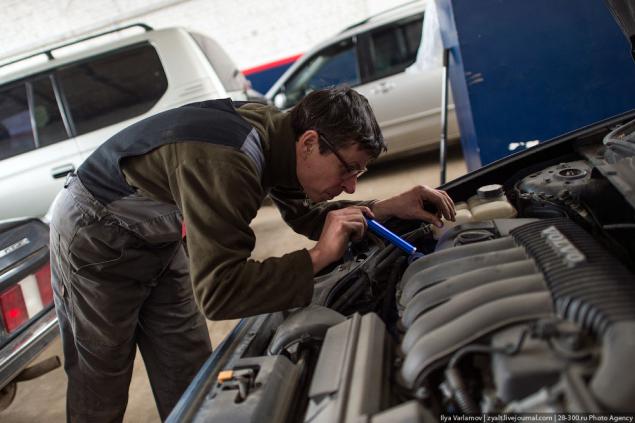 03. Meet is Misha. Because his family was taken away early, first enrolled in a correctional boarding school, and then - in a boarding school for the mentally retarded. Here an interesting point. Misha has a twin sister, with whom they grew up together. At the boarding school for the mentally retarded, he was sent for bad behavior. This is such a reception - no man, no problem. Why bring up the difficult teenager, when you can simply pass in Durkee? Misha did not find a school, and it remains a mystery how he learned to read, write and count. At age 18, he was in the psycho-neurological boarding school and began to prepare for independent living. After 2 years, the volunteers took it from there and began to return to life.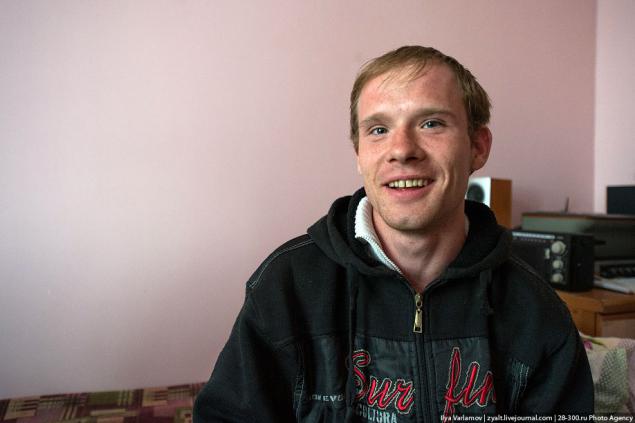 04. Recently, a boarding school made repairs. Previously, he was in a terrible state. Michael communicates with his old friends. Boarding remember him drunk medics who abused inmates stun and shabby green walls. Now the walls are pink, there is even a computer, but fundamentally nothing has changed. Nobody is trying to bring people back to life, to teach them to work. It is not who do not.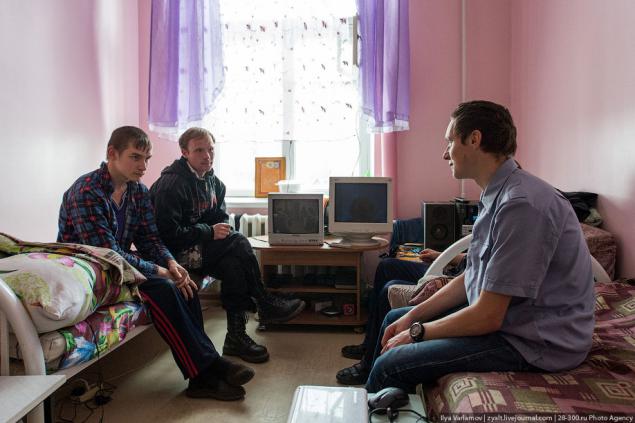 05. "Night. We went close to an hour, watching a movie. We went to bed. We fell asleep. Then feel me someone touches ... I did not understand at first, I thought it was a dream. Started ernitsya ... someone runs. I do not understand who. I get up, someone woke up. I ran into the hallway. Under T-shirt turned out a mouse. "- Says Michael. "The mouse ran. I told this story babe Kate. She said that when the mouse climbed up on the bed, then kicked me out of the house, a sign of this. »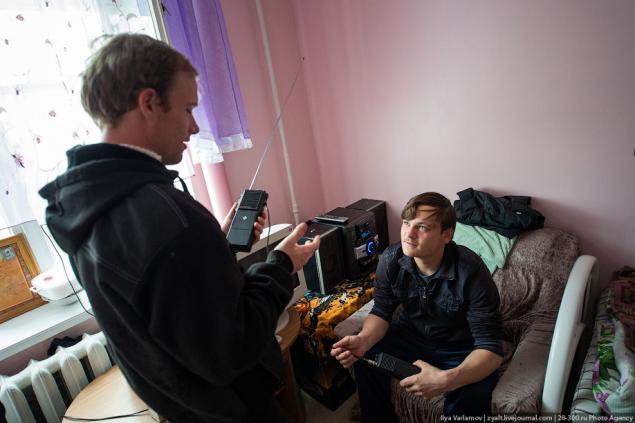 06. Volunteer and photographer [info] Dmitry Markov said: "When we took Misha from the orphanage, the director of the boarding school did not appreciate our enthusiasm and made it clear that will appeal against his expulsion. I listened to her and felt in the theater of the absurd: PNI - an institution that provides services to a specific category of our citizens. The right to refuse these services is not inferior to the right to use them. Misha, who grew up in an orphanage, where unauthorized departure was the reason mesyachishko undergo treatment in a mental hospital, this was hard to believe, but most expect from the director of adequacy. Imagine that you are taking a fur coat to the cleaners, and you respond that you can take it only with the permission of the director and service of acceptance will apply to it forever remain in the washing machine. An example of the cynical, but the essence of what is happening sends exactly.
Trying to unravel the cause of the obstinacy director, I came to the conclusion that the establishment of a self-interest in the number of residents, which has a direct connection with the financing. This theory collapsed when it became known that Mishino place already claimed three. Truth was born into one of our evening conversations, when Misha casually mentioned that regularly bore the corpses of old men, and gave up the ghost several times to dig graves. PNI interested in young, intelligent and clever guys, where you can dump the work on the "home". Of course, I understand the desperate situation in a social and, in general, as well as Michael, I have nothing against. But I am opposed to assess the competitive position of Misha from the labor cost of his own life and its prospects.
I honestly tried to reach out to the director and find a way out beautiful, but, realizing that the beauty and manners do not belong here, I went to a boarding school, Misha helped pack up and took in Fedkovo, ignoring bans director. »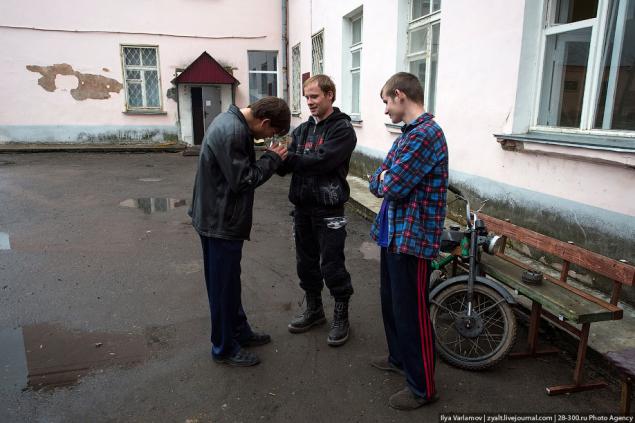 07. So Misha found freedom.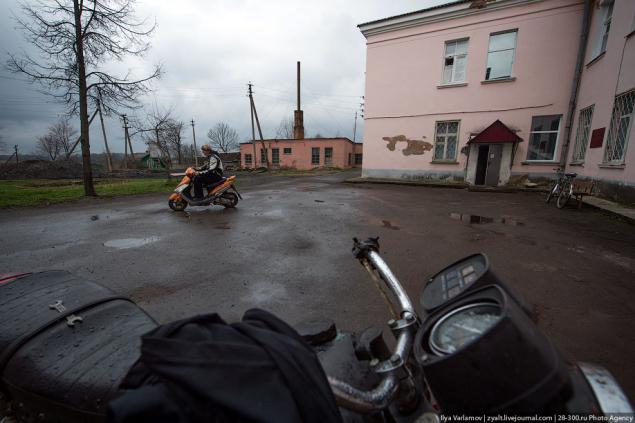 08. Village
09. "Fedkovo" - a project that started in 2009 at the initiative of the two samples of volunteers "Sprout" - Dmitry Markov and Dmitry Nikulin, who by this time has long worked with the senior pupils of Bielsko-Ustye boarding school for mentally retarded children.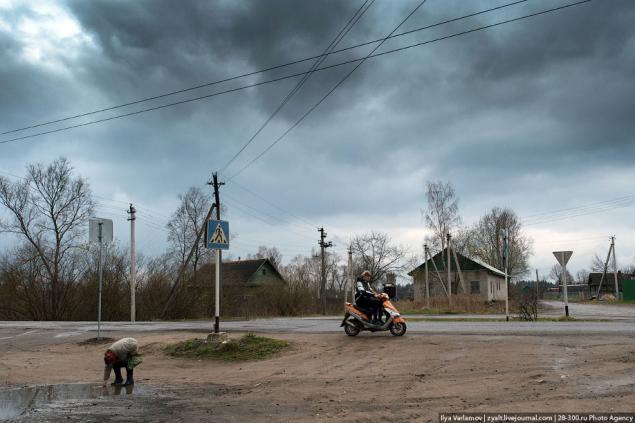 10. At the local shop you can buy everything from the TV to the wreath.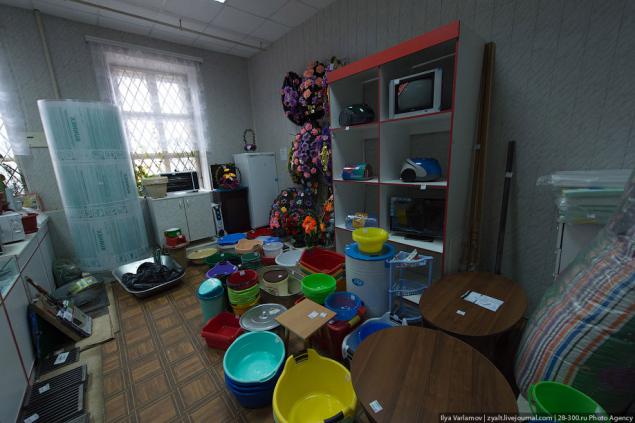 11. Go on a visit to Baba Katya. Misha came to help her with the housework. She taught him to work at home, allowed to live with her. Taught economy.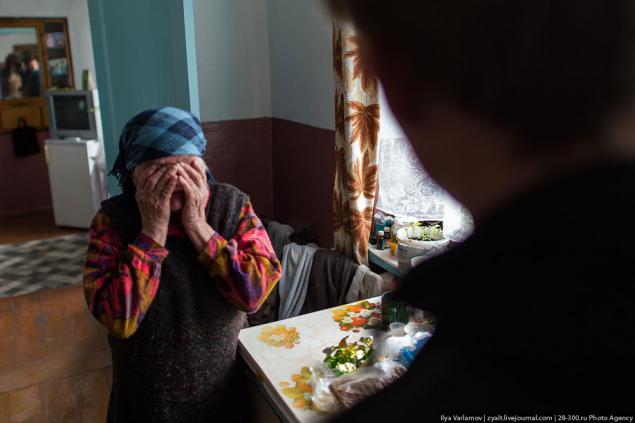 12. 2 months ago Katie women's son is dead. In Afghanistan, he lost his eyesight. Then there were the endless attempts to obtain compensation from the state, several failed marriages, as a result of which he lost his apartment and owed ushloy wife alimony. Then he began to drink, from which he died in '53.
13. Baba Katya begs Misha drink.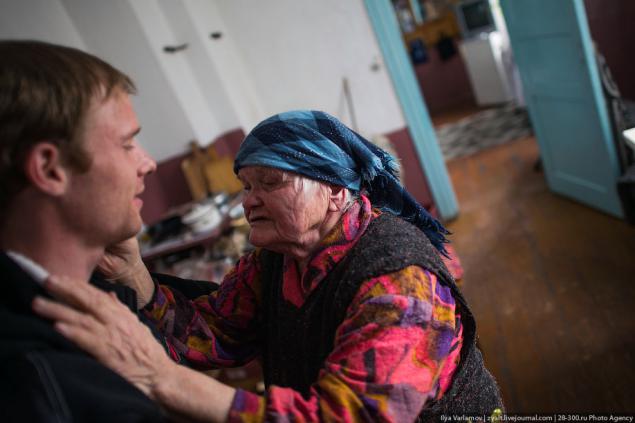 14. Going to Novosokolniki. There is an apartment, which according to the State had to settle Misha after the release of the orphanage.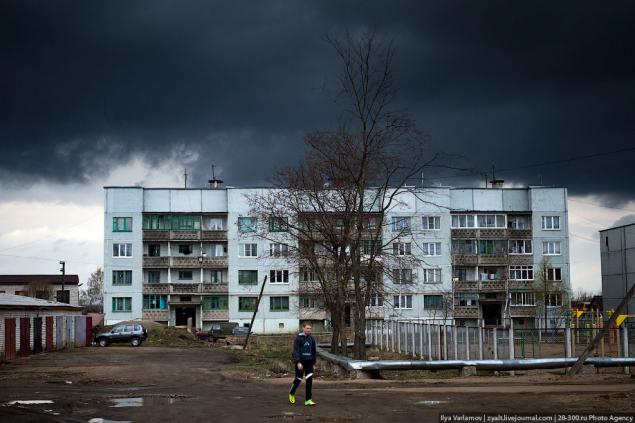 15. And here she is. No windows.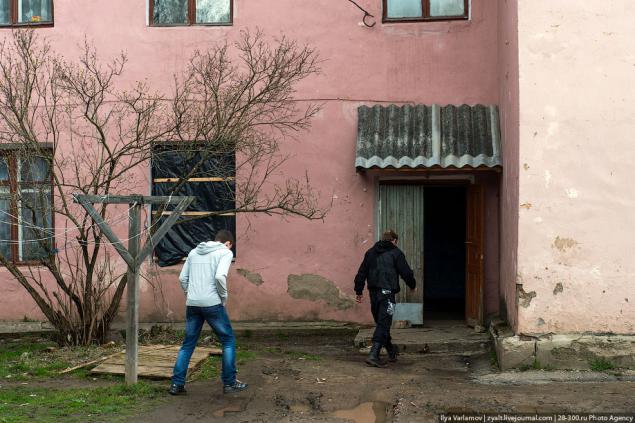 16. Inside, there is nothing. All that could be stolen - stolen. By law, an orphan after the age of 18 are required to provide housing. If housing was then the state is obliged to maintain it in good condition until it reaches 18 years of age. If it fell into disrepair - to pay compensation.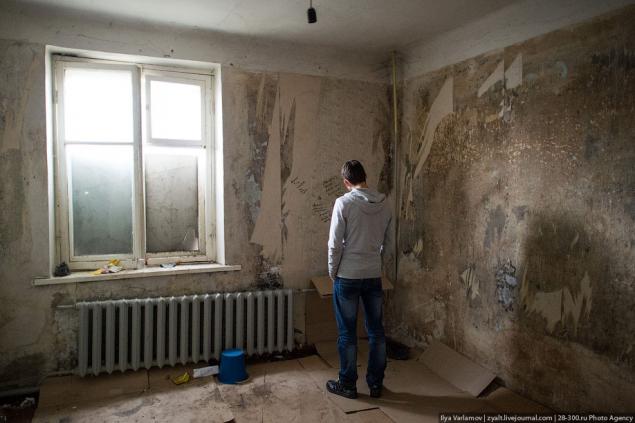 17. Misha's apartment turned into a hangout for the homeless and drug addicts. When his mother was deprived of parental rights, guardianship privatize housing on her minor children. As a result, in the 50-meter apartment is now written 8 people.
18. The state argues that a house in good condition, "Sweep, and you can live." In fact, they're lying. Misha To live here, to pay long-term debts for rent, to make costly repairs - is now the apartment is not even frames. It is also not clear how to live in a 2-room apartment, which is attributed to 8 people.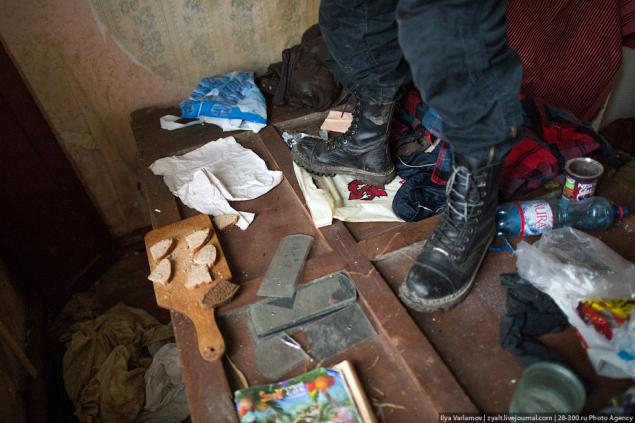 19.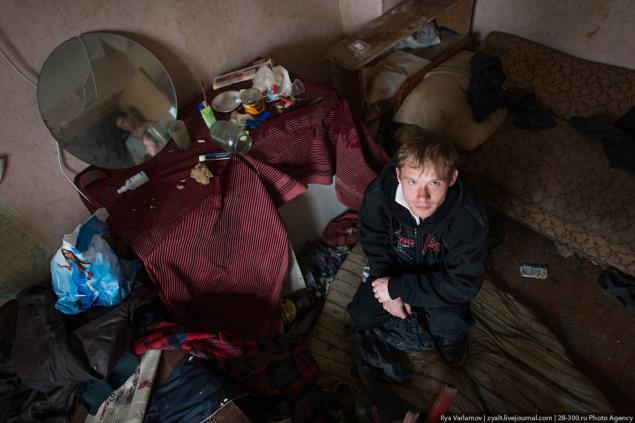 20.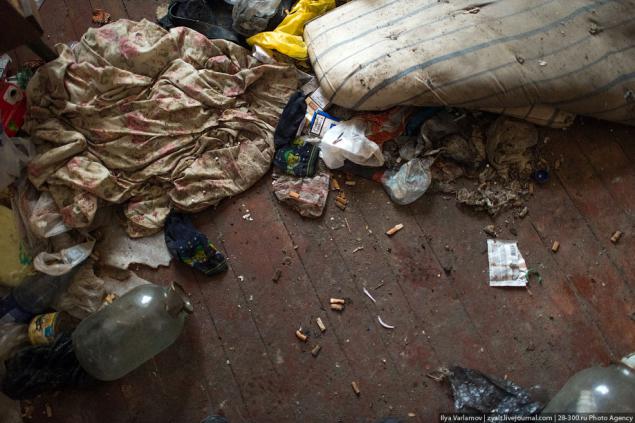 21.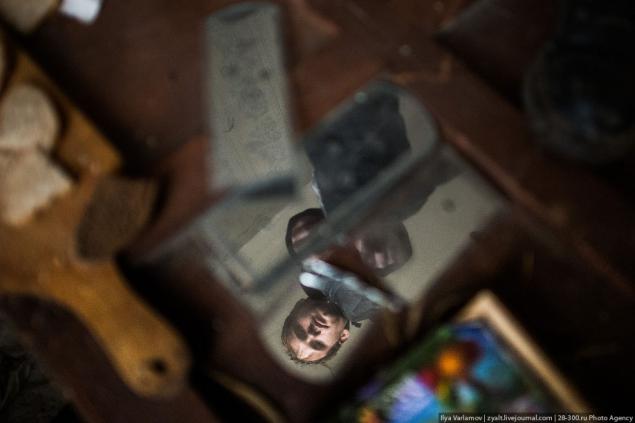 22.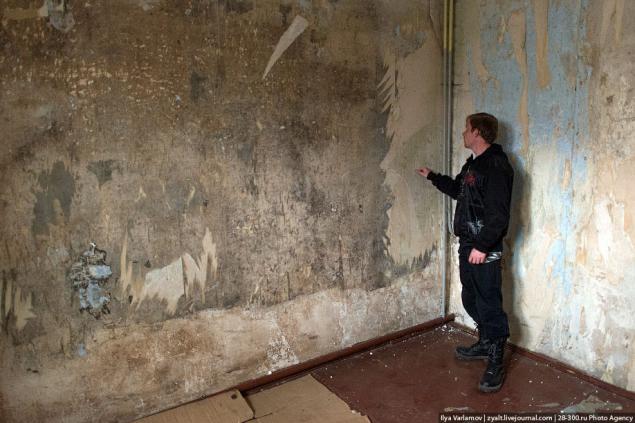 23. Mike tries to find his sister, she must live nearby.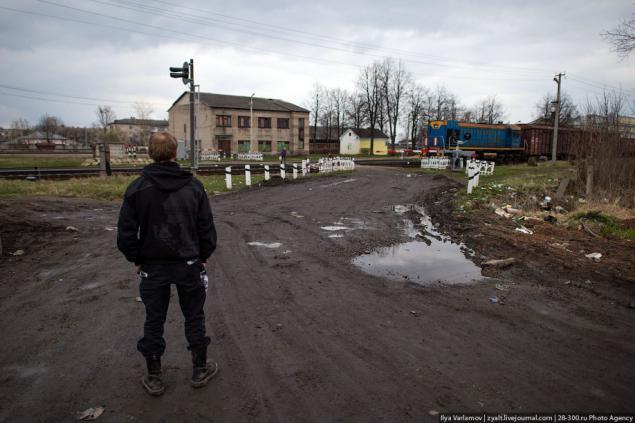 24. But at the coveted no one, except a crazy old woman.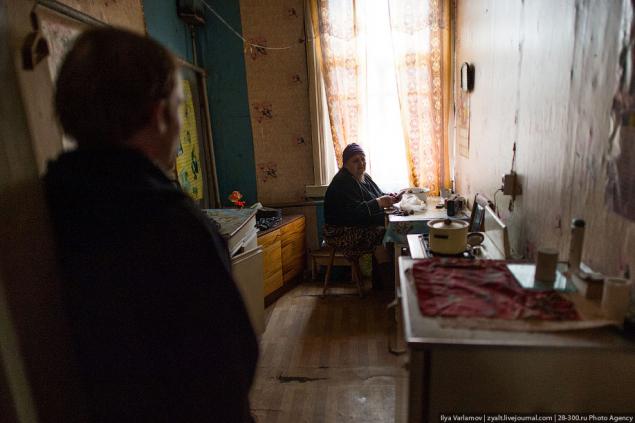 25. Meet. For the volunteers it was an accident. Sitting in his office at once sotspedagogov Porkhov boarding, [info] Dmitry heard talk about some guys, women are afraid that in the next vacation, he will run away from the orphanage. He, in the order of delirium, offered to take him. Mark jumped at the idea, and an hour later the object was traveling in Fedkovo acquainted and see what's what.
"Misha 2.0 all work out instantly: he not only joined in our company, but also dividing ideology, began to break the prevailing stereotypes about the city of guys Belsky. Previously, Misha was an uncle of mine, by the way, the same age. He took away a guy on vacation from boarding school. Last year, my uncle died, I crashed. For a while, the guy was in a boarding school, and then we came.
Now Michael is learning on weekdays, arrives in Fedkovo weekend, helping around the house and grow the seedlings on the windowsill bedrooms for greenhouses.
Misha was positioned as a difficult teenager, and now, four months later, it is not clear - or at me excessive complexity requirements, or Fedkovo pedagogical anomaly. In general, the "difficult teenager" strange term that, like, suggests the antonym of "mere teenager." Said idiom creates a more elaborate concept of "re-education", and I was sometimes embarrassed for the people who pronounce it seriously.
The only expression that is appropriate to use in adolescents - this effect. Adults willing to expend energy to fight the bad influence - friends, the streets and do not know what else there - instead of trying to offer a credible alternative to this influence.
The impact is a consequence of the authority: to avoid misunderstandings I hasten to clarify that the authority - a sincere respect for the teenager to another's experience and desire to match its carrier - has nothing to do with mozgoebstvom, popular misconception adult confident that having experience in itself implies the recognition and right to broadcast it to others. "- says Dmitry.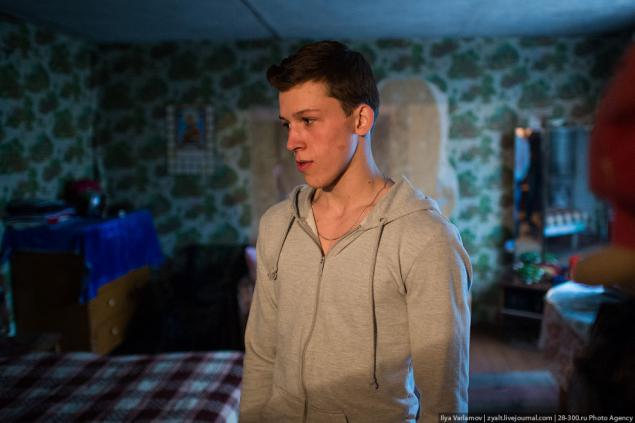 26. Misha took 8 years from drinking mother and he was in an orphanage. Accommodation Misha is also not allowed, as it was prescribed to her mother, from which taken. That is, after the release from the orphanage, he would have to return to the house, where 10 years ago he was taken to the guardianship.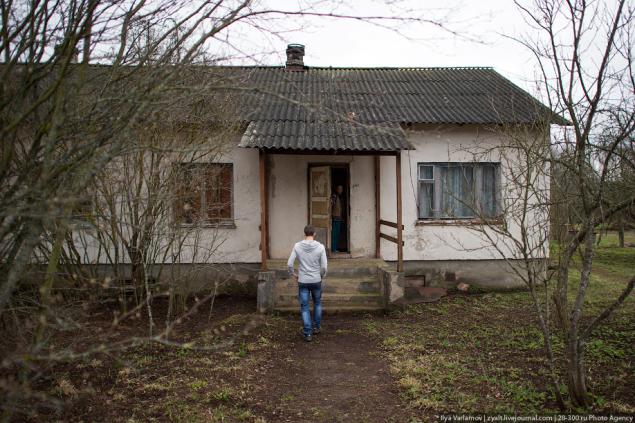 27. The Mother in the center. Misha and they do not communicate.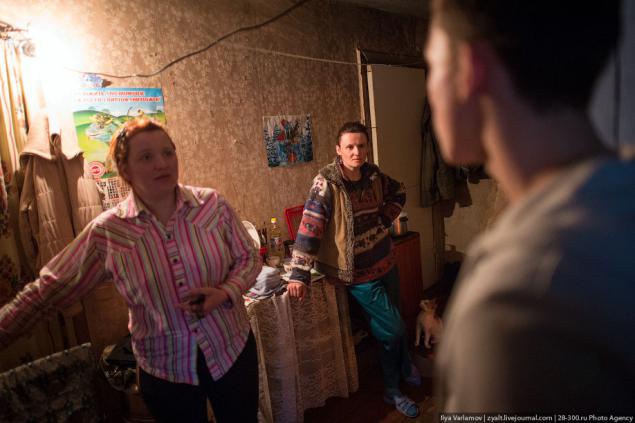 28. Room.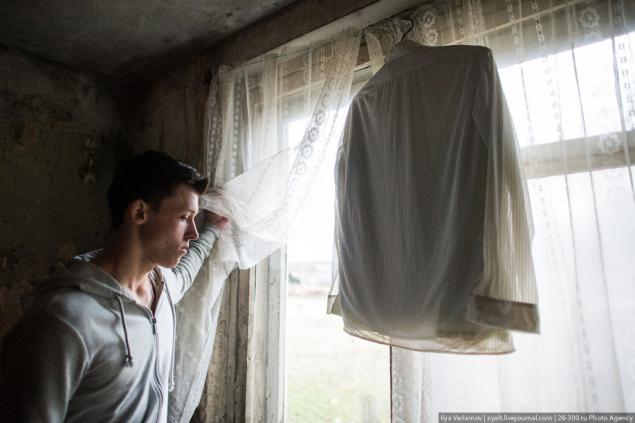 29.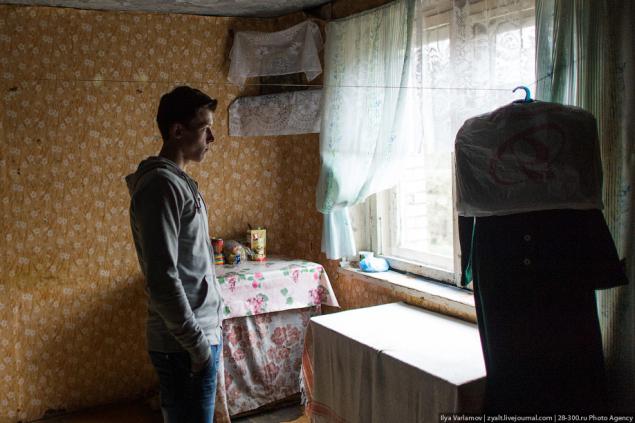 30.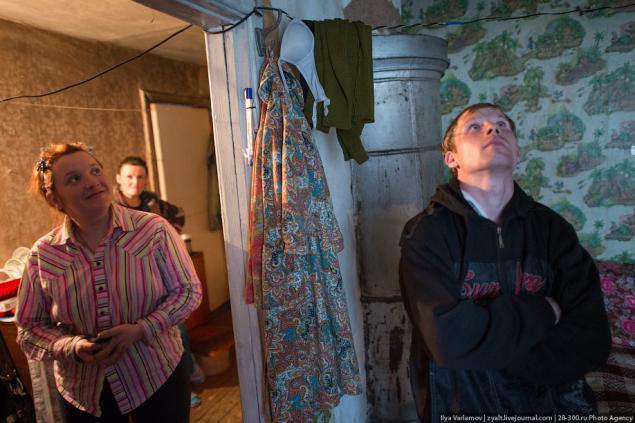 31. Locals.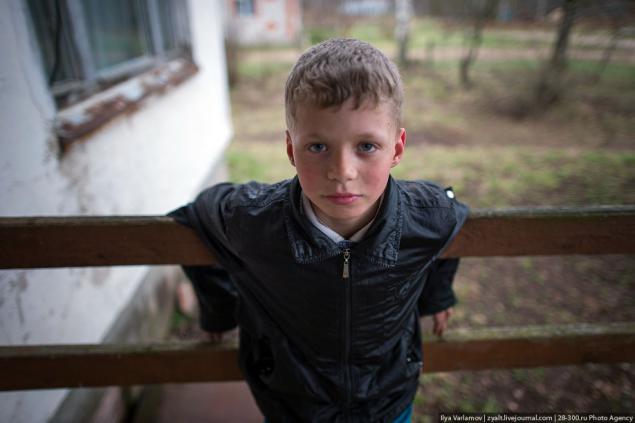 32.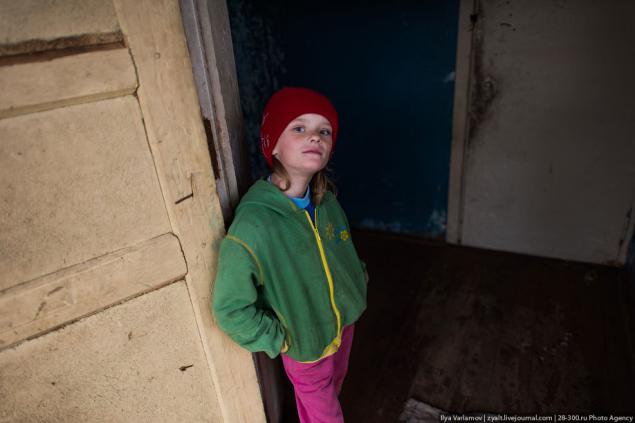 33. We were about to leave, when Misha was attacked by some relatives. In a burst of feeling, they decided to help him and to give money. Misha strongly refused, but after her aunt knelt down and promised to throw a fit, took the money.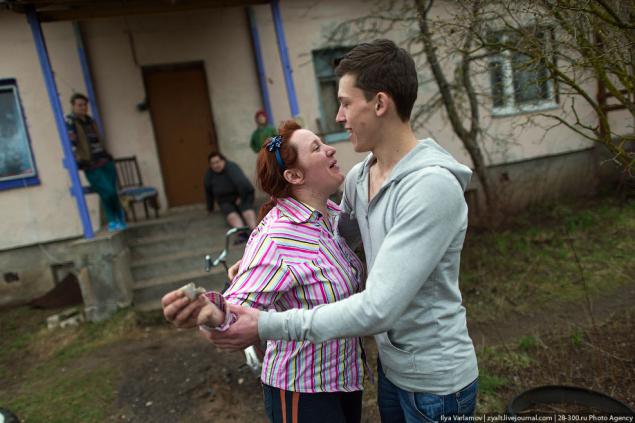 34. In the evening came to Opochka (accent on the second O). Let's go for a walk through the city ... Jack suddenly appeared. He was standing in a dark alley, where we were going.
 - Guys, what do you recieve here? - He asked defiantly
 - We make a report about the night life Opochki,
 - I'm here ... it's ... I'm not a local, can you?
 - Let's go!
 - You just do not hit me, I put new teeth, I'm sorry ... - asked Eugene.
 - Yes, we are afraid of you!
Then Jack threw me a free beer and to "listen." He said that he was in the army, recently demobilized and now works with his brother in the sawmill. In the army runs the "Dougie." "The first day I tried to get them washed. I refused, and they hit the main. Then I was beaten. All recaptured. And not one Russian did not come for me, although they were in the part of the majority. Bitches. But I'm not broke. I'd rather die than be a black wash. "There he lost his teeth.
 - Guys, we can question? - Suddenly asked Zhenya
 - Come
Instead of asking Jack looked at me and began to smile ...
 - Well? How? - He asked
 - What how? - Did not realize we
 - Teeth like? Normal inserted? Smooth?
Honestly, their teeth were a little sparse Jenny and curves. But we did not upset him and assured that everything will be fine.
All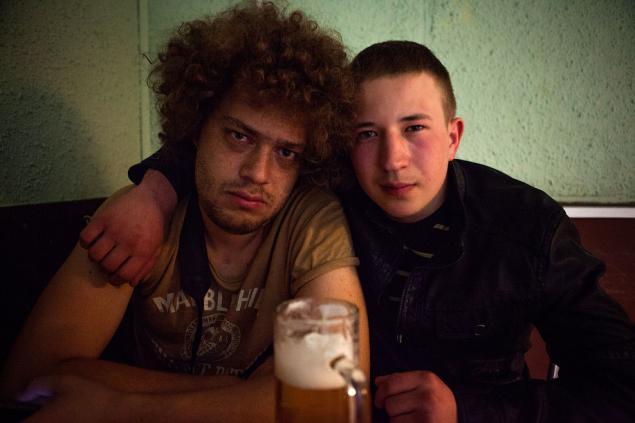 Source: