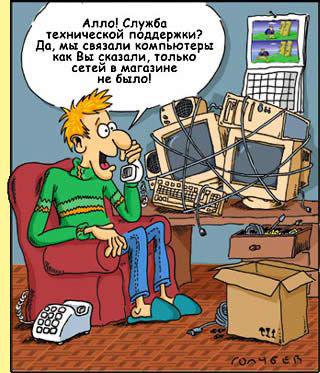 - Do you have mats with armrest?
 - Do you have your printer cartridges?
 - What do you call the printer?
 - But I have written on paper.
We read the name on the paper - EBSON L. Cousteau
 - Now I have a video card MX. Can I download something from FX nepokupaya?
 - Can I buy you a virtual memory?
 - Do you have square wheels?
 - I need a graphics card "Return»
 - Do you have a printer Hulet Pak 1012?
Question by phone:
 - Do you have rubber tips?
 - Hello. You are selling on credit?
 - Yes
 - And under what month?
This modem is faster than my ISP?
Do you stick to the pedals could push?
What is the Scanner scans the resource? (how many times the scanner can scan)
Do you have a disc to a "Computer World"? (to a computer)
Do you have a body in which you can insert the cassette tape?
You realize computer coding overweight?
Glaziers sell? (laser recording drives)
We want to buy a fluid jet printer.
You sidiromery there? (recordable CD-ROM)
This is "The World recording»?
No, it's "The World of Computers»
Sometimes amuses herself posing offer some clients who come to the warehouse and holds a receipt for the goods: "And where would I go with this?»
What are your memories timingila?
I broke down in the system unit monitor.
And how much is this monitor and that a barrel? (system unit)
Do you have Hewkii? (Printers company Hewlett Packard)
-And How fast print your scanners?
-Pechatayut Printers, scanners and scanning. Perhaps you are interested in printers.
-Yes Yes Yes. So how fast your printer scan?
A body this is the processor?
And there you have the monitors Huinday company? (Hyundai)
Sell ​​me the memory of a computer.
-And What you need: SIMM, RIMM, SDRAM, DDRAM?
-This Is your responsibility to know what need memory!
-And Then you have a computer?
-White!
-What Is more accurate?
-Don't Want to sell, do not! In another firm go !!!
A stereo verbatumnye sell? (Verbatim)
I need a rug, but I do not know which one. So your not suit me!
I've been on TV drivers can not put.
I need an LCD monitor.
-What Is it?
-Better Fourth.
I have a video card - square. Help fix.
What are your writing CD-ROM?
-Teac, Plextor, Yamaha.
-A Sony has?
No, there is only Teac, Plextor, Yamaha.
-A Samsung is?
-I Told you that there is only Teac, Plextor and Yamaha!
-So What do you have writing CD-ROMs are not present?
A writing CD-ROM Teac there?
-There
-And How they company?
Need video card with an open input and output?
Comes with a customer complaint:
"You sold me motherboard Socket-A, and I needed a Socket-370! This documentation is written! ».
Read the documentation: «A Socket 370 motherboard ...»
Motherboard memory slot there?
I need sambufer. (subwoofer)
The computer sound card on many megabytes?
A simple button on the keyboard there?
And what should be grain monitor for fifth-year students?
Selling a PS / 2 video cards?
Hello, please fax please. -Startuyte, I write.
Sell ​​me a cream heat sink.
Do you have analog cartridges? (similar)
Need processor for CD.
I would like to touch Claudia.
How do you make a photocopy? (copy)
How much carrying pyatizamkovaya? (Surge)
We do not need the socket heat sink, where you can fry an egg!
What modems you have?
-In The orange box ;-)
-So Good buy.
I need a hard drive with 80 or 40 gigabytes.
-We Have only 60.
-But It will not work well.
You have blue paper for printers there? -What Is the company interested in? I do not know the company, but remember that a pack of blue.
And how much is in the collection of the monitor with the compressor? (the processor)
We need a computer - the cheapest and most good.
And I can say something about the squeaks? (signals about the initialization of the motherboard)
But when my computer hangs, I hit 8 times the digit "8", and it all goes away.
Sell ​​me a monitor with the LCD display.
I hang card
I need a cable with a blunt end
On Friday, I have bought a tin disc ...
Pick me speakers to my cell phone.
Do you have a black copier?
And there you have a floppy blue to have the color of my eyes?
When I have bought the power supply to the computer case, then I was told that he is 340 watts. And he was on 220 volts. How to be?
Do you have a motherboard for rectangular processor?
And do you have printer cartridges Siksel? (Hewlett Packard LJ 6L)
And you have a standard computer includes a computer desk?
I bought a card, connected to the body, and no torch is not lit.
And you're doing computer coding for alcohol dependence?
I need a toner cartridge-Okai 4 of 4 volts. (toner OKIpage 4W)
Help me pick a computer. -And You're going to do it? Yes anything.
You printer cartridges have Ellipson company? (Epson)
I need a mouse with a square drive
A faulty graphics card you can buy?
You sell computers? -Yes. -What Do you give me a discount? (configuration and price are not interested)
The eternal question about the monitor in the window: "Where you have the price tags on these TVs? And with the remote control if they are? »
In your packaging syndrome (CD-ROM) included?
Do you have any crocodiles for holding securities?
And why is it you have a sewing needles in the window there?
Say than vacuuming carpets for bears?
A cartridge is on Hupadzhus? (Hewlett Packard)
Why did you give me a computer is very old software set - Windows Millenium?
A sprite sheets you have?
Do you have a memory company, "Brand Major»?
A virtual memory you have?
I'm stuck at home, and it does not work! What stuck? -Like what? Processor.
Tell me, in the cartridge 640 calories you have?
You motherboards what firms? -Asustek. -Oh, Fu, and there is nothing better?
Where's the drugs you sell? I was told that they are in the computer.
And your computer to me for five years enough?
We're on your computer can not enter the basis. (in the BIOS)
I here you take OEMnuyu memory. Do not tell me what site it is possible to download the driver to quickly worked?
A simple Vindovz in Pentium-2 has vlazit?
Computers whose you?
And you have a great memory? For 1C-Accounting enough?
Do you have children's computer?
I need a cartridge. -What? -And You show me, I'll choose.
Take back your computer - my typewriter with a color screen is not needed!
What you are interested in and what you need? -And You have?
Show me please PC Pentium-III. -Here. -No Is not Pentium-III. I already showed him - he is different!
I'm going to have you take 3 boxes of floppy disks. You give me all them now please check.
A user manual in Russian for one floppy Have not you been making?
Do you have a blank CD discs?
The question of all time: "Do you have a black and white printer ink?»
I have a monitor in the hole! -?!? -The TFT monitor shining point. I was told that it will grow ...
That you have a liquid-crystal monitor?
You leave us a hard drive - we may be behind him come.
I need PSD. (HDD - HDD)
I need ... computing cable to connect computers.
What documents are needed for the purchase of a computer?
Where does the color for the computer? -What Color? Well, in the monitor.
Why is this so expensive motherboard!?!
Why did you not tell me that on top of the processor chip processor ?!
What are your modem PCI?
Do you have a GeForce2 MMX?
Can I pay half the cost of the memory module, and if he goes, I will come and will pay the rest?
You have saundshnurok?
Computer Norton Commander provides a fault: "C: drive is destroyed»
How do you 3DO boosters?
A 15-inch processors you have?
Whose your memory?
I actually do not understand computers, but you have monitors with a mask: invar or slotted?
With what "speed" you have sold computers?
Do I need a driver on speakers?
You have drivers on the Mobile Rack there?
Do you have a sound card that does not need sabbufer?
And what is the shelf life you give to the computers?
What do you think about the processor ...?
Do you have a writing device? What I do not know, but it says in the paper.
Turn on the computer and there is no light. Where there is no light? Like where, in the computer.
Do you have ink for the computer?
Do you have a frame for the computer to the eyes do not get tired?
And the mats «Vibratim» you have?
How much memory you need? Well me so much to pay less.
You use the "iron" take?
Very cheap but very good CD-ROM you have?
Why CD-ROM reads not Russian?