The sexiest woman of the XX century - Marilyn Monroe (Norma Jeane Baker), about life and death that is legendary to this day is a role model among many Hollywood actresses. It was a magnificent singer, luxurious and unique woman just an actress, but her life everything was not so rosy as it might seem at first glance.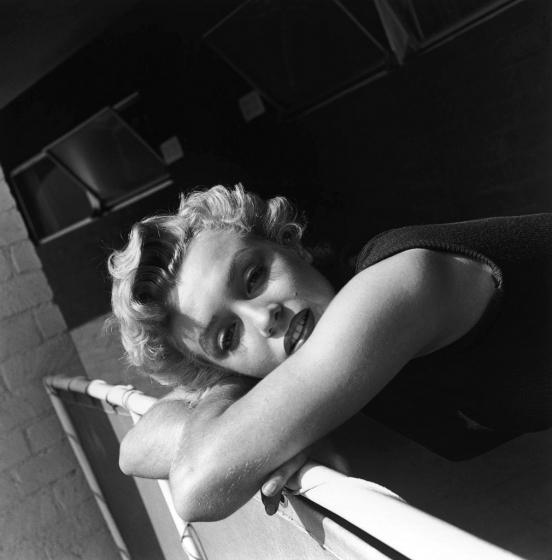 Career Marilyn has always been beautiful, but for the work she received not fabulous money, and very modest fees, but that's personal life until his last days was to Marilyn in what is unpleasant and useless talk. She was married three times (the first time the marriage broke up because he was on the calculation, for the second time my husband could not stand her fame, and, finally, the third time my husband found Marilyn is too stupid and called her only as "a little child "), she did not have children (third marriage Marilyn became pregnant, but the pregnancy was the ectopic), and she was always alone.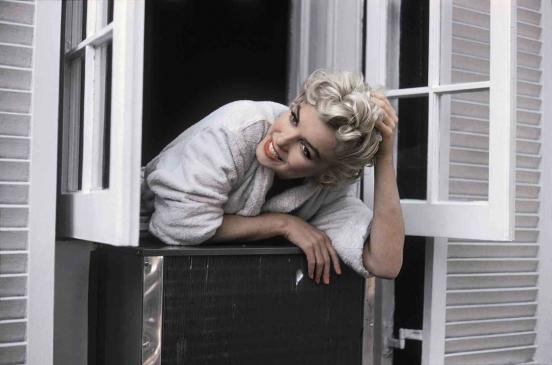 Everyone thought Marilyn Monroe "a beautiful product," where you can make good money, so Monroe was never really happy. Besides, she wanted children and insanely normal family, but all attempts to make the dream a reality ended in failure. Throughout his short life (Marilyn lived for 36 years, as many say, committed suicide) she gave a lot of interviews, which will never be taken seriously. But today, many years later, the words spoken by her, have much more sense and is much greater awareness in people's hearts.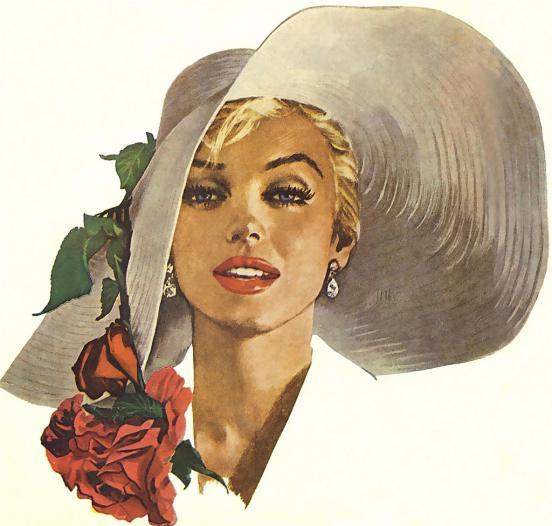 What kind of statements belong to the legendary Marilyn Monroe?
Women's attractiveness only strong when it is natural and stihiyna.Vsyu life I belonged only to the viewer. Not because it's great, but because no one else I was not needed.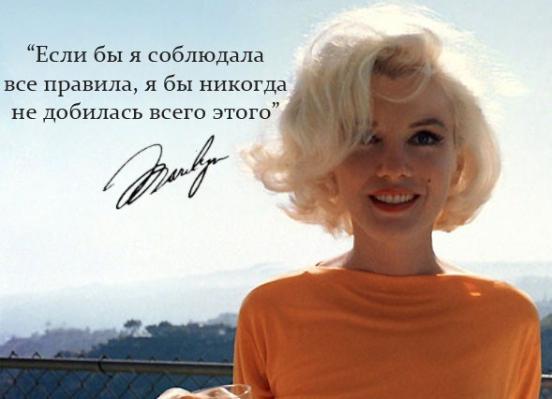 Looking at the night sky, I thought that, perhaps, thousands of girls also sit alone and dream of becoming a star. But I'm not going to worry about them. After all, my dream can not be compared with someone else.
I was called "sex-blond", "sex-bomb" ... I know one thing: the beauty and femininity are not of age, and these qualities can not be created. Women enchantment can not be produced industrially, as if someone did not want to. I mean true beauty. It generates femininity.
Not very nice to know yourself so well and assume that you know - need a little flatter myself to go through and overcome the fall.
Men, because of my image as a sex symbol, created by them and me the most, too much is expected of me - they expect will ring bells and whistles whistle. But my anatomy is no different from any other woman's anatomy. I do not live up to expectations.
I'm not offended when people say that I am a fool, because I know that's not true.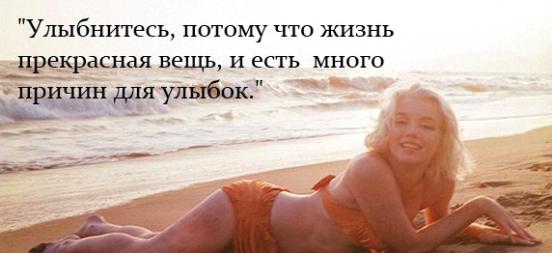 I dress for women and men to undress!
The real woman should be a great hostess in the kitchen, a caring mother in the family and this whore in bed!
The beauty of the body - a natural gift, it can not destroy or despise.
I also have feelings. I'm still a man. All I want is to be loved.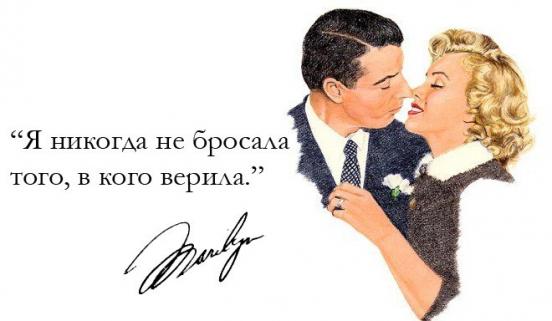 We, the women, there are only two weapons ... mascara and tears, but we can not use both at the same time ...
Sex symbol - it's just a thing, and I hate to be a thing. But if we are to be a symbol, the symbol of sex better than anything else.
Hollywood - a place where you get paid a thousand dollars for a kiss and fifty cents for your soul. I know this because I have repeatedly rejected the first and held out his hand for fifty cents.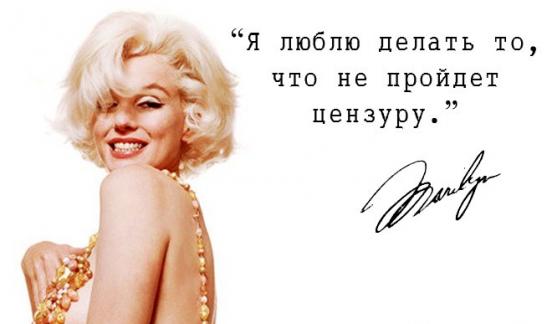 Husbands tend to be good in bed when changing wives.
Males feed the sincere respect for everything that bores.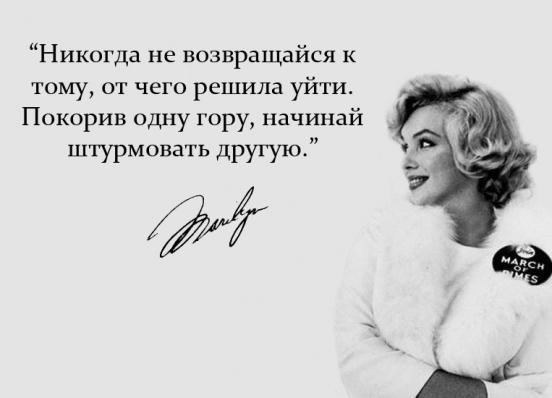 I never sunbathe - I like being a solid blonde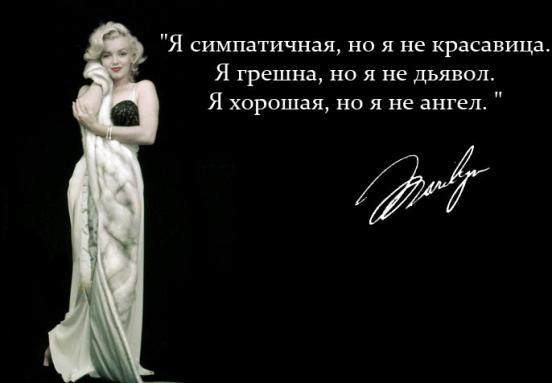 Her husband - a person who always forgets your birthday and never miss a chance to name your age.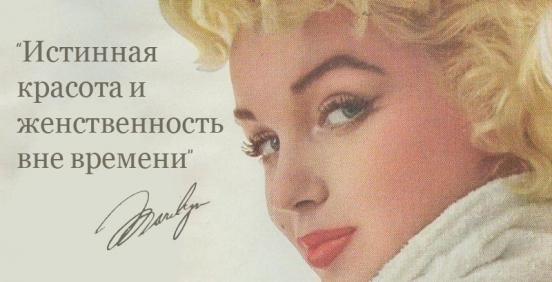 Although I appear on calendars, but punctuality no different.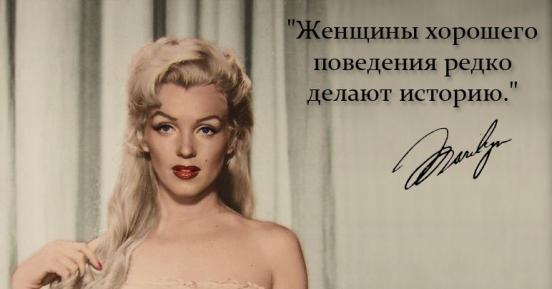 I am definitely a woman, and it makes me happy.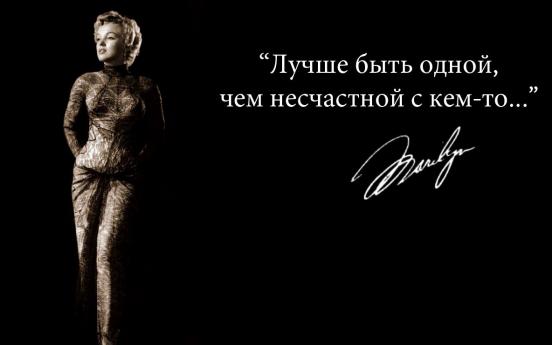 I'm not used to be happy because happiness is not considered something to make a point.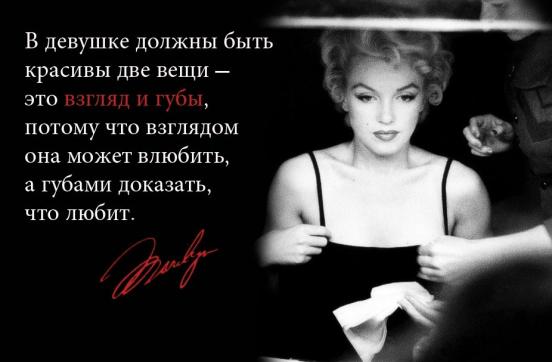 His career started as a silly, I whore blonde. And just finish.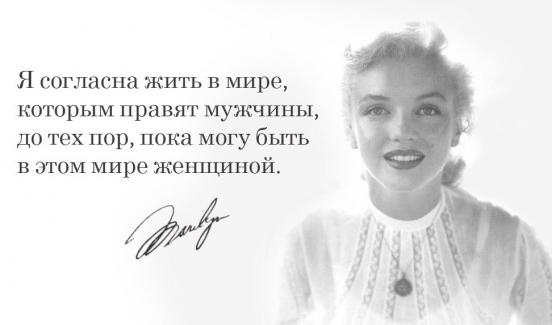 If I have a little luck, someday I know why people are so plagued by the problem of sex. I personally do not care about them more than the cleaning shoe.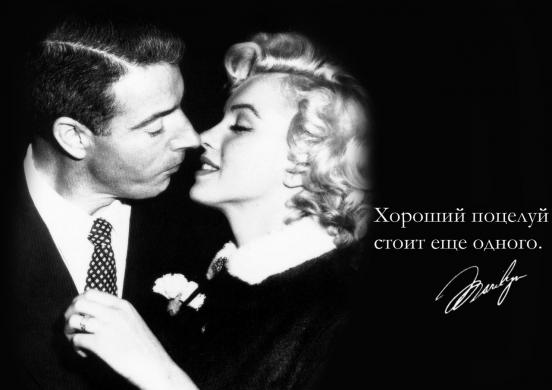 I never had the chance to learn something else in Hollywood. I wanted to constantly evolve as an actress. If I can not be myself, then why do I have?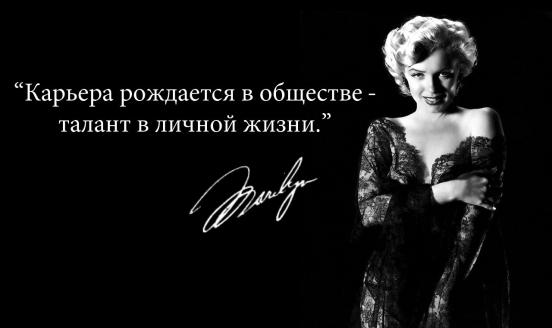 I'm always late. People think it's because of arrogance. And actually - quite the contrary. I know a bunch of people that are likely to come in time, but only for doing nothing, sit and recount his life, or even any foolishness. Are you expecting this?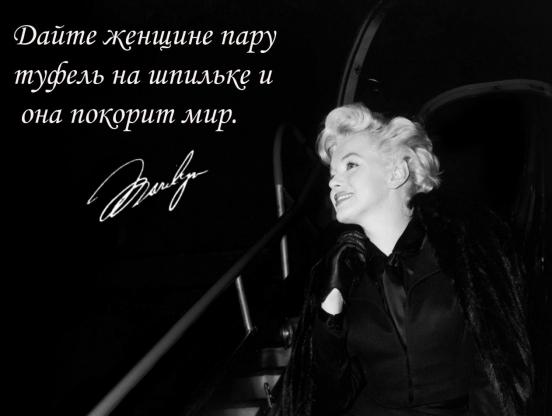 People have a habit of looking at me as if I were a mirror, and not man. They do not see me, they see their own lustful thoughts, and then put on a white mask and call me horny.
I often thought to be loved - it means to be desired. Now I think that to be loved - then another plunge in the dust, have full authority over him.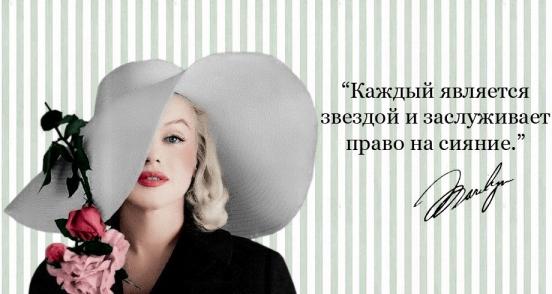 Run away if you want to be loved.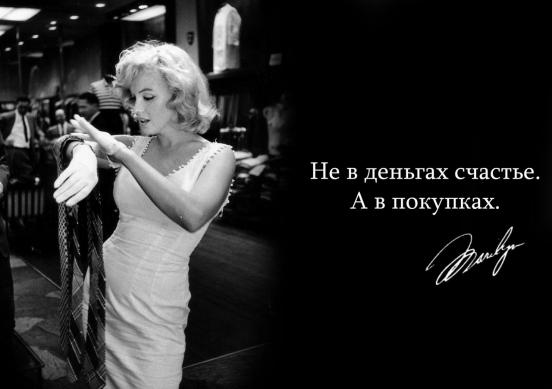 I never let anyone deceived. But I let people be deceived. They are not trying to find out who I really am. But easy to come up with me. And I'm willing to bet with them. They love me for what I never had. And when they find it, you accuse me of cheating.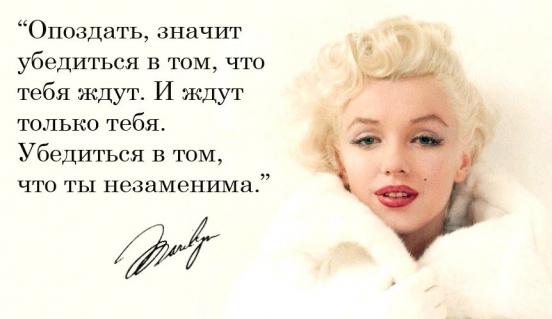 Girl's best friend - it is diamonds.
For pictures thank marilyn-monroe.spb.ru.