Almost all women love hats. This was the year, ten, twenty, fifty or one hundred years ago. In the 50s, not only fragile Audrey Hepburn, among the famous beauties wore a gorgeous hat and stunning diva Marilyn Monroe, from the death which this year celebrates its 50th anniversary. If she had lived up to that time, the June 1, 2012 it would have knocked exactly 86. But the life of the most desirable women of the last century was cut short at age 36, at the peak of glory and love of millions of people around the world. Now Marilyn - a legend, which is remembered for half a century. This year, Monroe became the face of the Cannes Film Festival last year made a film about her, in her way of the stars appeared before the lenses of photographers and therefore the interest in her person rose again. She was not very fond of his image as a sex symbol, Marilyn, as Norma Jeane Baker was his hostage, but with a smile and a twinkle in her eyes, she greeted everyone who met her on the way, all those who admired her. So she welcomed and people with cameras who filmed her every step. Pictures in hats at the beauty of Monroe there; she loved to wear hats, both in everyday life and in the movies.
In nature, nothing is more volatile than the female hat.
Cap 1.
The elegant image, bright makeup, alluring look and, of course, sloping bonnet in white with a huge black pen made of blatant diva in tight shiny dresses inaccessible beauty. In a suit can be both attractive and unwavering.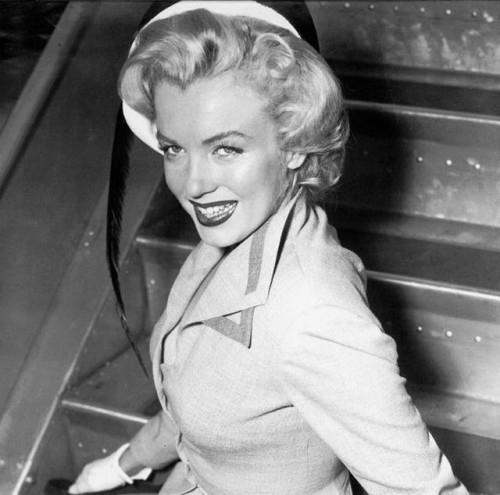 Cap 2.
One of the latest photo shoot of Marilyn. Extinct gaze from under thick lashes and very stylish hat - a turban with a white veil. Before his death, Marilyn had planned to re-marry her ex-husband Joe DiMaggio, and perhaps it is in a hat she proceeded down the aisle, despite the fact that the turban are mainly Muslims, Hindus and Rastafarians.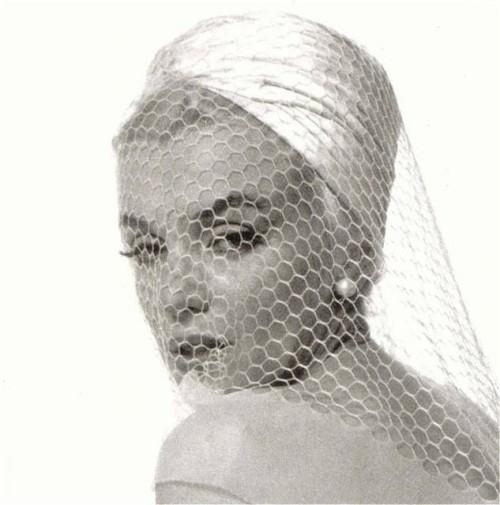 Cap 3.
Marilyn, and at the time when made photos More Norma Jean, ties a red scarf on his head. To name a scarf hat, of course, is impossible, but this hat as the one currently in favor. R & B star is often tied himself handkerchiefs in this way. Who would have guessed ...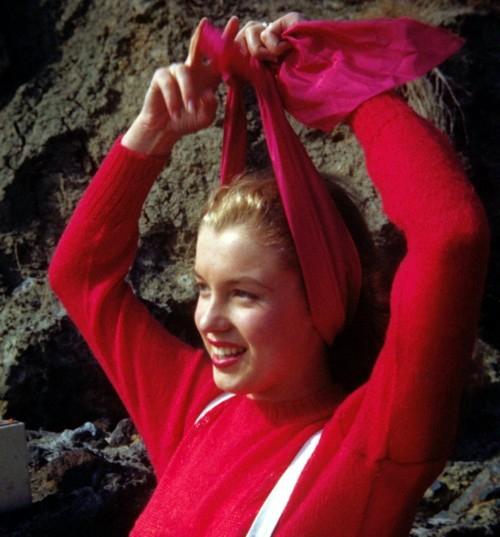 Cap 4.
Stunning ladies' hat! Flowers and feathers are used in the manufacture of hats, since the 17th century.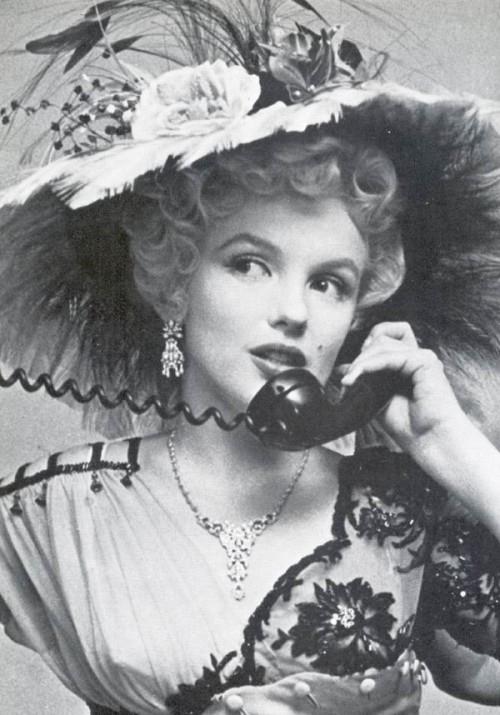 Cap 5.
Though Marilyn and loved animals, but of wearing fur is not denied. Here at Monroe fur hat and sheepskin coat with fur collar.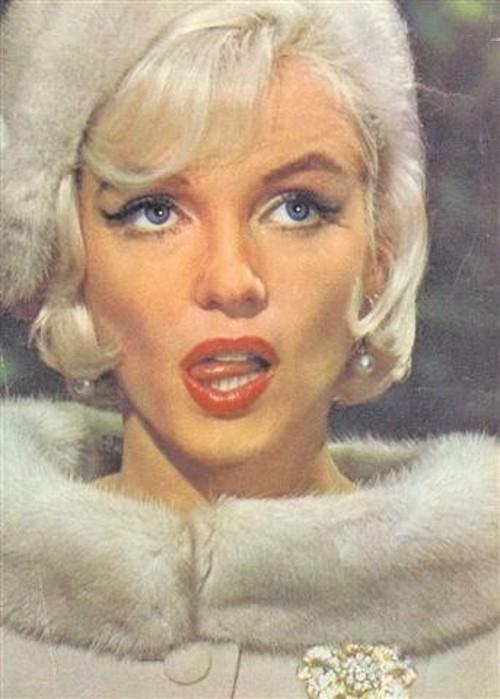 Cap 6.
Beautiful image and, as usual, playful look of Marilyn. This cap on the head of the actress has a strange name - a hat-porkpay (honestly the first time I hear about this, because until recently, thought it was a simple fedora). But no, it's not so prosaic.
A hat with a cylindrical crown, having a small depression on top and sufficiently broad-brimmed straw hat shaped like. Often decorated with ribbon Tuglie. His English name of this hat was due to the fact that its shape resembles the shape of the classic British pork pie. Fedora became popular in the late XIX century, and today is an essential feature of jazz musicians and musicians in ska.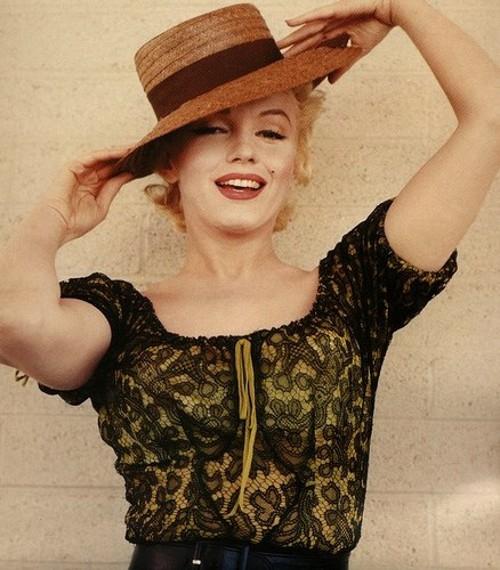 Cap 7.
A great photo, but from other Monroe does not happen, but here's hat resembles a broom.
Cap 8.
There are many kinds of hats, but I do know that this sea cap that Norma Jeane very becoming.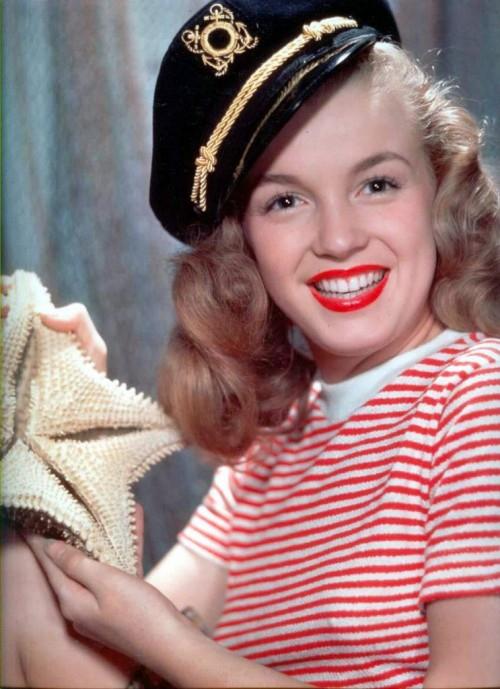 Cap 9.
It's not often you see a photo of Marilyn in a cowboy hat, but this is a rare case. For one of the movies she had to try on and this image. It is a pity that none of her efforts were not appreciated, and everyone loved her only appearance. "What we do not store - losing her cry».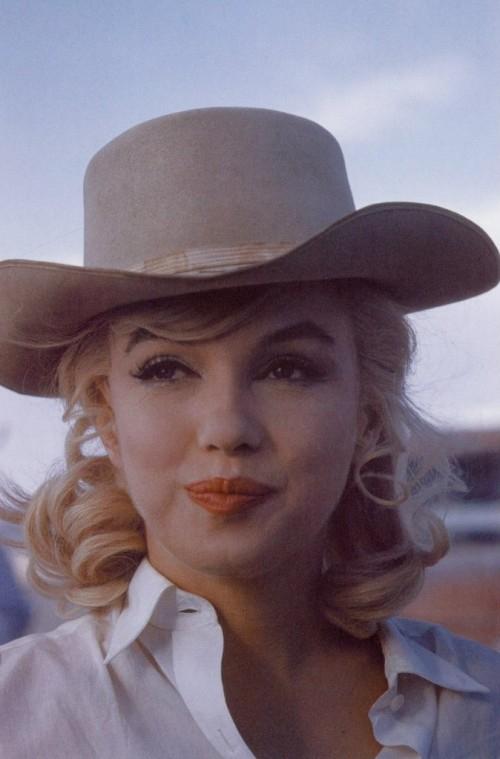 Cap 10.
Cap-basket. As such, you can easily hide your face from the paparazzi and from the scorching sun.
Cap 11.
Asian hat looks good, too, Marilyn, but I think that the Japanese and Chinese, it is more appropriate. The main title of the headdress - rice hat, it is usually made of straw or silk.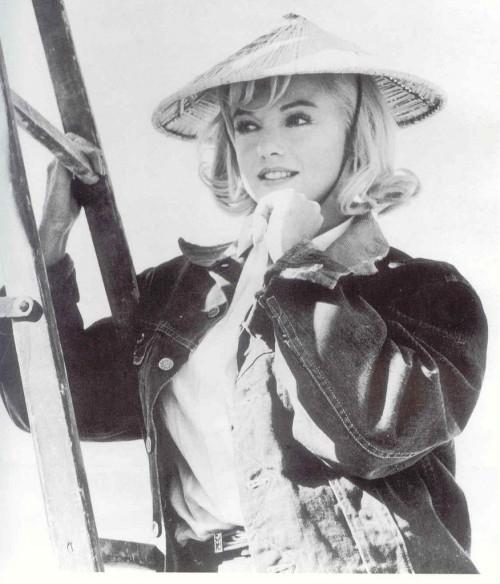 Cap 12.
Marilyn is almost no make-up in a simple and comfortable black hat. I think that even without a make it charming.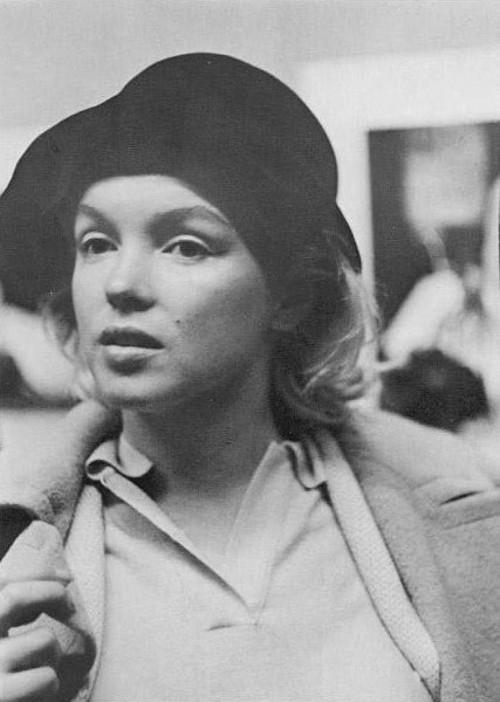 Cap 13.
And it is common for bathing cap. The pools often give out just like that. By the way, a photo from the set of the film "Some Like It Hot».