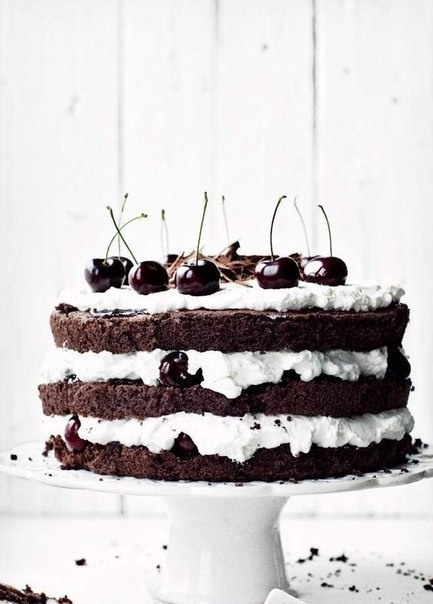 Ingredients:
Biscuit coffee:
 - 7 eggs
 - 1 cup of sugar
 - 2/3 cup bitter cocoa
 - 2/3 cup flour
For the cream:
 - 1 can (340 g) of cherry jam
 - 4 - 5 tablespoons cherry liqueur
 - 700 g cherries or cherries, pitted, you can use frozen cherries
Whipped cream:
 - 750 g of very cold cream 30% or 36%
 - 2 cups sugar
 - 2 teaspoons gelatin
Jewelry:
 - 50 grams of dark chocolate, cherries or cherry with tails.
Preparation:
Biscuit:
1. The bottom of the form for the cake with a removable hoop, 24 cm in diameter, lined paper for baking. Boca is no grease or dust with (otherwise biscuit grows up). Cocoa mix with the flour and sift twice. Preheat oven to 170 ° C. Separate the yolks from the whites.
2. Proteins whip with a mixer on small speed, for 2 minutes, until they are fluffy. Gradually increasing the speed of the mixer, add a spoonful of sugar. Increase the mixer speed to the highest protein and beat for 2-3 minutes, until the foam does not become taut and shiny. Continue beating and add the egg yolks one by one.
3. Add the flour with cocoa (best three portions) and gently mix with whipped mass, trying not to fall whipped foam. The less foam will fall and the greater will more fluffy cake. Cooked dough, pour into the prepared baking dish and place in the preheated oven. Bake for 35-40 minutes, until the stick stuck into it will not dry when you pull it. Immediately after baking, remove cake and quickly throw it on the table. Yes, it's not a mistake. With this cake, as strange as it may sound, not fall, but only become more fluffy, airy. Cool.
4. Jam mix with liqueur and cherry clean the bones from. Frozen cherries, if any, to thaw. Separate the edge of biscuit from the hoop, place the cake upside down on the counter, lined with baking paper. Remove the paper from the sponge and gently, using a sharp knife, cut the cake into three.
Whipped cream:
5. In a small saucepan, boil 0, 5 cups of water, remove from heat, sprinkle in the gelatin and stir until it dissolves. Cool. Very cool whip cream with sugar on a tight foam. Whisk using a mixer with cooled down, but still liquid gelatin.
6. On the table lay the first sponge cake, put 2 tablespoons of jam, and the rest is divided into two parts. Grease a sponge cake half jam, put half of the berries and whipped cream, cover 1/3.
7. Cover the second Korzh, repeat: jam, berries and whipped cream 1/3.
8. Cover the last third biscuit, brush with 2 tablespoons of deferred jam, whipped cream and shavings of chocolate tiles.
9. Decorate with fresh cherries or cherries. Put in refrigerator for complete cooling.