< «Black Forest» - the so-called classic chocolate cake originally from Germany. Lush and wet, soaked with strong drink cakes in combination with chocolate and sour cherry ... From childhood, remember this gorgeous dessert, which we filmed with cherries from my mother secretly
«Website» know: a good pastry chef can be one! Following this detailed recipe, you can cook a delicious cake with "thereby", the unique taste of ...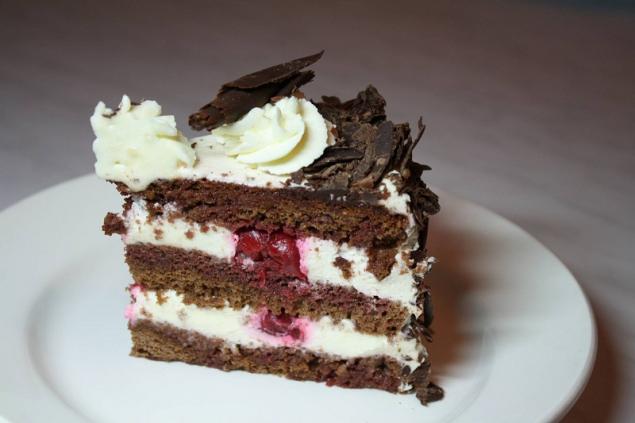 cake "Black Forest" Ingredients for the dough 4 eggs 120 g sugar 90 g of flour < / 30 g butter 20 g starch 15 g of cocoa powder 1 pinch of cinnamon < br>
Ingredients for the filling 400 g frozen cherries 200 ml of water 200 g sugar 1 glass (50 ml ) kirsch (cherry syrup can be replaced, mixed with brandy or vodka) 1/3 hours. l. cinnamon

Ingredients for cream 250 g of cream fat content of not less than 30% 1 sachet (10g) of vanilla sugar li > 80 g of dark chocolate, at least 60% cocoa

Ingredients for decoration 250 g of cream fat content of not less than 30% < 1 h. l. with a slide of powdered sugar 150 g chocolate a few nuts and marzipan 1 tbsp. l. sugar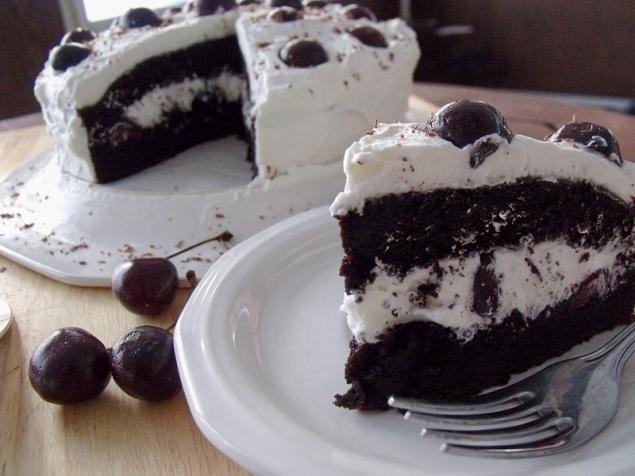 Preparation For the filling of the package to shift cherries in a bowl, without defrosting. . Sprinkling cinnamon Prepare the syrup: sugar zaley boiling water and stir until dissolved, add kirsch or cherry syrup with cognac. Pour cherry syrup and leave for several hours (preferably overnight) to marinate. Bake cake. For this vzbey yolks with half the sugar until thick light weight. Clean vzbey whisk whites until thick dense foam. Then add the remaining sugar and beat again until the mixture becomes thick and shiny. Mix up carefully with a spoon whites and yolks. Vsyp sifted flour and starch, cocoa and cinnamon. Mix up as gently as possible. Pour melted butter unheated. More stir from the edge to the middle, trying to upset the minimum weight. Put the dough into the mold. Bake at 200 ° C for 25-30 minutes. The toothpick should come out dry from the middle of the biscuit. Get the cake from the oven, wait 5 minutes and turn it on the grill. Leave the cake to cool down completely. Prepare a creamy chocolate cream. Pour the cream into a saucepan, add the vanilla sugar while stirring and heated to almost boiling. Put the pieces of chocolate, remove from heat and stir until a smooth shiny mass. Cool it in the refrigerator for 2-3 hours, so that it becomes completely cold. Cold cream with chocolate vzbey mixer at maximum speed as usual cream. When the mass becomes lush, dense and strongly brighten, stop. Not too long whips, this cream can be perevzbit. Ready to shift the cream in a pastry bag. Build the cake. Cherry Cast away on a sieve to the stack syrup. Postpone a dozen berries for decoration. Cut the sponge cake into three. Approximately six tablespoons of syrup Saturate the bottom cake. Squeeze out a pastry bag a little less than half of the cream in the form of circles on the bottom cake. Laid out between the rings cherry cream. Add a little cream and a cherry on a smear, to get an even layer. Cover with second Korzh, soaked it and do the same operation with the remaining cream and a cherry. Saturate the last cake (syrup still remain and are no longer needed) and cover them cake. Vzbey remaining cream, add powdered sugar and gently stir. Postponed a third of the cream in kornetik with shaped nozzle for decoration, the rest obmazh cake. To decorate with the chocolate room temperature with a knife and take off your chips at once put in the freezer to keep it melted. Remaining well cooled chocolate in a food processor and grind into crumbs or grate. Boca Pour some chocolate chip cake, laid out in the middle of the chocolate chips. Lay the socket of the cream on the edge of the cake. To of frozen cherries make a decoration in each berry put a piece of marzipan and nut, so she kept the shape. Mash in a mortar sugar is too shallow and Pour some berries. Pour some dry and again. Laid out on the cake. Put the cake in the refrigerator for 2 hours. You can eat!

This dessert is never boring! Even more ideas for making homemade sweets you'll find in the book "Pirogovedenie for beginners».

The perfect recipe for this cake ... you know a few important every ingredient: thanks to the precise combination of "Black Forest" will present products, such as a child! Show your friends how to cook this masterpiece.