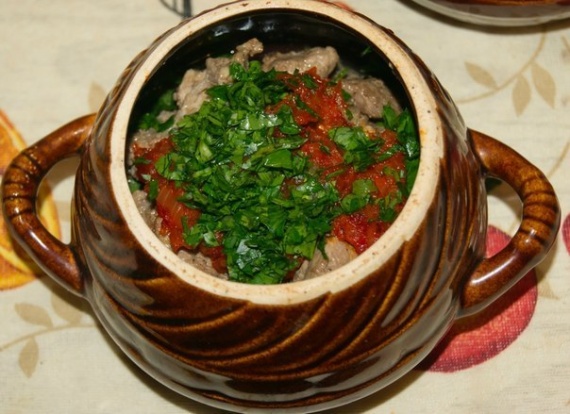 Ingredients:
800 g pork (we took a pork shoulder)
salt
freshly ground black pepper
4 tablespoons melted lard
4 large potatoes
4 eggs
3-4 tablespoons vegetable oil
1 large onion
1 tbsp tomato paste
2 cups beef broth
3 tbsp chopped parsley
Preparation:
1. Pork wash, dry and cut into small pieces. Lightly beat off, salt and pepper to taste. In a frying pan heat the lard and fry the meat over medium heat until soft and evaporation of the liquid, about 15 minutes.
2. Potatoes Wash, peel and grate on a coarse grater, squeeze out the excess liquid. Add 3 eggs, salt and well mixed. Half of the vegetable oil in a frying pan heat up and roast potato pancakes.
3. Onion cleaned, cut into small pieces. In a separate pan heat the remaining oil, fry the onions with tomato paste
4. At the bottom of the pot to put a batch of potato pancakes, put the meat on top, followed by onions with tomato paste. Pour the broth and sprinkle with parsley.
5. Heat oven to 180 degrees, put it in pots and simmer for 25-30 minutes. Serve hot straight into the pot.