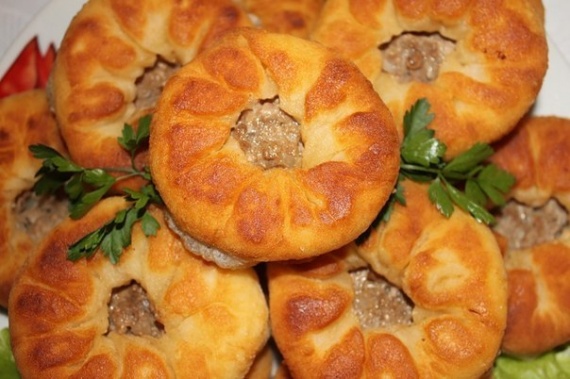 For the dough: 1/2 cup warm vodypaketik dry yeast (7d) 1 tsp. Sahara1 glass of milk (3, 5%), 100 g of butter masla2 tsp. Solimuka (how many will take)
For the filling: 500 g minced meat (I have mixed) 1 large clove lukovitsa2 chesnoka100-150 ml cream (33%) spices: salt, pepper, Cayenne pepper, spices for stuffing
oil for frying
First make the dough:
In warm water to dissolve the sugar and add the yeast.
Stir and set aside for 15 minutes, until the cap.
To warm milk to pour melted butter and salt.
Add the yeast mixture and stir.
Gradually podsypaya flour, knead the dough.
When the dough can be taken in hand to get it and continue to pour the flour, knead into a smooth dough on the table.
In a saucepan pour a couple of art. spoons stretch. oil and smear on the bottom and walls.
Put the dough back, break in oil, cover and put into the heat for 1 2/5 hours.
At this time, prepare the filling:
To mince garlic squeeze.
Add finely chopped onion
Add spices and stir.
Pour in the cream and mix again.
Lepim and fry:
Obmyat dough stretched and blurred. Oil arms form beads.
Give them 10 minutes to stand.
Of minced meat to stick too is the same number of balls.
On floured table, ball of dough flatten palm (the dough is very soft and pliable - rolling pin is not needed.)
In the middle of a ball-put stuffing and dough around the filling zaschipat leaving midway open.
Allow to stand for minutes 15.
Fry in a pan, a large number of red-hot stretch. oil on both sides until golden brown, first open side down, then turn over.
Ready belyashi put on a paper towel to spent too much oil.
And serve immediately, very tasty with sour cream.
That's it !!!
ENJOY YOUR MEAL !!!