Despite the fact that the numbers in the table of composition and calorie foods as much as is given to one decimal place, we must remember that they are still very rough.
The content of protein, fat, carbohydrates and, consequently, the caloric value of the product depends on many factors: the grade of the product and the method of cooking, from the details of the formulation and characteristics of the technological process from different manufacturers. Even, for example, grow any plant in the hot or rainy summer.
Therefore, counting in these tables, the caloric content of your diet and nutrient content (proteins, fats, carbohydrates) in the consumed product, remember that the result will never be absolutely accurate.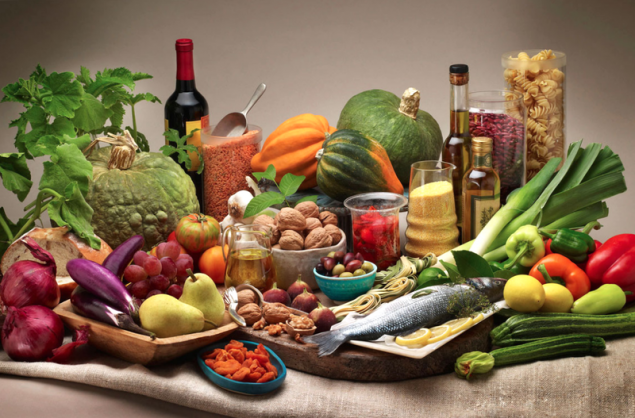 Table calorie (content per 100 grams of product)
ProductProteins
gr.Fats
gr.Carbohydrates
gr.Kcal
Apricots
0.9
0.0
10.5
45
Quince
0.6
0.0
8.9
38
Plum
0.2
0.0
7.4
30
Pineapple
0.4
0.0
11.8
48
Orange
0.9
0.0
8.4
37
Peanuts
26.3
45.2
9.7
550
Watermelons
0.5
0.2
6.0
27
Eggplant
0.6
0.1
5.5
25
Bananas
1.5
0.0
22.0
94
Lamb
16.3
15.3
0.0
202
Bagels
10.0
2.0
69.0
334
Beans
6.0
0.1
8.3
58
Cranberries
0.7
0.0
8.6
37
Cheese
17.9
20.1
0.0
252
Rutabaga
1.2
0.1
8.1
38
Bulls
12.8
8.1
5.2
144
Waffles with fat-containing fillings
3.0
30.0
64.0
538
Waffles with fruit toppings
3.0
5.0
80.0
377
Ham
22.6
20.9
0.0
278
Grapes
1.0
1.0
18.0
85
Cherries dried fruits
1.5
0.0
73.0
298
Fresh cherry
0.8
0.0
11.3
48
The bovine udder
12.3
13.7
0.0
172
Hercules
13.1
6.2
65.7
371
Beef fresh
18.9
12.4
0.0
187
Beef stew
16.8
18.3
0.0
231
Blueberries
1.0
0.0
7.7
34
Salmon
21.0
7.0
0.0
147
Peas shelled
23.0
1.6
57.7
337
Peas whole
23.0
1.2
53.3
316
Green peas
5.0
0.2
13.3
75
Garnet
0.9
0.0
11.8
50
Grapefruit
0.9
0.0
7.3
32
Walnut
13.8
61.3
10.2
647
White mushrooms, fresh
3.2
0.7
1.6
25
White mushrooms, dried
27.6
6.8
10.0
211
Mushrooms boletus fresh
2.3
0.9
3.7
32
Mushrooms boletus fresh
3.3
0.5
3.4
31
Mushrooms Russula fresh
1.7
0.3
1.4
15
Brisket smoked
7.6
66.8
0.0
631
Pear dried fruit
2.3
0.0
62.1
257
Pear
0.4
0.0
10.7
44
Goose
16.1
33.3
0.0
364
Pills fruit
3.7
10.2
73.1
399
BlackBerry
2.0
0.0
5.3
29
Animal fat melted
0.0
99.7
0.0
897
Breakfast of the tourist (beef)
20.5
10.4
0.0
175
Breakfast of the tourist (pork)
16.9
15.4
0.0
206
Green bean (pod)
4.0
0.0
4.3
33
Marshmallows
0.8
0.0
78.3
316
Raisins
2.3
0.0
71.2
294
Chum salmon caviar grainy
31.6
13.8
0.0
250
Caviar bream breakdown
24.7
4.8
0.0
142
Caviar mintaeva breakdown
28.4
1.9
0.0
130
Sturgeon caviar grainy
28.9
9.7
0.0
202
Sturgeon caviar breakout
36.0
10.2
0.0
235
Turkey
21.6
12.0
0.8
197
Figs
0.7
0.0
13.9
58
Iris
3.3
7.5
81.8
407
Natural yoghurt 1.5% fat
5.0
1.5
3.5
47
Zucchini
0.6
0.3
5.7
27
Squid
18.0
0.3
0.0
74
Flounder
16.1
2.6
0.0
87
Cabbage
1.8
0.0
5.4
28
Cauliflower
2.5
0.0
4.9
29
Caramel
0.0
0.1
77.7
311
Carp
17.7
1.8
0.0
87
Carp
16.0
3.6
0.0
96
Potatoes
2.0
0.1
19.7
87
Chum
22.0
5.6
0.0
138
Yogurt fatty
2.8
3.2
4.1
56
Low-fat kefir
3.0
0.1
3.8
28
Dogwood
1.0
0.0
9.7
42
Strawberry
1.2
0.0
8.0
36
Cranberry
0.5
0.0
4.8
21
Sausage boiled Doctoral
13.7
22.8
0.0
260
Cooked sausage Amateur
12.2
28.0
0.0
300
Cooked sausage Dairy
11.7
22.8
0.0
252
Cooked sausage Individual
10.1
20.1
1.8
228
Cooked sausage Veal
12.5
29.6
0.0
316
Sausage boiled-smoked Amateur
17.3
39.0
0.0
420
Sausage boiled-smoked Servelat
28.2
27.5
0.0
360
Semi-smoked sausage Krakovskaya
16.2
44.6
0.0
466
Semi-smoked sausage Minsk
23.0
17.4
2.7
259
Semi-smoked sausage Poltava
16.4
39.0
0.0
416
Semi-smoked sausage Ukrainian
16.5
34.4
0.0
375
Sausage Amateur
20.9
47.8
0.0
513
Sausage Moscow
24.8
41.5
0.0
472
Sausage meat
15.2
15.7
2.8
213
Horse
20.2
7.0
0.0
143
Candy
3.0
20.0
67.0
460
Loin smoked
10.5
47.2
0.0
466
Smelt
15.5
3.2
0.0
90
Crab
16.0
0.5
0.0
68
Shrimp
22.0
1.0
0.0
97
Rabbit
20.7
12.9
0.0
198
Buckwheat
12.6
2.6
68.0
345
Corn grits
8.3
1.2
75.0
344
Semolina
11.3
0.7
73.3
344
Eyeglasses
12.0
6.0
67.0
370
Pearl barley
9.3
1.1
73.7
341
Wheat groats
12.7
1.1
70.6
343
Barley groats
10.4
1.3
71.7
340
Gooseberry
0.7
0.0
9.9
42
Dried apricots
5.2
0.0
65.9
284
Chickens
20.8
8.8
0.6
164
Ice fish
15.5
1.4
0.0
74
Bream
17.1
4.1
0.0
105
Lemon
0.9
0.0
3.6
18
Green onions (the pen)
1.3
0.0
4.3
22
Leek
3.0
0.0
7.3
41
Onion
1.7
0.0
9.5
44
Mayonnaise
3.1
67.0
2.6
625
Pasta
11.0
0.9
74.2
348
Grenadier
13.2
0.8
0.0
60
Raspberry
0.8
0.0
9.0
39
Mandarin
0.8
0.0
8.6
37
Margarine sandwich
0.5
82.0
1.2
744
Margarine milk
0.3
82.3
1.0
745
Marmalade
0.0
0.1
77.7
311
Vegetable oil
0.0
99.9
0.0
899
Butter
0.6
82.5
0.9
748
Melted butter
0.3
98.0
0.6
885
The mass of curd
7.1
23.0
27.5
345
Honey
0.8
0.0
80.3
324
Almonds
18.6
57.7
13.6
648
Lamprey
14.7
11.9
0.0
165
Pollock
15.9
0.7
0.0
69
Beef brains
9.5
9.5
0.0
123
Capelin
13.4
11.5
0.0
157
Milk
2.8
3.2
4.7
58
Acidophilus milk
2.8
3.2
10.8
83
Condensed milk
7.0
7.9
9.5
137
Condensed milk with sugar
7.2
8.5
56.0
329
Milk, dry whole
25.6
25.0
39.4
485
Carrots
1.3
0.1
7.0
34
Cloudberry
0.8
0.0
6.8
30
Seaweed
0.9
0.2
3.0
17
Wheat flour of 1 grade
10.6
1.3
73.2
346
Wheat flour 2nd grade
11.7
1.8
70.8
346
The flour
10.3
0.9
74.2
346
Rye flour
6.9
1.1
76.9
345
Cod
16.1
1.0
0.0
73
Burbot
18.8
0.6
0.0
80
Notothenia marble
14.8
10.7
0.0
155
Sea buckthorn
0.9
0.0
5.5
25
Cucumbers
0.8
0.0
3.0
15
Grouper
17.6
5.2
0.0
117
Perch river
18.5
0.9
0.0
82
Olives
5.2
51.0
10.0
519
Sturgeon
16.4
10.9
0.0
163
Halibut
18.9
3.0
0.0
102
Candy
0.5
0.0
80.4
323
Pepper green sweet
1.3
0.0
4.7
24
Red bell pepper
1.3
0.0
5.7
28
Peaches
0.6
0.0
16.0
66
Peaches dried fruits
3.0
0.0
68.5
286
Parsley (green)
3.7
0.0
8.1
47
Parsley (root)
1.5
0.0
11.0
50
Liver of lamb
18.7
2.9
0.0
100
Beef liver
17.4
3.1
0.0
97
Liver pork
18.8
3.6
0.0
107
Cod liver oil
4.0
66.0
0.0
610
Sponge cake with fruit filling
5.0
10.0
60.0
350
Puff pastry with cream
5.0
40.0
46.0
564
Puff pastry with fruit filling
5.0
25.0
55.0
465
Tomatoes (tomatoes)
1.0
0.2
3.7
20
Kidney lamb
13.6
2.5
0.0
76
Kidney beef
12.5
1.8
0.0
66
Kidney pork
13.0
3.1
0.0
79
Millet
9.1
3.8
70.0
350
Yogurt
2.8
3.2
4.1
56
Gingerbread
5.0
3.0
76.0
351
Whiting
16.1
0.9
0.0
72
Wheat whole
9.0
2.0
52.0
262
Millet
12.0
2.9
69.3
351
Rhubarb
0.7
0.0
2.9
14
Radishes
1.2
0.0
4.1
21
Radish
1.9
0.0
7.0
35
Turnips
1.5
0.0
5.9
29
Figure
8.0
1.0
76.0
345
Rye
11.0
2.0
67.0
330
Fish-sword
20.3
3.2
0.0
110
The Caspian vimba
19.2
2.4
0.0
98
Rowan red
1.4
0.0
12.5
55
Aronia
1.5
0.0
12.0
54
Ryazhenka
3.0
6.0
4.1
82
Carp
18.4
5.3
0.0
121
Saira
18.6
12.0
0.0
182
Herring
17.3
5.6
0.0
119
Salad
1.5
0.0
2.2
14
Sausages beef
12.0
15.0
2.0
191
Sausages pork
10.1
31.6
1.9
332
Sugar
0.0
0.0
99.9
399
Beets
1.7
0.0
10.8
50
Pork fat
11.4
49.3
0.0
489
Lean pork
16.4
27.8
0.0
315
Pork skinny
16.5
21.5
0.0
259
Braised pork
15.0
32.0
0.0
348
Butter cakes
8.0
15.0
50.0
367
Herring
17.7
19.5
0.0
246
Salmon
20.8
15.1
0.0
219
The sunflower seed
20.7
52.9
5.0
578
Heart lamb
13.5
2.5
0.0
76
Beef heart
15.0
3.0
0.0
87
Heart pig
15.1
3.2
0.0
89
SIG
19.0
7.5
0.0
143
Mackerel
18.0
9.0
0.0
153
Plum garden
0.8
0.0
9.9
42
Cream 10% fat
3.0
10.0
4.0
118
Cream 20% fat
2.8
20.0
3.6
205
Sour cream 10% fat
3.0
10.0
2.9
113
Sour cream 20% fat
2.8
20.0
3.2
204
White currants
0.3
0.0
8.7
36
Red currants
0.6
0.0
8.0
34
Black currants
1.0
0.0
8.0
36
Som
16.8
8.5
0.0
143
Sausages
12.3
25.3
0.0
276
Sausages Russian
12.0
19.1
0.0
219
Pork Sausage
11.8
30.8
0.0
324
Soy
34.9
17.3
26.5
401
Mackerel
18.5
5.0
0.0
119
Sturgeon
17.0
6.1
0.0
122
Sudak
19.0
0.8
0.0
83
Crackers wheat
11.0
2.0
72.0
350
Crackers creamy
8.5
10.6
71.3
414
Protein powder
73.3
1.8
7.0
337
Dried egg yolk
34.2
52.2
4.4
624
Drying
11.0
1.3
73.0
347
Dutch cheese
27.0
40.0
0.0
468
Cheese
24.0
45.0
0.0
501
Cheese Poshehonsky
26.0
38.0
0.0
446
Cheese Russian
23.0
45.0
0.0
497
Swiss cheese
25.0
37.0
0.0
433
Cheese curds
7.1
23.0
27.5
345
Fat cottage cheese
14.0
18.0
1.3
223
Curd
18.0
2.0
1.5
96
Low-fat cottage cheese
16.1
0.5
2.8
80
Cheese bold
16.7
9.0
1.3
153
Veal fat
19.0
8.0
0.0
148
Veal skinny
20.0
1.0
0.0
89
Oatmeal
12.2
5.8
68.3
374
Sponge cake with fruit filling
4.7
20.0
49.8
398
Cake almond
6.6
35.8
46.8
535
Sea cucumber
7.0
1.0
0.0
37
Cod
17.5
0.6
0.0
75
Tuna
23.0
1.0
0.0
101
Coal fish
13.2
11.6
0.0
157
Acne
14.5
30.5
0.0
332
Acne sea
19.1
1.9
0.0
93
Apricots
5.0
0.0
67.5
290
The duck
16.5
31.0
0.0
345
Beans
22.3
1.7
54.5
322
Dates
2.5
0.0
72.1
298
Hazelnuts
16.1
66.9
9.9
706
Sunflower halva
11.6
29.7
54.0
529
Halva tahini
12.7
29.9
50.6
522
Heck
16.6
2.2
0.0
86
Bread from wheat flour 1st grade
7.7
2.4
53.4
266
Rye bread
4.7
0.7
49.8
224
Rye bread rough
4.2
0.8
43.0
196
Hell
2.5
0.0
16.3
75
Persimmon
0.5
0.0
15.9
65
Chickens
18.7
7.8
0.4
146
Ramsons
2.4
0.0
6.5
35
Cherry
1.1
0.0
12.3
53
Blueberries
1.1
0.0
8.6
38
Prunes
2.3
0.0
65.6
271
Garlic
6.5
0.0
21.2
110
Lentils
24.8
1.1
53.7
323
Mulberry
0.7
0.0
12.7
53
Rosehip fresh
1.6
0.0
24.0
102
Dog rose dried
4.0
0.0
60.0
256
Chocolate milk
6.9
35.7
52.4
558
Dark chocolate
5.4
35.3
52.6
549
Pork fat
1.4
92.8
0.0
840
Spinach
2.9
0.0
2.3
20
Sorrel
1.5
0.0
5.3
27
Pike
18.8
0.7
0.0
81
Apples dried fruits
3.2
0.0
68.0
284
Apples
0.4
0.0
11.3
46
Beef tongue
13.6
12.1
0.0
163
The language of pork
14.2
16.8
0.0
208
IDE
18.2
1.0
0.0
81
Egg powder
45.0
37.3
7.1
544
Chicken egg
12.7
11.5
0.7
157
Quail egg
11.9
13.1
0.6
167  
published  
P. S. And remember, only by changing their consumption — together we change the world! ©
Join us in Facebook , Vkontakte, Odnoklassniki
Source: www.poedim.ru/calor/999