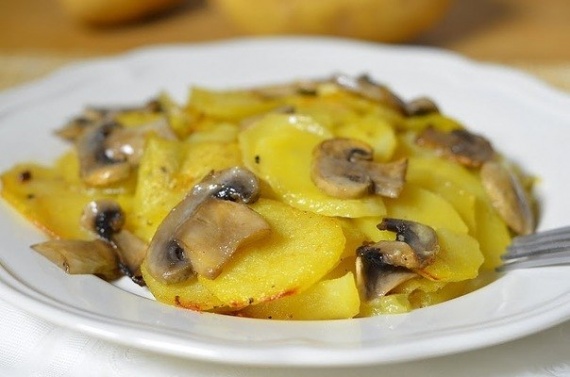 Ingredients:
About 8 medium size potatoes,
400 grams of mushrooms (champignons),
4 cloves garlic,
a small bunch of parsley,
4-5 tablespoons vegetable or olive oil,
salt and freshly ground black pepper,
300 mL of whipping cream.
Preheat the oven to 200 degrees. Clean and wash the potatoes, then cut into thin slices (2-3 mm) .Horosho wash potatoes from starch and leave to drain.
Meanwhile, chop the mushrooms.
Heat the oil in a frying pan with a thick bottom over medium heat. Off-dyval potatoes, stir with a wooden spoon so that all scrap-tics were covered maslom.Dobavlyaem salt and pepper.
Continue to stir until until we see how the slices car-Tophel become sticky because potato starts to produce starch. At the same time warm up the pan for mushrooms, add 1 tablespoon Oli-vkovogo oil spread mushrooms, salt
Once the potato slices are sticky, add the garlic and pour in the cream, just enough to cover all the potato slices, but not any more, just the taste will be less greasy, but still just as rich and creamy.
Bates fire and cook the potatoes for about five minutes, until the cream thickens slightly
Remove from the heat ready mushrooms.
Finely chop the parsley. Remove the pan from the heat with potatoes and spices check the taste. At this moment it is possible to add a salt or pepper, if their number appears to be insufficient. Intervene in the dish mushrooms and parsley.
Move it all together in a baking dish. Bake in the oven for 20 to 30 minutes. Everything! The dish is ready!