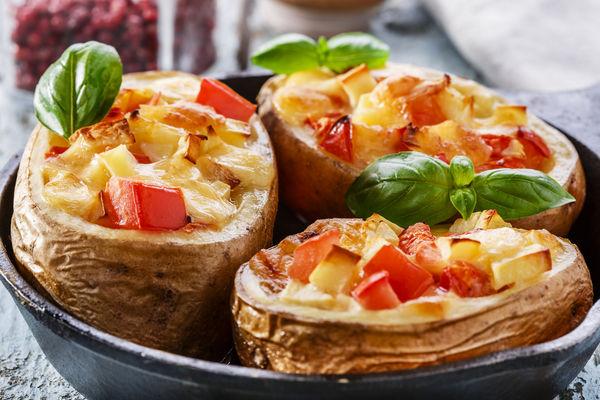 Someone is happy when the house suddenly descend cheerful company of friends. Some people prefer privacy. But unannounced visits are not perfect. While some guests just to feed, while others give a real delicacy. Maybe the guests were waiting for a long time, but what a surprise — didn't know. You want advice? More precisely, a lot? Now you will learn how conventional potatoes can decorate and friendly gatherings, and almost Royal table.  
Even if it is clear that the guests ' visit is inevitable, but the money in the house sparsely, is to set aside a panic! "Calmness, only calmness!", as they say in such cases, Carlson. All hands on deck to operate well and smoothly!  
The owner of the house immediately leads friends to show how he made repairs, and collected a model ship in a bottle, or develop a new program on your home computer. Well, the hostess, meanwhile, is not even worth to think than to feed this Horde, or to treat an unexpected, though very pleasant visitors. Look at how many guests and how many in the household of potatoes. A little? The eldest son or daughter — with a list and money to the nearest grocery store. Other assistants with him to the kitchen.  
By the way, if the kitchen will go dad and mom begin to talk about how he collected the sailboat in the bottle, will be even more fun!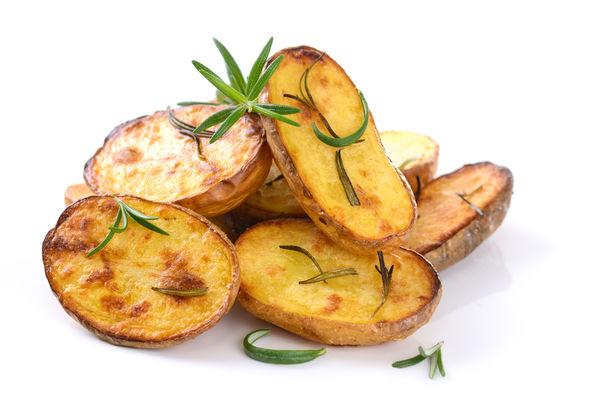 Take a potato, based on the formula 2 medium tuber per guest. My, but did not clean. Cut in half, sprinkle with salt.
Lubricates the cut soft butter with a whorl (it is a tuft of feathers, if you don't know). Will fit a wide brush. Spices according to your taste.
Feathers cut a couple of cloves of garlic and put on the cut. The basis is there.
Spread potatoes on a baking sheet uncleaned side down. Put in oven for 20-25 minutes.
The table will not be empty, even if for such a dish you have only bread and a jar of sprats. But let us leave the sprats alone. Ways to surprise your guests or just to feed them and so enough. Because still a lot of things, and the fantasy we did not fail!  
Cheese fantasy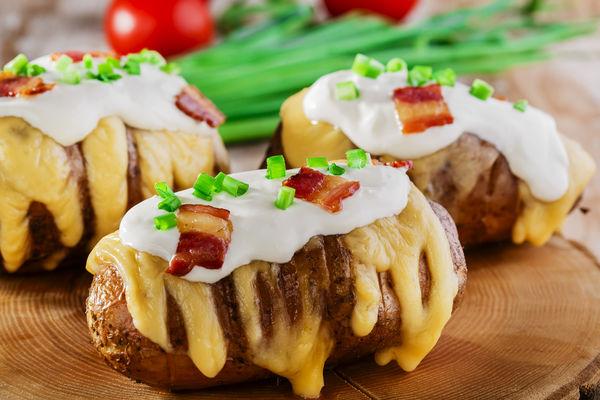 In a Teflon saucepan on a slow heat melt the grated cheese. Not necessarily bring it to a state of homogeneous mass: the lumps will give a special piquancy to the dish! Let the potatoes while baking.
Melted cheese put the chopped herbs: dill, parsley, cilantro. Leave on the stove (if there is a danger of burning — then on a steam bath). This also added black and red pepper. This sauce has already divine look!
Get baked potatoes and carefully with a spoon pour each half the sauce. Something is missing? No, the taste is already great, but what about aesthetics? Proud mistress can not live without it! Open the can of olives — green or black — in the middle of each "polyetheline" put a berry. And to balance out the flavor, put one or two berries cranberries.
Even with cheese if the dish seems dry, here is a recipe: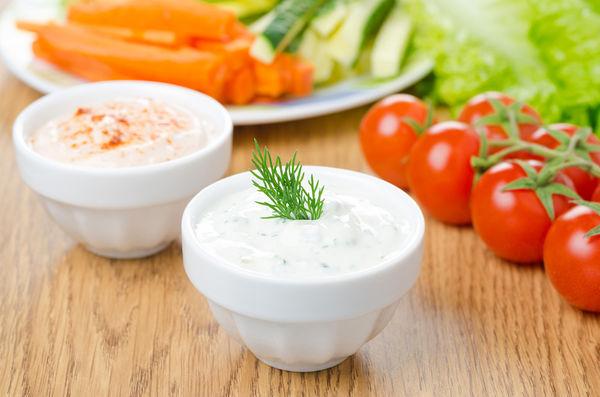 Combine mayonnaise and sour cream in proportion 1:1. Add to taste quite a bit of lemon juice (optional). Pour all into two cups. For color, add one few drops of ketchup.
Culinary syringe adorn their potatoes and serve. Clean cooking time — 20 minutes!  
Add ekzotichni the house has a couple of avocados, in 30 minutes you will have time to make a real feast: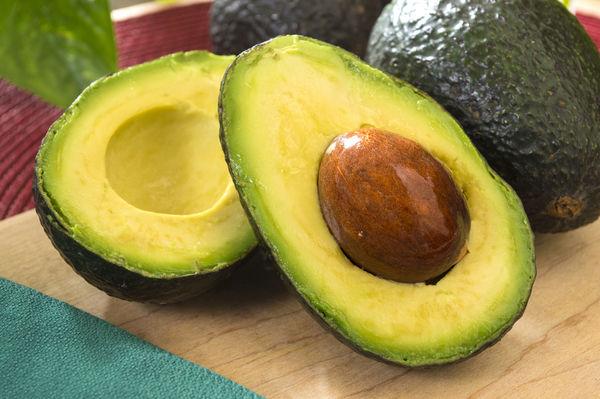 Bake the potatoes, washing off and cut — just like last time.
Avocado cut, cleaned up with a spoon, beat with a mixer or a blender, we stock spices to taste.
From the middle of the potatoes are ready take out some pulp and a model for avocados, processed, as mentioned above. Don't forget to add oil! You can pull out of the potatoes and all the flesh, mix with avocado, add even fried to Golden state bow. Too perfectly. But that's a good 15 minutes.  
Easier некуда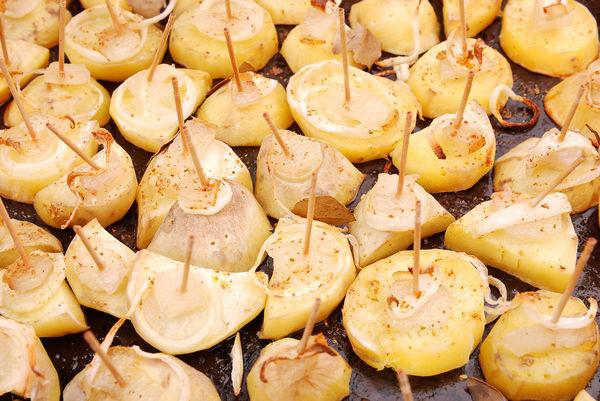 Potatoes cut into circles.
Cut fat circles.
Cut the onion into circles.
Put on toothpicks
In the order as mentioned above.
Remove the foil all together.
A well-heated oven —
And our baking dish.
Put inside and wait for the result
After 20 minutes, not more!
Well, tell me — what could be easier?
Not to feed anyone, and drive.
These potato "puffs" to sling cheese and decorate everything we have listed — what could be easier! I even poems transferred.  
Stuffed potatoes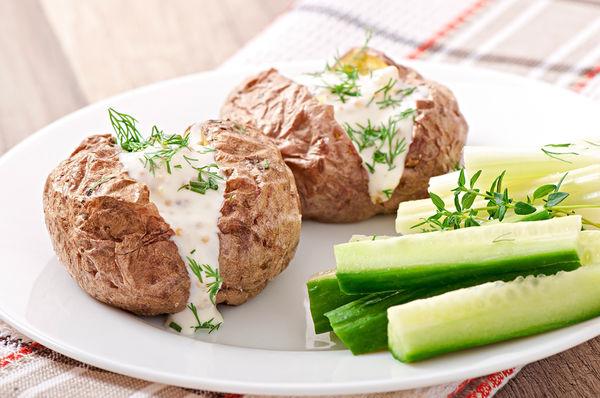 Baked potato is good because it can literally stuff anything. Salad with rice, onions, eggs and crab sticks? As long as you want! Pork rinds with vegetables? Great! Herring with cottage cheese and herbs — what could be better? Roasted beef with vegetables, tomatoes and / or carrots with garlic and mayonnaise, liver pate "in haste" — no such filling, which it would be impossible to combine with the potatoes! What is surprising is that even with a modest set of products, you can prepare a treat that guests will long remember. Importantly, they have not forgotten to call you in response, because the cooks just have to compete!  
On the difficulties of the selection of original блюда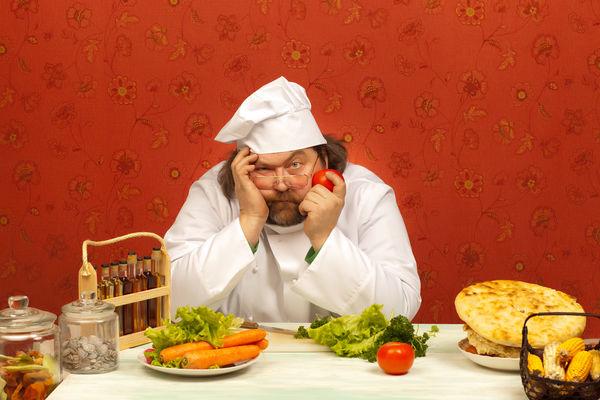 Each instruction to the pressure cooker/slow cooker and vast culinary forums contain thousands of recipes. Moreover, their number is growing and is complemented by the delights that are invented almost daily home and professional cooks. And that's fine. What is the difficulty? And that becomes capricious guest:
— And we here just yesterday that we ate at the Ivanovs!
— But Petrov adds white pepper...
And Shiryaeva cooked much tastier!
Shiryaeva can actually cook better. But to us, it is a unique guest, even a celebrity, though a beloved grandfather who is no worse as a virtuoso violinist is able to appreciate the culinary flair of the mistress or master! What should I do?  
In music, literature and painting are an inexhaustible source of authentic and delicious — history and tradition. In this case the history and traditions of national cuisine. Oh, my dear Russian patriot, did you happen to EDATE is most popular in the XIX century the dish as "Potatoes under the velvet"? Ate? That is not something that is not eaten, but never heard? That is something! But we Shiryaeva reckon it among your favorite dishes!    
Potatoes under the velvet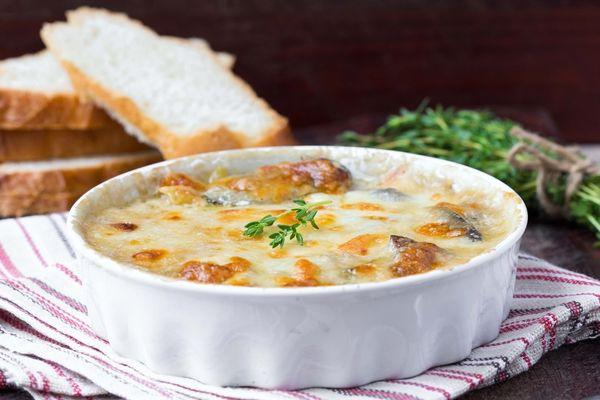 Boil peeled potatoes (or boil in their skins and peel afterwards).
Carefully cut it into slices and gently lay in the pan, add butter, finely sliced parsley, shallot bulbs (easy to find at the Danilovsky market in Moscow or at the forge in St. Petersburg). Sprinkle with pepper, salt and add a teaspoon of vinegar. But this is the last stage! First prepare the "velvet"!
We need white sauce. Melt in a saucepan the butter and add the flour (as needed to form a homogeneous mass), stirring constantly. Allow the mixture to simmer, but in any case, don't let her change the color: slightly turned, and she blushes, we don't need them. Stir all the time! When thick, but in moderation, the sauce — put in a hot water bath to keep it hot.
Then we need to cook the jelly. The process resembles making jelly or jelly — like you want — but only similar! 4 veal leg, shank, or leg of Turkey, 2 carrots, 2 onions peeled and stuck in the middle of the cloves and veal kidney drench white wine (1 Cup) and pour into the pan with strong beef broth to cover everything. Cook in the pan for 30 minutes, regularly removing the foam. When the jelly has thickened, heat it for 2 hours on low heat. Knuckle and kidneys it is necessary to cut directly in the pan with a knife or stick in properly many times with a fork so the juice became part of the jelly. And it must be done as soon as the broth starts to get dark. Remove the pan from the heat for about 20 minutes and add 4 ladle of good beef broth. Add related thread herbs: parsley, thyme, and Basil. Slowly bring all to boil again, remove the herbs and strain through cheesecloth received jelly. Fines for utter transparency of the jelly can be removed, whisking 4 egg whites and adding jelly. And again to boil, stirring constantly. Once the mixture boils, strain it again.
And now mix the jelly with white sauce in a convenient bowl with a mixer on the fire and pour prepared as described in the beginning, potatoes.  
It is a traditional and highly aristocratic dish will impress and Ivanov and Petrov, and — who knows? — maybe Shiraeva?!  
Lithuanian цеппелины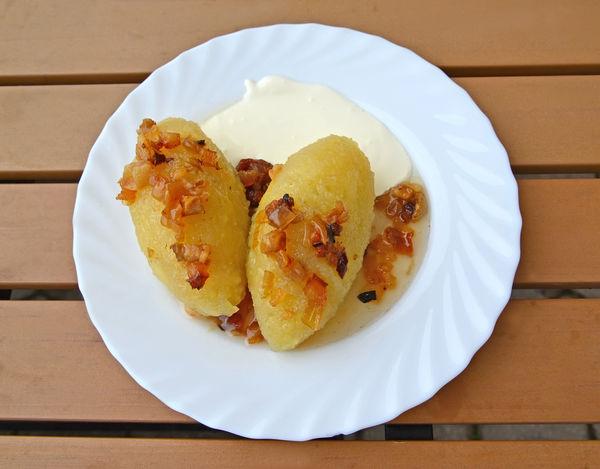 In Lithuania, the Zeppelin serves in different ways. We offer you a way that we think tastes better. Will find another recipe and prepare in their own way — honor and praise to you, especially if you come out better.  
Fortunately, modern food processors significantly accelerate many processes. So:
Peel potatoes. Take 2 kg of potatoes and grate as for hash Browns (Oh, we will tell you about them). But only 1kg: half leave untouched! Some experts prefer nearly potatoes boil "in uniform". Also an interesting option. Take your pick.
After that, the boiled potatoes also grate (or push pestle) and mix with grated and with the allocated juice.
Long and carefully knead the dough. So it won't be too liquid, allow to settle juice from grated potatoes, drain the water, leaving the settled starch, and add to the batter only.
Pound fatty minced pork scrolled through a meat grinder with onions and garlic, add salt and pepper.
A small saucer cut out circles of rolled dough, filled them with mince and begin to carefully sculpt and mold. You should get a figure, resembling a Zeppelin, hence the name.
In light of boiling broth or salted water with the Bay leaf cook the zeppelins. But that's not all!
Fry bacon with onion until receipt of greaves. Prepare mushroom sauce (dry porcini mushrooms, soaked from the evening, finely chop and parched in the water in the pan). And with piping hot, covered with mushroom sauce, sour cream and bacon cracklings...  
And only onion-bacon-ground beef-salt-pepper-potatoes and a little bit of dried mushrooms! Your spouse won't even have time to bother guests with a story about collecting model sailing ship in a bottle.  
Karelian fish tray with картошкой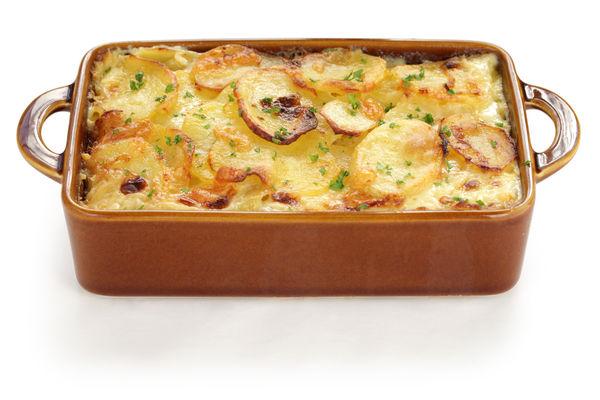 Take a kitchen tray. Pour the bottom of it with vegetable oil, add salt and spices — a little bit. And stacked on the bottom rings of sliced onion.
Onion covered with a layer of sliced circles of potatoes — 3 mm thick.
Put the cleaned, without bones, fish — cod, Yes, even trout or salmon is tasteless will not be!
The fish put a layer of carrots. Pour oil and put the spices. Then on top of the carrots put the onion rings on top of potatoes, fish, carrots, butter-onions-potatoes-carrots... How much is enough the height of the tray, but the top — there should definitely be potatoes! As a big fan of this dish will say, there is no such fish, which could ruin it! But without potatoes it just is impossible.  
How to get children to eat картошку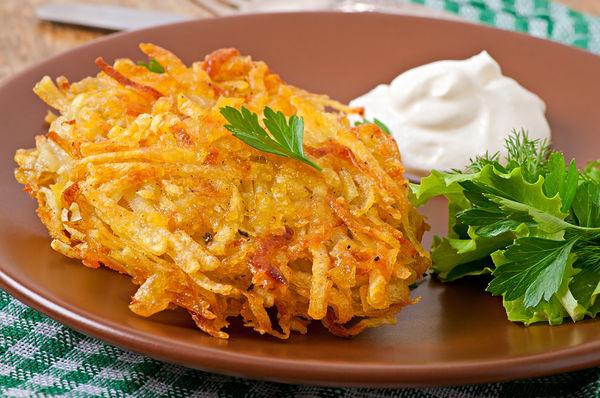 Children don't want to eat. They don't want the potatoes after the casseroles in the kindergarten or in the school cafeteria. They are sometimes understandable. Well, go ahead, parents! Save offspring from a lack of appetite!
2 kg of potatoes grate.
Add 5 raw eggs and a little flour.
Knead the dough, preheat the pan and immediately bake pancakes!
And right in the mouth! With sour cream! Hot (blow teach first, so didn't get burned). Well, as eat. Oh... And what will you have? I had to do the test more...  
The mystical potato студенчески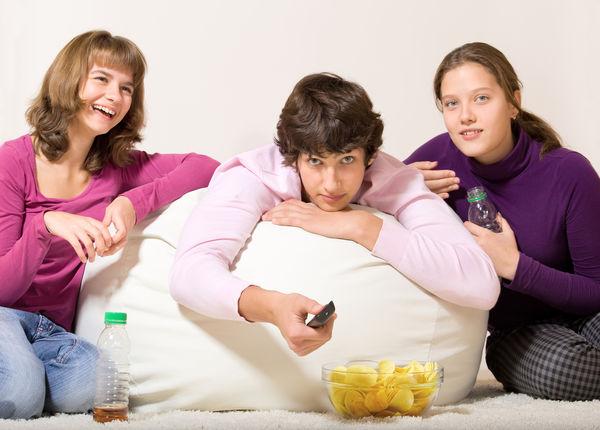 Chips, French fries, mashed potatoes — a few ways to mess up fries. If you were a student, you know. On the eve of the exams take a large frying pan, several pounds of potatoes, vegetable oil... Then go to prepare, to prepare, to learn...
I must be a responsible person who mobilizes all the cleaning and cutting. Frying pan hot, knife sharp as a razor, potatoes cut into thin strips. The oil is already dark! And here is the finished fried potatoes! Best student food in the world.
It is essential that the potatoes should be ready to start it you only need five in the morning and at five in the morning! Then the five all provided. Definitely! Try it! The method works perfectly and... mystical! In the course of cooking one can explain the rest of most difficult questions. And don't forget to add salt, otherwise it will not work!
Bon appetit!  
Source: www.7dach.ru